One of the most sought-after dishes at Xi'an Famous Foods are the spicy and tingly noodles. They're aromatic and tongue-tickling, slippery and satisfying. You can either get them with cumin-coated lamb or tender beef; both are delicious.
Jason Wang, the founder and CEO of Xi'an Famous Foods, began his culinary empire in 2005 at a hole-in-the-wall restaurant started by his dad: "Literally it was a hole on the side of the exterior of a building next to a bus stop," he says.
Wang's father, who had experience working in Chinese kitchens throughout the United States, wanted to open a business that created "food that mattered to him on a personal level as an immigrant who misses a taste of home," Wang explains.
That meant the food of Xi'an, and at larger, the Shaanxi province, which is known for its spicy and sour flavors paired with numbing chili oils, fragrant spice blends, and tart black rice vinegar. Because the area isn't conducive to growing rice, many of the dishes are crafted from flour—like the cherished hand-ripped noodles served at Xi'an Famous Foods.
"The store quickly became popular with other Chinese immigrants in Flushing, especially those that are from nearby regions of China and familiar with the food and the tastes," Wang says of Xi'an's early days. "Soon, people from all over were coming over to try the food. Our lines were from the basement and up the stairs and around the block."
Since then, Wang and his father have opened up a number of Xi'an Famous Foods locations sprinkled across three of the five boroughs, and also published a cookbook named after their New York culinary empire.
"Noodles are commonly enjoyed with soup in China, as it is traditionally believed that soup helps with the digestion of noodles," Wang says. "With soupless noodles, the flavors are stronger, but as much as you want to, it's probably not as enjoyable to slurp up the remaining sauces in your plate. But with soup, you can indeed slurp it up and enjoy all of the flavors along with a beef bone broth."
Swinging by Xi'an for a bowl of noodles is not a luxury all of us can have, but making the fiery dish at home is not as intimidating as it sounds. It just takes time.
"Divide and conquer to overcome any anxiety about preparing an 'intimidating' dish," Wang advises. "Plan a little time to make the bone broth first, as that can be stored. Then, spend some time making the beef, some more time making the noodles. They are all compartmentalized so when you are ready for action in putting everything together, it's really simple and takes minutes!"
Longevity Noodles Recipe by Jason Wang
Makes 2 very long noodles, enough to serve 2 Lady and the Tramp style

Ingredients:
2 cups (250 g) all-purpose flour or high- gluten flour
1/2 teaspoon salt
3/4 cup (180 ml) room-temperature water
Canola or vegetable oil as needed
2 cups (480 ml) cold water, divided

Directions:
1. In a large bowl, add the flour and salt and mix well to combine.

2. Add the room-temperature water slowly while mixing the dough with your hands. Using both hands, knead the dough until it comes together in a smooth ball, 3 to 5 minutes.

3. When the dough is formed, cover the dough with plastic wrap and let it rest at room temperature for 20 minutes.

4. After resting, remove the plastic wrap and knead the dough in the bowl a few more times. Cover again with plastic wrap and let it rest for another 15 minutes.

5. After the second rest, brush a bit of the oil on the dough and place it on a cutting board or work surface. Cut the dough in half, and using your hands, roll each piece of dough into a long, snake- like cylindrical shape, a little over 1/2 inch (12 millimeters) in diameter.

6. Lightly coat a large container with oil. Store the dough inside by forming each piece into a spiral (like a resting snake). Brush the dough with a bit of extra oil to prevent sticking. Cover it with plastic wrap and rest in the refrigerator for at least 30 minutes (if using immediately) or up to 1 day.

7. When ready to use, remove the dough from the refrigerator and let it rest at room temperature for 10 minutes.

8. Fill a large pot with water, enough for the noodles to swim freely in. Set the pot over high heat and bring to a boil.

9. Work with one coil of dough at a time. Pick up one end of the dough coil with one hand, then grab it about 4 inches (10 centimeters) down the strand with your other hand.

10. Using your first hand, pull the end of the dough out and away from your second hand, to stretch it without breaking it. Continue pulling the dough with your first hand, stretching it out with the other. This should lengthen and slim the dough without breaking it. After you have finished stretching the length of the noodle, the dough should be less than 1/2 inch (12 millimeters) in diameter, roughly 8 feet (2.5 meters) long.

11. Loop the dough into a large ring roughly 18 inches (46 centimeters) in diameter. You might have to loop the dough several times. With your hands shoulder-width apart, pick up the dough ring with both of your hands, cradling it with your fingers. Make sure not to tangle the strand.

12. With both hands holding the dough, pull the noodle ring outward while slapping it up and down on the work counter (step 6). Pull until the individual strand is less than 1/4 inch (6 millimeters) in diameter. (You could go thinner, but it requires skill.) Be careful not to break it; if the noodle snaps, simply pick up where the strand breaks and resume pulling. Each noodle should end up being roughly 27 feet (8 meters) long.

13. Repeat the stretching, pulling, and slapping process with the second half of the snake coil.

14. Once done pulling both pieces of dough, throw the noodles into the boiling water right away, stirring so the noodles don't stick to themselves or the side of the pot.

15. When the water comes back to a rapid boil, pour 1 cup of cold water into the pot. Bring back to a boil and cook for 1 minute before adding another cup of cold water. Once the pot boils again, carefully fish out the noodles using a hand strainer or spider. The noodles should have boiled for 2 to 3 minutes in total.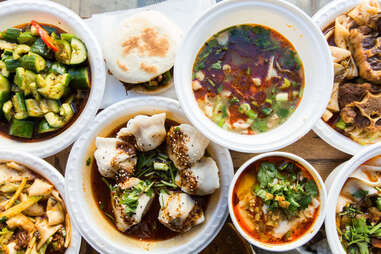 XFF Chili Oil Recipe by Jason Wang
Makes slightly less than 1 quart (960 milliliters)
Ingredients:
2 cups (455 grams) Red Chili Powder
4 cups (960 milliliters) canola or soybean oil
1 tablespoon Sichuan peppercorns
4 star anise pods
4 cloves
5 bay leaves
1 green onion, trimmed and coarsely chopped
1/4 medium red onion, peeled and roughly chopped
2-inch (5 centimeters) piece fresh ginger, peeled and roughly sliced
Splash of black vinegar

Tools:
High-temperature infrared or probe thermometer that goes up to at least 450°F (232°C)
Small fine-mesh strainer

Directions:
1. Place the red chili powder into a large, heat-safe pot or bowl big enough to pour the hot oil into later. Set aside on a stable surface.

2. Add the oil to a second pot and set over medium heat. Heat until the thermometer registers 300°F (150°C).

3. Add the Sichuan peppercorns, star anise, cloves, and bay leaves. Immediately after, carefully place the green onion, onion, and ginger into the hot oil as well. This will bring the temperature of the oil down; bring the temperature of the oil up to 350°F (177°C) and maintain it there by carefully moving the pot off the heat if too hot and putting back on the heat if too cool. Fry the spices at 350°F (177°C) in the oil for about 3 minutes, until the spices are fragrant but not blackened. Use a strainer to remove everything solid from the oil (reserve these aromatics to enhance a broth or stew later).

4. Heat the oil up to 450°F (232°C), then turn off the burner and carefully remove the pot from the heat.

5. You might want to wear long sleeves for this next step. Very carefully, while wearing oven mitts, gradually pour the hot oil into the bigger pot with the red chili powder, stirring carefully to make sure every bit of the chili powder is cooked by the hot oil. This will create a lot of smoke, so if you can, do this step outdoors or be ready to deal with smoke alarms. Don't inhale the smoke.

6. The temperature of the oil will drop quickly. Add a splash of black vinegar to add more flavor but also to bring down the temperature so the chili powder doesn't get burnt.

7. Leave the oil to cool to room temperature, and let it rest, covered, for 10 to 12 hours or overnight. Store in an airtight container at room temperature for up to 1 month.
Bone Broth Recipe by Jason Wang
Ingredients:
4 ounces (115 grams) beef or lamb femur or
marrow bones
4 ounces (115 grams) beef or lamb rib bones
4 ounces (115 grams) any cut of beef or lamb
with both fatty and lean meat (optional)
1-inch (2.5 centimeters) piece fresh ginger, peeled and thickly sliced
2 green onions, trimmed and cut into
2-inch (5 centimeters) segments
2 bay leaves
2 star anise pods, broken
1 teaspoon Sichuan peppercorns
4 white cardamom pods
3 1/2 quarts (3.3 liters) cold water
Salt (to taste)
White pepper powder (to taste)

Directions:
1. In a large pot, add the bones and, if you're using it, the meat. Cover with cold water to submerge and soak for 1 hour. Remove the bones and meat from the pot and set aside. Discard the water and clean the pot thoroughly to remove any residue and impurities. Add the bones and meat back to the pot and cover with fresh water until submerged.

2. Cover, set the pot over high heat, and bring to a boil. Once boiling, turn off the heat. Carefully remove the bones and meat once more and set them aside. Dump the water and clean the pot again.

3. Add the bones, meat, and the remaining ingredients to the clean pot. If you have a larger capacity pot, you can add more water, but leave extra room to prevent the broth from boiling over.
4. Set the pot over high heat and bring everything to a boil. Once boiling, turn down the heat to low, keeping the broth at a simmer, and cover the pot. Simmer for 6 hours. Strain all of the solids from the broth before using. If you're drinking it straight, add salt and white pepper, to taste. The broth can be stored in an airtight container for up to 3 days in the refrigerator, or 1 month in the freezer.
Kat Thompson is a senior staff writer at Thrillist. Follow her on Twitter @katthompsonn.