You Can Host A Cookout Using Only SOLO Plates -- Here's How
Matthew Zach/Olivia Mack Anderson
BBQ season is fully upon us, which means it's time to whip out the novelty aprons, stock up on condiments, and write overly complex Facebook event descriptions. But whether you're a cookout novice or an absolute expert, we've got one piece of advice for you: Pick up a pack of SOLO plates. Here are some quick reasons why.
NO LUGGING HEAVY SERVING TRAYS OUT TO SOME REMOTE BBQ SITE
Ok, so your friend decided to grill on top of a mountain or by a wooded creek, far from civilization -- or at least far from the parking lot. Fear not: There's no need to carry heavy dishes into the woods. Just put your hors d'oeuvres on some lightweight SOLO plates, cover them in plastic wrap, and head out.
MORE SERVING DISHES MEANS NO MORE TURF WARS
How many times have you gotten meat juices and melty cheese on a veggie burger? If the answer is more than "zero times," you're gonna wanna expand your serving options -- if for no other reason than keeping two already-contentious friend sets at bay. No more angry vegans, no more confused carnivores. Everybody wins.
USE DIFFERENT-COLORED PLATES TO MARK DIFFERENT DISHES
SOLO plates come with all sorts of bold patterns on them, which can help sort out some common 'cue conundrums. The simple color coding trick will let guests know which wings are honey garlic and which are habanero -- a real win for tongues everywhere.
STACK PLATES AT AN ANGLE TO LET EXCESS GREASE RUN OFF INTO A CATCH PLATE
Sure, we all like our burgers juicy, but if you're trying to prevent soggy buns, you might need to remove some extra juices from a batch of rare burgers. Here's the trick: Snip a little triangle out of the side of one plate so there's a gap in the lip of the plate, so the juices drain through the gap. Put down a plate to catch any juice, and you're left with perfectly rare burgers that won't turn your bun into bread soup.
Matthew Zach/Olivia Mack Anderson
STURDIER PLATES DON'T FALL APART UNDER PRESSURE
SOLO plates are soak-proof, so they won't get soggy when your plate is loaded with coleslaw. That means less food on your clothes and less food on the ground (sorry, pets).
UNLIMITED PLATES, UNLIMITED SPACE: NO LIMIT TO YOUR HOT DOG EATING COMPETITION
The current record for eating hot dogs is 74 in 10 minutes. You can bet the organizer of that competition knew how to handle serving dishes. Luckily, you don't need to spring for a massive serving tray. Just dole out more plates and keep the competition going.
NO SHATTERED PLATES WHEN SOMEONE DIVES FOR THE VOLLEYBALL AND GOES INTO THE PICNIC TABLE
If this is the 4th year running of a heated cousins volleyball rivalry, expect things to get rowdy. Since SOLO plates don't shatter, you won't need to worry about ballistic shards if (when) things get out of hand. The same applies for extreme badminton matches.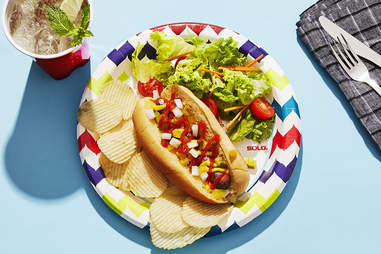 Matthew Zach/Olivia Mack Anderson
DOUBLE PLATES: PEOPLE WHO DON'T WANT THEIR SIDES TO TOUCH THEIR BURGER WILL REJOICE
Picky eaters walk among us, silently freaking out every time their mac & cheese touches their salad. Have no fear: With a stack of SOLO plates (and a bowl or two if you're feeling wild), you can keep your victual genres separate. The same principle applies to those of us who just have too much food for one plate. Just be careful -- surrounding yourself with empty plates is a clear sign of who took the last kebob skewers.
GUESTS WILL JUMP AT THE CHANCE TO HELP CLEAN UP BECAUSE IT WON'T INVOLVE DOING THE DISHES
We all like helping out at a BBQ. But if you're not the grill master, then you're pretty much relegated to cleanup duties. Luckily, when you eliminate the tedious process of scrubbing hot potato salad off a platter, packing up is a cinch -- and a game of cornhole won't start up "coincidentally" right as it's time to clean up.