We're Calling It: Hummus Toast Is About To Take Over Breakfast
Thrillist
Thrillist
Just a few years ago, influencers everywhere started slathering their breakfast toast up with avocado, and people thought it would never catch on. Now, it's nearly as ubiquitous on brunch menus as eggs benedict -- and has opened the door for even more breakfast dish innovations. Enter: Hummus Toast. It's easy to make with Sabra Hummus (seriously, no chopping or mashing involved!), it's the perfect canvas for pairing with savory or sweet toppings, and it's completely customizable. We tapped four top foodies across the US to send us their hummus toast creations using Sabra Classic Hummus -- and the varieties they came up with just may be flavorful enough to become your new favorite breakfast. Just take a look:
Veggie Hummus Toast
The Banana Dairies
Because hummus is light and contains plant-based protein, it pairs perfectly with fresh veggies -- especially when you can tie in Meditteranean flavors. Britt, the recipe developer behind The Banana Dairies, piles on the produce for her Veggie Hummus Toast. She starts with a layer of Sabra's Classic Hummus, then adds chopped cucumber and tomatoes. For fresh Mediterranean flavors, she finishes it off with crumbles of feta cheese and a drizzle of balsamic vinegar, plus pinches of sea salt and pepper to taste.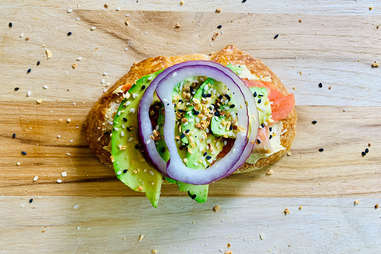 New York Style Hummus Toast
Brunch Boys
New Yorkers are breakfast experts -- they can survive a full weekend subsisting entirely on breakfast sandwiches, black coffee, and bagels. So it's no surprise that Jeremy, the man behind the Brunch Boys Instagram handle, would pull some inspiration for his hummus toast from the Big Apple. He tops an open face piece of sourdough with Sabra Classic Hummus, then stacks up a tower of lox, avocado, and red onion. After, he sprinkles on a bit of everything bagel seasoning to really bring the bagel theme to life.
Breakfast Hummus Toast
EatingNYC
Hummus is also incredibly popular in the Middle East, so here's an easy way to (literally) spice things up at breakfast. Alexa from EatingNYC tops her toast with Sabra's Classic Hummus and an Israeli Salad, made from finely chopped tomatoes, cucumber, and onion. She seasons that with more tahini, za'atar (a spice blend with toasted sesame seeds, dried thyme, dried marjoram, and sumac) and a squeeze of lemon juice. Of course, because this is breakfast after all, she tops it all off with a fried egg full of runny yolk for extra flavor.
Zesty Shrimp Hummus Toast
Dash of Ting
We've already mentioned that hummus toast is easy to make at home, but that doesn't mean you can't get fancy with it, too. Tinger, the blogger behind Dash of Ting, dreamt up a toast combo that rivals what you'd find at your favorite overcrowded local brunch spot -- making it perfect for a weekend breakfast at home. She tops toasted sourdough with Sabra's Classic Hummus and layers on citrus marinated grilled shrimp, finely sliced shallots, chopped cucumbers, and tomatoes. Chopped fresh parsley as garnish adds extra flavor (and plating points), while a squeeze of fresh lemon juice finishes the dish off.
Inspired? We are too. So, in true millennial fashion, be sure to send us a picture of your Sabra hummus toast recipes using the hashtag #HummusToast -- we can't wait to see what you whip up.