These Scientific Candles Can Help You Smoke Weed Indoors
Gena Surphlis developed weed-neutralizing, destigmatizing candles.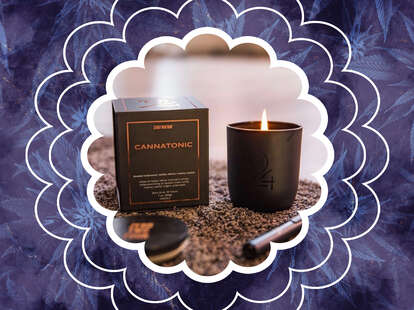 Cannatonic

| Design by Maitane Romagosa for Thrillist
Cannatonic

| Design by Maitane Romagosa for Thrillist
For those who enjoy smoking flower, there is nothing like the joy of exhaling freely in one's home. Sure, we all love the occasional joint on a leisurely stroll, but when the air chills and winter sets in, the allure of setting an ashtray within reach of the couch is real. One large, noticeable problem there: the smell.
Nosy neighbors, attentive landlords, fun-sniffing family members—regardless of whether one lives in a state where cannabis is legal, rents or owns a house, the distinct aroma of cannabis can be a major obstacle to partaking indoors. In the worst cases, it can risk your rental contract altogether.
Bronx native Gena Surphlis became keenly more aware of this issue when her son brought up his decision to treat his sickle cell anemia with cannabis instead of opioids. She was worried about the negative associations he could face from just smelling like weed—the way people might make character judgments from the aroma alone. A 15-year veteran of the fragrance industry, Surphlis wanted her son to be able to medicate comfortably and without fear, so she figured a scent-based solution would be her best chance at helping him do so.
"It made me think about the weight this scent carries," Surphlis says. "It inspired me to find a way to start a new dialogue surrounding the smell of cannabis."
Just like that, Zero Two Four was born. That's right—4/20, in reverse, speaking to that reframing of associations around cannabis' aroma. Surphlis got a team of chemists together to develop the technology to target cannabis scent, culminating in three candles that smell incredible and actually, truly neutralize the smell of cannabis smoke while perfuming one's space. With science.
"Every smell is created by a group of materials, so there is a corresponding group of materials that can neutralize it," she explains. "When there isn't scent neutralizing tech, it's like spraying perfume on body odor—it just sits there. Our technology eliminates 70% of the smell, leaving room for the fragrance to take over."
Surphlis took all her years of experience with consumers' scent preferences, combining it with inspiration from memorable meals and trips and experiences to craft the three intoxicating scents. Cannatonic features notes of smoked cedarwood, Haitian vetiver, and leather, "like reading a book on a leather couch with the fireplace crackling." Forbidden Fruit is sweet with black currant buds, rose petals, and cardamom. Incense & Pepper is a sensory mix of black pepper, black leather, and frankincense. Each candle comes in a sleek black jar with a fitted wooden cap for reuse in the home when the candle's burnt out. New scents are on the way, as well as new formats for their patented scent tech like ​​room sprays and vent fresheners.
When she started Zero Two Four two years ago, right before the COVID-19 pandemic, everything was up in the air. Literally—all the components of the candles were stuck across the globe as the supply chain ground to a halt, forcing her to launch with just wax melts at first. That compromise ended up delivering the validation she needed: the melts sold out in under six weeks.
"It's been a journey," Surphlis says . "It's hard to bootstrap a business yourself. But I love fragrance, and it's important to me that my son, and everyone else who benefits from cannabis, can manage their own health comfortably."
Zero Two Four sits in an interesting place in the industry. As it isn't a plant-touching business, the products are available online and in boutiques like Happy Buds in Brooklyn and Higher Standards in Malibu. Candles can be found at a few California cannabis dispensaries, as well as a few fragrance boutiques. Her products bridge the cannabis and mainstream worlds in a major way, and thus have the capacity to reach a far broader, diverse audience and a real chance at really changing the way some people think about the smell of weed, the plant itself and the people who choose to consume it.
Cannabis smell has a particularly enduring stigma to it—consider the local governments cracking down on the scent of cannabis grows from Portland, Maine to Portland, Oregon. Evolving the way people react to the smell of cannabis is a significant step in the path towards true normalization of this plant as just, well, a plant.
"The traditional negative reaction to it is rooted in an old narrative tied to cannabis prohibition at the start of the century and ingrained in our brains ever since," Surphlis says. "It's so deep. This shows you don't have to be a grower to impact the cannabis industry."
Disclaimer: Any cannabis products referenced above are not intended to diagnose, treat, cure, or prevent any disease. The writer and anyone interviewed are not medical doctors, and their experience is based on personal use, the results of which may not be typical or intended. The legality of cannabis products varies by state, and is subject to change, and readers are encouraged to check their local laws before purchasing and using cannabis products. Possessing, using, distributing, and/or selling marijuana or marijuana-based products is illegal under federal law as of the writing of this article, regardless of any conflicting state laws. Compliance with the laws of a particular state in no way assures compliance with federal law, and there is a risk that conflicting federal and/or other state laws may be enforced in the future. Nothing in this article is or should be construed as advice regarding the legal status of cannabis products or medical advice. Any views expressed in this article by ZeroTwoFour regarding cannabis products are those of ZeroTwoFour, and do not necessarily represent the views of Thrillist and/or Group Nine Media, Inc.
Lauren Yoshiko is a freelance writer and editor based in Portland, Oregon. She writes
The Broccoli Report
, a bi-weekly newsletter for creative cannabis entrepreneurs.