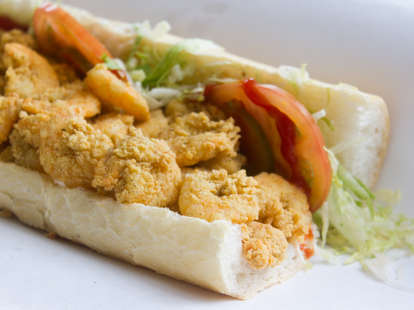 Guy's Po-Boys

| Martine Boyer/Thrillist
Guy's Po-Boys

| Martine Boyer/Thrillist
9 New Orleans Chefs Name Their Favorite Po-Boys in Town
If you're even thinking of being in New Orleans, check out the rest of our DestiNATION: New Orleans guide. It's stacked with expert advice from locals on what to eat, where to drink, and what to do.
In NOLA, there is one sandwich to rule them all, one sandwich to bind them. And while the muffuletta is a beloved local favorite, there's no doubt that the po-boy is THE sandwich of the Crescent City. Whether you're piling your French bread with roast beef, fried seafood, or even French fries, everyone seems to have one that holds a special place in their heart/belly. We asked nine prominent local chefs about their favorites in the 504, and they said...
Uptown
Picked by: Chef James Scott Cullen of Press Street Station
"My favorite po-boy is a fried oyster, dressed, from Domilise's. It was the first thing I ever ate in New Orleans. The backstory to this is I met my wife over an argument about French bread in Hoboken, New Jersey. I always thought French bread was a baguette. She taught me by taking me to Domilise's on my first trip here in 2010. So for sentimental reasons, this is my answer. I probably like the shrimp at 
Zimmer's
 as my absolute fave as far as quality goes, or maybe the roast beef at
R & O's
. They both use Gendusa bread, which I love."
St. Roch
Picked by: Chef Sue Zemanick of Gautreau's
"My favorite po-boy shop is St. Roch on Louisa. The fried shrimp is the bomb! It used to be in the old St. Roch market, back in the day, and they moved to a new location in a gas station, basically. It's hot, crispy, with fresh bread, and there's a ton of shrimp on it. I actually have no idea exactly what they do to it to make it so fantastic, but when I want a fried shrimp po-boy, this is where I'm headed. It's also near my house, which doesn't hurt. I just love the fact that it's a gas station. It reminds me of Cajun country, where they have all the boudin and cracklins at these roadside places."
Uptown
Picked by: Chef Justin Devillier of La Petite Grocery and Balise
"The BBQ shrimp po-boy at Boucherie. They take a new classic and apply the Nathanial Zimet treatment of high-quality and explosive flavor. The Dong Phuong bread is hollowed out and filled (a la Liuzza's by the Track) for extra containment of the sauce and ease of consumption. Needs a daiquiri to wash it down."
Mid-City
Picked by: Chef Matthew Kopfler of L'enfant Terrible at Molly's at the Market
"There are so many favorites: the roast beef at
Verti Marte
, the chicken livers at
Mahony's
, a classic shrimp po-boy from
Domilise's
, oysters at 
Cooter Brown's
. But the one I can't find any flaws with at all is the Patton's hot sausage at Banks Meat Market. Arguments for the amazingness of the sandwich: a hot sausage po-boy from this gas station can feed one person for three meals, or three people one meal for around $9; it is New Orleans' answer to scrapple, and the tangy, spicy, chemical-laden umami bomb of a 3-foot hot sausage po-boy, add American cheese and roast beef gravy, dressed for around $12 delivers at any time of the day; a very much unhealthy food that satisfies the brain, similar to Taco Bell and crack, this is often a late-night decision allowing you to meet the spectrum of people that hang out and live near a neighborhood bodega-type place."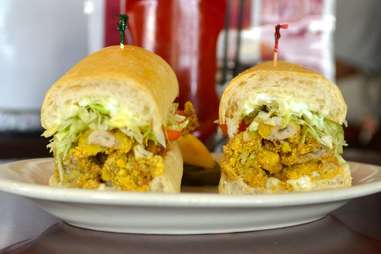 Fairgrounds
Picked by: Chef Alex Harrell of Angeline
"My favorite po-boy in town is the fried shrimp at Liuzza's by the Track. The shrimp are lightly battered, seasoned well, and crispy. I always get mine dressed and add some Crystal. I think that Liuzza's is a quintessential New Orleans neighborhood restaurant. And it holds a special place for me. A local friend of mine took me to eat there when I first moved to town. The fried shrimp was my first experience with a po-boy and I've been going back ever since."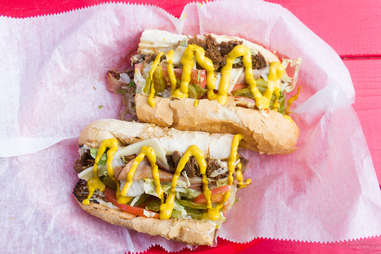 Covington
Picked by: Chef Slade Rushing of Brennan's
"My favorite po-boy is called The Ferdie at Bear's in Covington. When we had The Longbranch in Abita Springs, a construction worker shared one with me -- it's grilled ham, turkey, roast beef with gravy, Swiss cheese, and dressed all the way."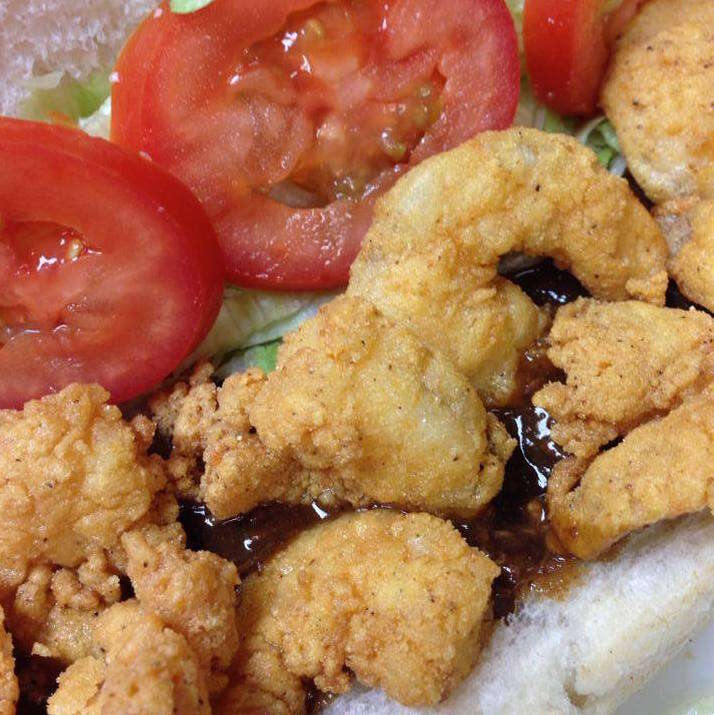 Metairie
Picked by: Chef Adam Biderman of The Company Burger
"The Peacemaker [
Editor's Note: fried shrimp with brown gravy and cheese
] at Bevi Seafood is the best in town. Justin is a friend since we were 17 and he's a great cook. The roast beef gravy is delicious and the shrimp are fried perfectly. I'm also a sucker for sesame seeds on the French bread."
Uptown
Picked by: Chef Isaac Toups of Toups' Meatery
"When I go for a po-boy, I always get the same thing at the same place. I think my go-to is the fried oyster at Guy's Po-Boys, because it's been the same for a really long time. It's really the only thing I go there to get, and I get it when I have a hard craving. I always order it dressed, and always spike it with a good couple chucks of Tabasco. I found it probably 15 years ago when I moved to NOLA, just a little neighborhood shop, super traditional. It's a no-frills po-boy, but it doesn't really need any frills. Its beauty is its simplicity: really great oysters on really great bread, good pickles, and local Blue Plate mayonnaise. Actually, I want one right now, come to think of it."
Gretna
Picked by: Chef Ryan Hughes of the late, great Purloo
"I have lived in NOLA as a chef for 17 years. I have tried and done the numerous choices of all the usual suspects. And for some reason the bánh minh at Hong Kong Market always hits the spot. [
Editor's Note: This is considered here to be the "Vietnamese po-boy."
] The one with the 'pate"'is just ridiculously good/ fresh counterparts with the pickled slaw/fresh cilantro, and I guess one of the important aspects is it is frickin' cheap! I think they are three bucks now!? It seems like with all the other po-boy places that are decent to get a po-boy and a Barq's with a side of Zapp's you are looking at a minimum of $15 which I do not think is worth it anymore. From a chef's standpoint, we know what the costs are, which in my mind is a big consideration and what a po-boy is supposed to be: super quick, affordable, easily transported. I mean, have you ever picked up a bánh mì at Hong Kong and had the ability to not eat it on your lap while driving it across the bridge? I know I can't do it."
Sign up here for our daily New Orleans email and be the first to get all the food/drink/fun in the Big Easy.
Scott Gold is a writer in New Orleans who is always looking forward to annual the po'boy Festival. Follow him for more juicy NOLA details @scottgold.