5 joints that are upping the BBQ game in NOLA
Of all the wonderful, tasty treats that are hallmarks of New Orleans cuisine -- everything from fried chicken to trout amandine, po-boys and muffalettas, crawfish, oysters, crabs, and shrimp galore -- weirdly enough, traditional American BBQ has never really been one of them. Until now, that is. Here are five kick-ass BBQ joints that are tearing up the Big Easy, low & slow style.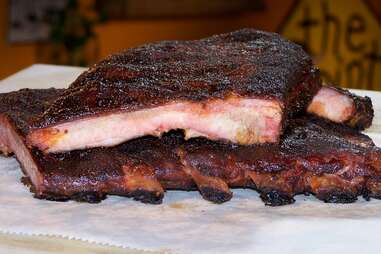 1. The Joint
If there is a clear leader of the new NOLA smokehouse scene, it's got to be the guys over at The Joint. They make some mean ribs (and an amazing peanut butter cream pie), but it's the locally-sourced Louisiana chaurice sausage that'll make you wanna slap your mama. Or eat there again, whatever.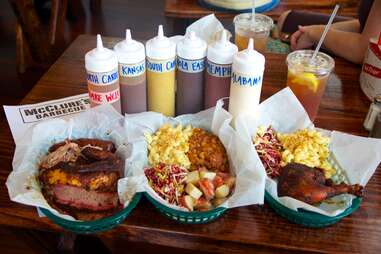 2. McClure's BBQ
Neil McClure might be having some legal trouble with the neighbors regarding his gargantuan courtyard smoker (and really, who doesn't want their entire home and wardrobe to smell like delicious smoked meats? Some people are just impossible to please.), but he's still fighting the good fight and keeping the BBQ dream alive at his eponymous Uptown restaurant. The best thing at McClure's is the option of various different regional sauces for your pulled pork or smoked chicken, including North Carolina vinegar-style, sweet KC sauce, and the ever-perplexing, yet delicious white Alabama sauce made w/ mayo.
3. Squeal BBQ
Over on Oak St, Uptown, you'll find the Squeal brothers, Patrick, Brendan, and Eugene Young, who know a thing or two about family 'cue-ing. And while their meat is good, it's all about the starters and sides at Squeal, including boudin balls, smoked pork cakes, amazing cheese grits, and even pulled pork nachos. BBQ nachos? Yes. BBQ nachos, son.
4. Walker's Southern Style Barbecue
There is one thing and one thing only you have to know about Walker's, and it's called cochon de lait: Cajun-style slow-smoked suckling pig on a po-boy with Creole slaw. Back in the day, you could only find this one-of-a-kind sandwich at Jazz Fest, but now, with their brick and mortar location, you can ease your cochon cravings weekly.
5. Blue Hickory Blues and Barbeque
Over on the North Shore, Blue Hickory is serious about their smoke. With huge plates of brisket, chicken, house-made sausage, and St. Louis-style ribs, you won't have a hard time living up to their slogan: "Eat Meat and Be Happy". They'll even smoke you a whole turkey for the holidays!