The 10 Best Burgers in New Orleans, Ranked by Our National Burger Critic
Editor's Note: This story is the fifth entry in Thrillist's Burger Quest, Kevin Alexander's slightly insane yearlong mission to find America's best cheeseburger. Follow along @ThrillistBurgerQuest, and use #ThrillistBurgerQuest to let Kevin know places he needs to hit.
New Orleans is the best kind of food city. What with all of their unique offerings (po-boys, oyster happy hours, frozen daiquiris, etc.), it remains one of my favorite cities to share a meal in. But eat a burger? I wasn't so sure. New Orleans may be known for many exemplary culinary items, but burgers are not one of them.
Or so I thought, before I got to town. Helping me along on this leg of the journey was our Senior Cities Director (and 33 best burgers in America co-writer) Liz Childers, who lives in the city with her New Orleans native husband. Over the course of two days, we visited old-school New Orleans legends, Vietnamese restaurants, and some newfangled local chains. And when I came out of it, I had a whole new respect for the burger chops in this city.
Oh, and in case you're new to my rankings, here are some guidelines: if the restaurant had multiple burgers, I tried to order the closest to a classic cheeseburger, and if it came with options, I always picked American cheese and grilled onions.
Due to circumstances/how time works, I wasn't able to get everywhere (NOLA legend Yo Mama's, for example, had recently closed) but I tried to narrow down the list with help from Liz and other local writers and chefs. If you believe I've missed a crucial place, feel free to express your discontent (or write glowingly about my general demeanor) in the comments. But for now, settle in and bear witness to my own New Orleans burger ranking:
10. Single with American and grilled onions
Uptown
I'm going to start with a positive thing here, because I am generally a nice person. There was good grill on the bun. But that's about where the positivity ends. Unfortunately, my experience at truburger resembled one of those Yelp diatribe nightmares that sound made up. My burger took 35 minutes to come out. At a sit-down restaurant, that is a long time. But this is a fast-casual joint. That is forever.

And because I was seated outside, I walked back in to check and see if my food was up, and did so between five and seven times, until the woman at the front started checking on my food as well. I am not sure what happened, but eventually my single with American and grilled onions came out. It was missing the tru sauce, but I was not about to send anything back. It was medium-sized, and the patty was peppery, but it was overcooked. That good grill on the bun was also a bit of a waste because the bun had gotten cold from sitting for awhile. And the grilled onions had been cooked so long that the natural sugars burnt. Hopefully this was just a fluke of sorts, because I certainly don't relish this type of review. I HAVE A HEART, OK?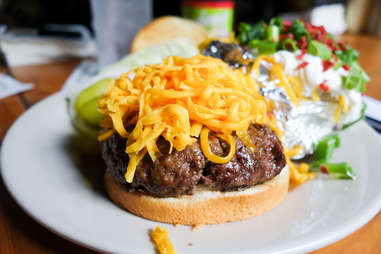 9. Cheeseburger
French Quarter
Port of Call is famous for essentially creating the New Orleans-style burger in the '60s (for more, read a fascinating piece by New Orleans Times-Picayune restaurant critic Brett Anderson on the topic), and is one of the two burgers in New Orleans I'd actually eaten before I came for this task. Also, it has crazy-strong cocktails in to-go cups. I learned the hard way to never make a public speech after having one.

It is, to my taste, an extremely serviceable, big, backyard-grill burger with a few issues that keep it at No. 9. The meat is juicy, and the shredded, cold cheddar cheese eventually melts a bit, giving a slight tang to the raw onion and hamburger dill pickles. But the bun is perfunctorily toasted, and dry pieces flake off the top. That potato on the side was pretty damn delicious, though.
8. Lot-O Burger dressed with American and grilled onions
Uptown
As we stood ordering, a small girl standing on a milk crate played a Pac-Man arcade game and danced a little bit to the Jackson 5 bumping in the background. She was excited, and she had a right to be -- about five minutes later, her and her sister were sitting down, and absolutely crushing a Lot-O Burger.

The Lot-O Burger is a great, classic, diner-style burger, where the American cheese blends with crispy griddled patty and thin, cooked red onions, which are so thin as to almost be shaved -- and, at least for me, were slightly undercooked. But the standard sesame bun had the perfect butter griddle to hold up to the mess of flavors coming from the mayo, mustard, and everything else. It was on par with the next burger you'll find in the rankings, though the Camellia won the tiebreaker with better onions and a little more flavor from the grill.
7. Hamburger with cheese, dressed with grilled onions
Carrollton
"Fabled institution, especially when hungover" is the way Liz might've described this place. And indeed, it is a legend, with its bow tie-clad waiters and old-school feel. And it serves up a damn fine burger in a style I certainly dig -- griddled, with just the right amount of char, on a flat-top that's been seasoned with bacon fat -- which gives it an extra salty, fatty flavor that pairs well with the classic chopped, buttery grilled onions and American cheese. The bun is nondescript, but in a good way. I've honestly got nothing bad to say. There were just a lot of very good New Orleans burgers.
6. Toups' Burger
City Park
Just a lunchtime specialty, Toups' Burger is for the meat-serious. It's a mixture of pork and beef, and I suspect they might've formed the beef patty around the pork to give it a play on texture and flavor throughout. Pickles are very thin summer squash, delicate and slightly spicy. They could've been a bit hotter to balance all the other things going on here, including thick-cut bacon and a good herbed aioli, which gave it a nice flavor, but also some extra fat that didn't have that acid balance. Final conclusion: delicious, but also a wallop of a gut punch.
5. The #4 (meat, cheddar, hickory smoked sauce, onion)
Fontainebleau
If you've ever wanted to play the video game version of the tailgating game Bags, Bud's has you covered. Liz and I played an exciting round of this game as we waited at Bud's, which has an interior that seems like it was designed by someone lovingly picking random items out of a hat. Another entry in the legend category, this broiled burger joint has been around since 1952 (and has only had two owners, the current one having worked at the restaurant since 1962 before purchasing it in the '90s).

Though Bud's abides by some of the New Orleans-style traditions (cold shredded cheese, for example), it has its own distinct style thanks to the "hickory smoked sauce." And though it usually goes against my rules to have a burger with a non-conventional sauce, Liz argued that this was what makes Bud's stand out. And dammit, she was right. The subtle smokiness of the sauce blends well with the thin, salty patty, sharp cheddar, and raw onions, which work even better than grilled because of their weight counteracting the sauce. The bun was perfectly griddled -- it stood up to all the sauce, and didn't blink. A great, unique burger. Oh, and I lost pretty bad at that stupid Bags game.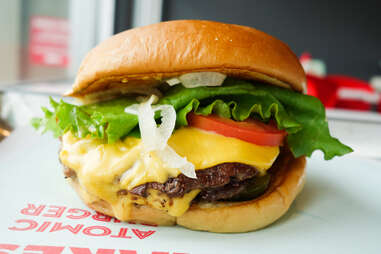 4. The Atomic Burger
Metairie
On a totally boring strip filled with big box stores just outside the city sits Atomic Burger. It shouldn't be as good as it is. It probably doesn't need to be. And yet it is. Start with a great squishy bun with a leak-proof griddle. Add in thin, salty, cheesy patties, and raw onions that are almost razor-thin, plus pickles for acid, and you get a fast burger that would give any top-level In-N-Out a run for its money. Don't tell anyone in California I said that.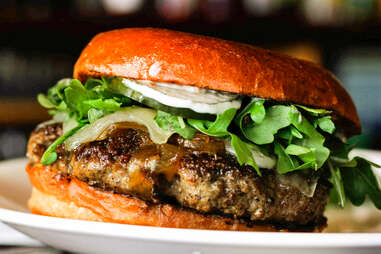 3. The LPG Cheeseburger
Garden District
I didn't really want to get a burger, truth be told. Justin Devillier's lauded Southern spot was one of the last stops on my New Orleans burger tour, and the menu just looked too good to settle for a burger. But I am a professional, so I ordered the damn burger (and maybe some blue crab beignets on the side).

But thank god I did. The thick patty, normally a turn-off, was perfectly cooked, juicy, and pink, and the Gruyere mixed with the meat, aioli, and onion marmalade to create a savory, salty mess. But just when you thought that would be too much, the house pickles, grain mustard, and peppery arugula cut through to achieve great balance. Oh, and the soft bun, which had only a cursory bit of char on top, but more on the bottom, played its part well. I'm definitely coming back and ordering more food, but I'll probably still get the burger.
2. The Kim Chi Burger
Freret
"What are we doing at a Vietnamese place?" I hissed at Liz as we walked in. "You'll see," she said. And see I did. Nothing about this burger from an upscale, casual Vietnamese spot should make me excited. I don't like thick patties; it's a couple of inches of beef. I don't like brioche; they put it on brioche. I don't like tricks; the burger comes topped with kim chi. But this sort of experience is exactly why I'm actually tasting all of these burgers.

The burger is basically topped with a mix of spicy mayo and kim chi. The acid from the kim chi balances both the creaminess of the mayo, and the juicy burger, which is insanely flavorful for its size. The bun doesn't interfere, though my only complaint would be that it was slightly over-buttered and a pool of grease formed at the bottom. But really, this is a minor complaint. This burger is a revelation, and should be sought after immediately.
1. The Single
Freret
I definitely didn't want The Company Burger to be number one. In truth, I love Company Burger and everything they do, and have eaten it several times before, but I wanted to come in with a hot take that separated my rankings from Brett Anderson's, and at least seemed somewhat original.

After all, I'm an out-of-towner, a burger carpetbagger, just whirling in, eating a lot, and dispensing strong opinions. But when I stared into my burger-loving soul, I had no choice. Company Burger simply makes one of the best burgers in the country. The single is simple -- just house-made bread & butter pickles, American, and grilled red onions -- but each facet is perfect. The pickles have a good amount of acid and a spicy bite, the cooked red onions offer up more of a kick than white, and they allow you to dress your burger at a sauce bar, so you can figure out the right amount of sauce for your tastes. I went with the Thousand Island clone. Naturally, it too was perfect.

Damn you, Company Burger. Damn you and all your perfect burger glory.
Sign up here for our daily New Orleans email and be the first to get all the food/drink/fun in the Big Easy.