The Best Burgers in New Orleans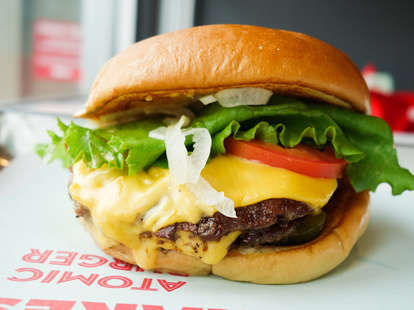 They're the food that spawned roughly a million fast-food chains. The food the World Health Organization describes as "probably carcinogenic." In short, burgers are the most American food ever to exist. (Yeah, technically they're named for Hamburg, Germany, but the sandwich part didn't come until much later.)
So what happens when you cross burgers with New Orleans? It's simple: The Big Easy makes burgers its bitch. I mean, did you really think the region that invented turducken wasn't going to kick ass at grilling ground beef? In no particular order, here are New Orleans' best burgers.
838 Esplanade Avenue
This long-term French Quarter standby is the Macklemore of New Orleans burger joints: locals either love it or hate it. But regardless of your feelings about Port of Call's half-pound, charbroiled burgers topped with shredded Cheddar cheese, you have to admire the austerity of its menu: steak, burgers, baked potatoes, salad, and potent cocktails that come in souvenir cups.
3934 Veteran Memorial Boulevard, Metairie
You won't find oversized, gimmicky burgers at this retro-chic Metairie drive-through -- just solid basics executed with an eye toward foodie trends, like sliders and edamame sides. Get a classic Atomic Burger, top it with garlic aioli, and wash it down with a nitrogen-cooled Nutella shake.
3021 St. Claude Avenue
Cross over the Press Street train tracks to this late-night (open 'til 2am) burger and beer destination in Bywater and peruse the 40 craft beers on tap. Then there are the burgers -- dense, whole-animal-grind things of beauty. They're exactly the kind of simple but perfect patties you'd expect from a joint that raises its own cows. (Plus, the black bean veggie burger is actually decent.)
611 O'Keefe Avenue; 4600 Freret Street
In the eponymous burger, two small 3-and-a-quarter-ounce patties meld with two slices of American cheese for the perfect meat-to-cheese ratio. There's a house-made mayo bar with a half-dozen or so flavors, including garlic, chipotle, basil, and honey mustard. As my friend Chrys says, "I always leave happier than I was going in."
333 St. Charles Avenue
You'd expect a burger that costs $16.50 to be the best damned burger you ever put in your face, and devotees will attest, Lüke's is. The airy, John Besh-helmed brasserie tops its Lüke burger with mild Emmentaler cheese, tomatoes, onions, and Allan Benton bacon.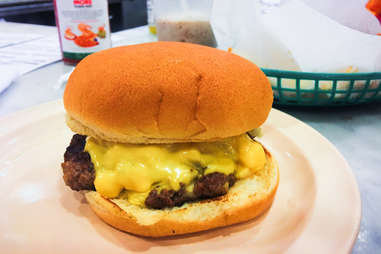 626 South Carrollton
There's often a line spooling out from this circa-1946 diner, but it's worth the wait. Every counter seat faces the kitchen, and white uniformed servers/cooks put on a show. The point is the burgers, which might just be the perfect food for a late night out. Cooked on a well-seasoned grill, they seem to absorb all the best flavors of decades of accumulated grease. Camellia Grill did rack up 13 health code infractions recently (and Port of Call was no slouch either), but it's a greasy spoon. Who cares if it's not spotless?
900 Bourbon Street
If a diner's window sign touts "world's best" burgers, they better be at least halfway decent. A quarter pound of juicy beef cooked under a hubcap on a grill, Clover Grill's huge portions deliver on -- or at least don't totally mangle -- the promise. A quirky clientele, sassy staffers, 24/7 hours, and proximity to Bourbon Street clubs add to Clover Grill's charm.
4500 Freret Street
A sunny neighborhood bistro with a decidedly upscale feel, High Hat gets down and dirty with its burgs. The signature dish is fresh, certified Angus beef topped with pimento cheese, and low-carb eaters appreciate that they can order the patty with extra tomatoes in lieu of a bun and swap out fries for any other side (e.g., stewed okra). But whatever you do, don't skip the house-made pickles.
Citywide
The nostalgia factor is high at this old-school charcoal-broiled chain, an institution since 1952. Almost every longtime New Orleanian remembers getting burgers here as a kid or college student. If the flavors don't transport you to the past, the prices will -- burgers start at $3.
2540 Banks Street
The Dr. Tan burger at this Mid-City dive piles grilled jalapeños and onions, house slaw with the perfect amount of zing, pepper jack cheese, chipotle aioli, and bacon on a massive patty and a brioche bun. Plus, the converted shotgun setting makes you feel right at home when digging in.
8801 Oak Street
A pioneer in New Orleans' early craft-burger movement, Cowbell's buzz factor may have dwindled, but its firm, flavorful organic, grass-fed beef burgers remain solid options. The Cowbell burger comes on a toasted potato roll with all the fixings, but we suggest shelling out an extra dollar for house-made pepper jack cheese.
Sign up here for our daily New Orleans email and be the first to get all the food/drink/fun in the Big Easy.
Missy Wilkinson's favorite burger is the Mexican Northwestern at Junction. Follow her on Instagram at @nowlistenmissy