When it comes to deep fried desserts, New Orleans is of course most famous for our beignets. And for good reason: our beignets are incredible. However, as righteous as it is to get down and dirty with the powdered sugar at Cafe du Monde and Morning Call, there are still plenty of bakeries in town specializing in traditional donuts, and these are the best places to get them...
Recommended Video
Thrillist's Best (and the Rest): The Truth Behind the Saddest Cookbook Ever
Metairie
OK, so this place is technically a grocery store and not really a donut shop, but if you're headed there, don't miss the opportunity to stop by their awesome in-house bakery to pick up a freshly baked, hot glazed to snack on while you "make groceries."
Lower Garden District
A relative newcomer to the NOLA donut scene, District was a hit from the start with its perfect little sliders, nitro-brewed ice coffee, and, naturally, donuts. They're best known for their rotating cast of 200+ fanciful flavor combinations, with options like a maple-bacon-Sriracha donut topped with candied thyme, as well as a "red beans and rice" donut (just try it). But the true hero here is the "dough à la Mode," a warm griddled donut stuffed with Creole Creamery ice cream. Yeah, it's as good as it sounds.
Gentilly
This family owned and run spot over in Gentilly is beloved for being open seven days a week -- and for their attention to freshness, not to mention their fondness for fun, holiday-themed creations. Go for a classic here: like a sprinkle donuts, just like the giant one on their sign.
Mid-City
We all know that cops love donuts... and that's exactly what led to the creation of Blue Dot, which was founded by three NOPD officers with a Chief Wiggum-sized passion for, yeah, coffee and donuts. This joint stands out for eschewing donut machines, preferring to hand cut each little work of art themselves. If you want to get triple indulgent, snag the banana cream-filled with Nutella topping. Nutella really does make everything better.
French Quarter
Though Wink's offers plenty of fresh-baked donuts in a variety of flavors, fillings, and toppings -- as well as savory breakfast and lunch items -- you're really going there for one reason and one reason alone: buttermilk drops. This New Orleans-invented glazed ball of buttery goodness is a classic treat, and few places do it better than Wink's.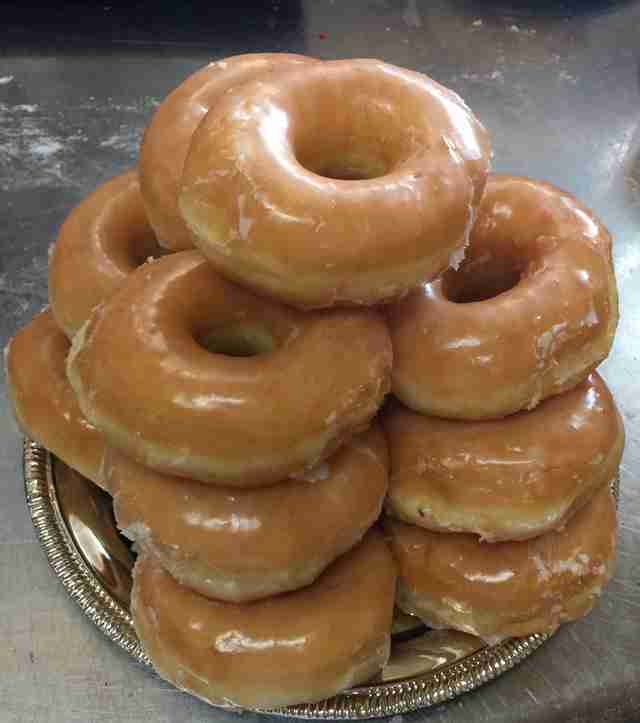 Jefferson
You have to get here early to get your fix, since they're only open until 11am (and closed on Mondays), but this straightforward spot is a favorite of local epicures and chefs for a reason. They keep to the basics, like the glazed twist, and do them brilliantly. Plus, during carnival season, they make a mind-blowing donut king cake.
Uptown
You'll find comforting soul food and great po-boys at this laid-back joint... and also really good donuts. They stick mostly to traditional fare, but hey, if you're going to eat a giant fried shrimp po-boy for lunch, why not use the opportunity to be a workplace hero by grabbing a fresh-baked dozen of chocolate glazed for the office? Or to bring home. For yourself. Carpe diem, man!
Lakeview
The name "McKenzie's" has a special place in the heart of almost every person who grew up in New Orleans, which made it so heartbreaking when the classic NOLA bakery shuttered for good. But in a deus ex machina move, Tastee bought the rights to all of McKenzie's wonderful recipes, like their old-school jellyrolls and classic buttermilk drops, and revived a treasured Crescent City donut tradition.
Uptown
When you walk into this Prytania St bakery and cafe, you'll find some fantastic savory breakfast options (bagel and biscuit sandwiches are a must), not to mention a Wonka-esque confection counter filled with a dizzying variety of turtles, cookies, chocolates and bonbons. Naturally, they also have donuts, and even invented the "do'sant" -- which is essentially the NOLA version of the cronut, and which is similarly insanely popular when available. They have literally been known to start fights.
Arabi and Chalmette
If you're planning a trip out to the Chalmette Battlefield for a morning of history, you'd do yourself a service by planning a stop on the way for a morning pick-me-up at Gerald's, an old-school bakery that sells new school donuts. Their concoctions are clearly not approved by four out of five dentists, seeing as they have a habit of topping their donuts with crushed up bits of candy and cookies, like their amazing Oreo donuts. Be like that fifth dentist and just go for it already.
Love free donuts? Find out where to stock up for this year's National Donut Day on Friday, June 2, 2017.
Sign up here for our daily New Orleans email and be the first to get all the food/drink/fun in the Big Easy.
Scott Gold is a writer in New Orleans who would kill for someone to bring him a box of buttermilk drops right now. Follow him on Twitter @scottgold.