The Most Delicious Easter Brunches in New Orleans This Year
Everyone knows brunch is an inherently ridiculous excuse to eat like a child while day drinking, and Easter brunch in New Orleans is no different. Our city famously elevates anything ridiculous to new, surreal heights -- and oh, does it ever deliver when it comes to Easter brunch. There's all the eggs and pastel you would expect, plus a surplus of seersucker and giant hats, and not one, not two, but three parades. Here are the best places to experience Easter brunch in the Big Easy.
French Quarter
Lounge-y spot for live music and martinis
With its wood paneling, tufted leather chairs and intimate,curtained booths, Bombay Club feels like the bastard child of Sherlock Holmes' library and a 1940s-era jazz club. While there's something to be said for starting a night out at the Bombay Club, it also has early-bird appeal. The Easter menu brings bottomless rosé and mimosas for $10 a person, as well as small and large bites including beer-battered crab and chorizo beignets and barbecue shrimp and grits. Make your reservations online.
French Quarter
Brunch, unlimited booze, and a bunny on a boat
Beignets? Check. Unlimited booze (well, just wine)? Check. Jazz band? Check. How do you make your Nawlins' brunch even more obnoxiously Nawlins'? Easy -- put it in a steamboat and cruise it down the Mississippi River. Throw in a costumed bunny, because why not? The price for this river-borne Easter fantasy is $51 for adults, $27.50 for kids and $17.50 for tykes under 6. Tickets to the event are available online.
Central Business District
Modern Creole fare in a sleek, sunny hotel restaurant
New Orleans serves up Easter realness with a side of kitsch: locals don oversized pastel hats with proportions to rival those worn at the Kentucky Derby. Cafe Adelaide's "Hattitude" brunch lets diners "cap"italize on this trend. Show up wearing your finest hat or floofiest bonnet and receive up to three free Hat-tinis. Turtle soup, bananas Foster-stuffed pain perdu and tomato-braised pork shoulder over buttermilk biscuits are some of your options for cushioning the boozy blow of a three-martini brunch. Make your reservations online.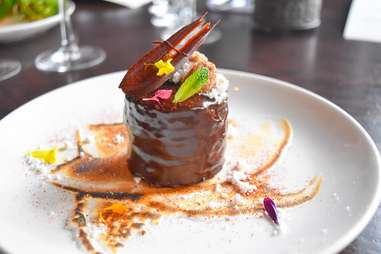 French Quarter
Cocktails and contemporary spins on Louisiana cuisine
Known for its convivial bar and handcrafted, classic New Orleans cocktails, this industrial-chic space in the Vieux Carre rolls out a special Easter menu. Ham hash consists of two sunny-side up eggs, potatoes, slow-roasted ham, onions and peppers, while sides include jambalaya risotto and boudin balls. Even if the restaurant's namesake, Huey P. Long (nicknamed the Kingfish), couldn't live up to his promise to make "every man a king," brunch here will make you feel decidedly royal. Make your reservations online.
Central City
Upscale regional fare served in an actual museum
Housed in the Southern Food and Beverage Museum, Toups South rolled out a monthly brunch program this month -- and that menu gets special tweaks for Easter. At $45 a person (drinks not included), Top Chef alum Isaac Toups' three-course Easter tasting menu is a pretty decent value. An amuse of deviled egg and Georgia caviar kicks off the procession of decadent fishes, which includes a shrimp roll or spinach salad, a short rib poutine or crab fondue, and chocolate cake or panna cotta. Call ahead to ask about the Easter menu at (504) 304-2147 or make a reservation directly online.
Portside Lounge (Central City)
Vegan brunch pop-up by a vegan sushi company
Rolls and Rock boldly goes where no vegan has gone before, first conquering sushi and now brunch. Easter Sunday brings breakfast burritos, tempura bananas Foster, chocolate chip Belgian waffles, frittatas and avocado toast to a tiki dive bar in Central City. In a brunch landscape littered with carving stations and omelets, this option is a palate cleanser in so many ways. Call ahead to ask about specific offerings or reservations at (619) 621-9278.
French Quarter
A graceful mainstay for Creole dining, open since 1920
You'd expect nothing less than deftly executed, beautifully plated Creole fare at this elegant establishment, where the white tablecloths are only outnumbered by the crystal chandeliers -- and that's exactly what you'll find during Easter brunch at Broussard's. Classic dishes include chicken and waffles and raspberry-mascarpone stuffed pain perdu, and a prix-fixe menu includes strawberry salad, mushroom quiche and carrot cake. Decisions, decisions...at least sitting outside in the courtyard is a no-brainer. Definitely call ahead at (504) 581-3866 or make a reservation online for this one.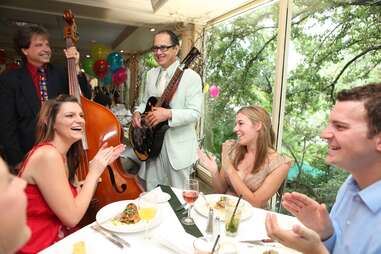 Garden District
A historic jazz brunch mecca with "haute Creole" cuisine
According to a food runner, on any given day upwards of 400 people eat at Commander's Palace -- a deceptively large restaurant with two floors and eight dining rooms. Each customer gets the white-glove treatment as servers and assistant servers deliver multi-course meals with dance-like precision. There's no special Easter menu, but honestly, Commander's Palace has the best jazz brunch game in town. Go -- if it's not too late to grab a table. Make your reservations online.
French Quarter
19th-century Creole legend with a front-row view of the festivities
Are you newly married? Dead? Risen from the dead? Whatever the occasion, New Orleans will find a reason to celebrate with a parade -- and Easter is no exception. The Historic French Quarter Easter Parade kicks off at Antoine's at 9:45am and rolls to St. Louis Cathedral for 11am mass. The people-watching alone makes Easter brunch a must-try, but Antoine's refined Creole fare is the reason why New Orleanians have kept the grand dame in business since 1840. Plus, you get a free mimosa with any egg entrée. You'll definitely want to make a reservation ahead of time.
Mid-City
Fine dining with verdant City Park views
Thanks to many large windows and a balcony overlooking City Park's ancient, burly live oaks, a meal at Ralph's on the Park is the next best thing to the Japanese practice of "forest bathing." But in some ways (e.g., food and booze), it's better. A three-course Easter brunch costs $55 a head and includes crawfish remoulade salad, herb roasted leg of spring lamb and banana bread pudding. (There's also a kid-friendly menu with chicken tenders and scrambled eggs -- all the better to avert hangry Easter meltdowns.) Make your reservations online or by calling (504) 488-1000.
Uptown
Unlimited Indian food and Champagne = heaven on earth
Sure, brunch is great, but how many tepid quiches can you eat before the hybrid meal starts to wear on you? Nirvana has a genius solution: Indian brunch. On Easter Sunday, you'll find a vast buffet with all the tandoori chicken, aloo gobi and dal makhani you can eat, and all the champagne you can swill at Nirvana, one of New Orleans' rare, precious bastions of Indian food. Reservations here aren't required, but are encouraged and can be made by calling (504) 894-9797 or emailing reservations@insidenirvana.com.
Sign up here for our daily New Orleans email and be the first to get all the food/drink/fun in the Big Easy.
Missy Wilkinson is special sections editor for
Gambit
, an alt-weekly in New Orleans. Her debut young adult novel, Destroying Angel, was released this year by Torquere Press. She has written for xoJane.com, HelloGiggles.com, BRIDES, Country Living, and other outlets, and she blogs at www.nowlistenmissy.com. She enjoys running, costuming, and playing synth-heavy pop songs on her keyboard.