14 Legit Reasons to Eat in the French Quarter
Sylvain | Rush Jagoe (edited)
Sylvain | Rush Jagoe (edited)
New Orleans NOLA's French Quarter is home to hundreds of restaurants and bars, some of which are a century or two in age (like the Old Absinthe House, and Lafitte's Blacksmith Shop Bar). This neighborhood's had genuine gourmand cred since before Louisiana was even a state, and continues to pay homage to tradition while still maintaining a spirit of innovation. But none of that will help you decide where to eat tonight. This list, on the other hand, will tell you exactly where to go for the various moods/occasions you may find yourself in, from egg yolk carpaccio for breakfast to late-night hot dogs for drunchies. Here are the 14 coolest places to eat in the French Quarter. More Stuff You Will Like
Best all-around Southern comfort food: Angeline
1032 Chartres St The high-quality breakfast, brunch, and dinner here come courtesy of chef Alex Harrell, who combines Gulf Coast ingredients with French/Italian techniques to produce dishes like the flagship Mississippi rabbit milanese. In addition to homemade pastas and fried eggs with boudin & grits, this place has a great cocktail and beer list, and a truly under-the-radar happy hour (devilled eggs! pickle plates! punch du jour!). Continue Reading
625 Chartres St This spot embodies a casual-but-kickass melding of great food, great booze, and hospitality in its tiny, haunted building and courtyard right off Jackson Square. Try the chilled Gulf shrimp or southern antipasti, or go for the fries & Champagne appetizer (which is exactly what it sounds like). The fried "Chick-Syl-Vain" sandwich is also popular, and the pan-fried pork shoulder is tremendous -- plus, since this is a gastropub, you'll also find impressive wine, beer, and cocktail lists.
942 N Rampart St This softly lit, cozy dining room is perfect for gazing into your date's eyes -- heck, it might even make them look better! Sure, you might not be able to see the menu clearly, but since all the dishes are creatively conceived and meticulously executed, you really can't go wrong with anything. Make sure to try the pork belly & crispy scallop appetizer to really kick things up for the night. Even the seductively rounded corner banquettes for larger parties seem to whisper elegance and the promise of a lovely time to be had.
620 Chartres St New Orleans is where the famed steak empire Ruth's Chris began back in 1965. But for a prime, 21st-century steakhouse experience, Doris Metropolitan is the place to go. Its high-end steakhouse tradition is infused with Mediterranean touches, inspired by the owners' start in Israel in 2003. Cuts of USDA Prime, dry-aged, and wagyu beef are available, along with a variety of seafood and meat dishes, and a varied and sophisticated menu of appetizers.
219 Dauphine St For years, Killer Poboys has been slinging out high-quality, creative, yet faithful-to-the-core concept po-boys out of the tiny kitchen in the Erin Rose on Conti St. You can still find them there, but there's also a standalone brick-and-mortar around the corner at 219 Dauphine St, with an expanded menu for breakfast and lunch. The much-loved seared Gulf shrimp, glazed pork belly, and roast sweet potato po-boys all made the transition from "Little" to "Big" Killer Poboys (and are still often found in the "Little" kitchen in the Erin Rose.) Other standouts on Dauphine include BBQ chicken confit, "Black Beer" beef debris, and a chorizo & egg breakfast po-boy.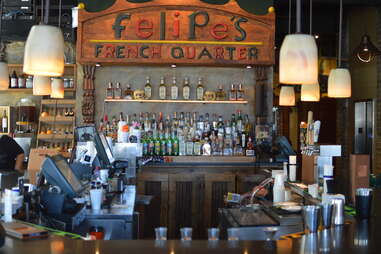 301 N. Peters St Many might gasp to see it on a "best of" list, but know that this unassuming burrito & taco joint serves fresh, fast and filling food perfect for soaking up booze -- AND there's a great (and reasonable) cocktail list. Felipe's is great for a large group, with vegetarian offerings too. Plus, upstairs is one of the area's Tiki bars, Tiki Tolteca.
209 Bourbon St When you want to kick it old school (and you packed a blazer or jacket), wear some closed-toe shoes and wander a couple blocks down Bourbon St for the stubbornly unchanging, faded beauty of Galatoire's. High-end Creole food has been beautifully executed here for more than a hundred years, including the best of traditional French-Creole dishes like escargot, souffle potatoes, crabmeat Yvonne, shrimp étouffée, Gulf fish a la meuniére amandine, and seafood okra gumbo. The downstairs dining room is the place to see and be seen, but you'll have to wait in line to get there -- bring a book, or pay someone to stand and wait for you.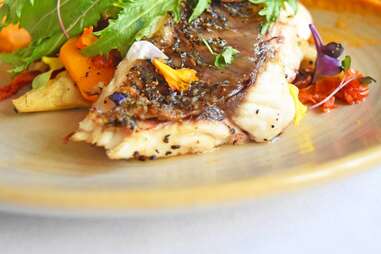 337 Chartres St While not as deeply immersed in the Cajun sensibilities as Donald Link's Cochon, Thibodaux native Nathan Richard's menu combines the Cajun reverence for honoring ingredients and culinary history with a sophisticated, often playful take on modern trends that delight visitors and natives alike. The plateau de fruits des mer, Richard's Lenten seasonal take on a traditional meat charcuterie board, uses local seafood to create all manner of fresh and cured sausages, terrines, and smoked items.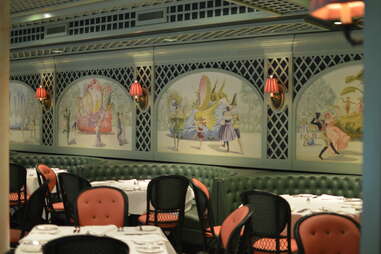 417 Royal St When you want to drop serious cash on breakfast and not regret a single thing, this newly renovated classic-cuisine-meets-modern-interpretation spot is the way to go. Yes, you'll spend $50 bucks on eggs, cocktails, dessert, and coffee before noon, but oh mama, what a way to go. Start with an iced cafe brûlot Bitterman, made with dark roast coffee and chicory, cognac, Clement Creole Shrubb, and spiced syrup. Then indulge in the egg yolk carpaccio, corned duck hash, or eggs Cardinal with lobster-shrimp boudin, spinach, and creole mustard hollandaise. Then try the dessert that Brennan's invented way back in the day: bananas Foster. Then go into debt when the check comes.
739 Iberville St When you want some chargrilled oysters without waiting in line for 45 minutes, walk past the line for the restaurant across the street and settle in at the oyster bar at Felix's. The shucker will hook you up (shuck you up?) with a plate of raw Gulf oysters on the shell, or you can get them grilled up with butter and garlic. Throw a few back, and then get back to wandering the Quarter with a happy belly.
622 Conti St Opened by the confectionary minds behind the Sucre candy and pastry emporium, this full-service bistro serves both sweet and savory goodies alongside a unique cocktail menu. While it's open for food service all afternoon and evening for lunch, brunch, dinner, dessert, and general snacks, afternoon tea is the best way to experience everything this whimsical one-of-a-kind restaurant has to offer.
539 St. Philip St Creole-Italian is a specific sub-genre originating in New Orleans after Italians started emigrating here in the 19th century. The red sauce (aka "gravy") found in other Italian-American traditions is less prevalent here, with fresh Gulf seafood preparations and Creole-French flavor profiles attaining more prominence on the menu. For years, Irene's wouldn't take reservations for smaller parties, so the only thing to do would be to show up and wait at the bar for your turn. The place is on OpenTable now, but due to the tendency of happy customers to linger after their meal's finished, you might run into a bit of a wait regardless. Totally worth it, though!
310 Chartres St SoBou is the kind of place that's perfect for when a summer rainstorm rolls along and you run inside to wait it out. Shake yourself off, come on in, and have a hand-crafted cocktail, cup of punch, glass of wine, or beer, and try some of the Latin-tinged New Orleans street food dishes, like grilled shrimp and tasso pinchos, yellowfin tuna cones with pineapple ceviche & avocado ice cream, or sweet potato beignets with foie gras fondue, duck debris, and chicory coffee ganache. When the rain clears, you might find yourself unable to tear yourself away.
219 N Peters St When it's past midnight, and dinner is a distant, drink-clouded memory, don't get a Lucky Dog if you want your digestive system to remain intact in the morning. Instead, head over to Saint Lawrence for some truly excellent, locally sourced fare (served until 2am every night) -- although the fried chicken may still wreak havoc on your insides. The food is even great for more sober lunches and dinners at traditional times, and the refreshing, icy daiquiris served here are far superior to the ones found on the corners of Bourbon Street. Sign up here for our daily New Orleans email and be the first to get all the food/drink/fun in the Big Easy.As a New Orleans Uptown Girl, author Nora McGunnigle doesn't go to the French Quarter often, but when she does, it's to go to one of these places. Follow her adventures on Twitter at @noradeirdre and Tumblr at noramcgunnigle.tumblr.com.