In between breakfast (the most important meal of the day, don't you know) and dinner (which, in New Orleans, is more of an event than a meal), the specialness of lunch sometimes gets overlooked. Well, not anymore. Whether you're grabbing a sandwich and heading back to work or enjoying a three-martini affair, every 'hood in NOLA has something great to offer you in the lunch department, and we've rounded them all up for you.
Recommended Video
Acquired Taste: Blood Rice Cakes With Timothy DeLaGhetto and Justina Valentine
Bywater
The Joint (address and info)
What you're getting: Pork ribs, baked beans, slaw, cold draft beer
Places like Booty's Street Food, Oxalis, and Maurepas Foods are always a good bet for Bywater dining (as is a slice from Pizza D), but when it comes to lunch, we're headed straight to The Joint for some good old-fashioned American BBQ.
 
Lower Ninth Ward
Cafe Dauphine (address and info)
What you're getting: Fried stuffed bell peppers
OK, granted: the Lower Ninth isn't much of a foodie destination (though we hope that changes). Still, if you're out that way between breakfast and dinner, Cafe Dauphine's fantastic bell peppers, stuffed with plenty of crab meat and shrimp dressing, will definitely hit the spot.
St. Roch
Kebab (address and info)
What you're getting: Doner kebab
This was a difficult one, seeing as the beautiful new St. Roch Market has turned St. Claude Ave into the place to hit for high-end nibbles (even though "Yuppy = BAD"). But Kebab wins us over every time with its spot-on Dutch/German street food, Belgian fries, and the vintage Flash Gordon pinball machine.
Marigny
The Ruby Slipper Cafe (address and info)
What you're getting: The BL2T
There are some really cool dining options in the Triangle, however many of them aren't open until evening. Thank goodness, then, for The Ruby Slipper, which is dedicated solely to breakfast, brunch and lunch. Try its version of the BLT, featuring both fresh and fried green tomatoes and served on challah.
 
Gentilly
The Munch Factory (address and info)
What you're getting: Hot sausage patty melt
OK, so it has a decidedly silly name, but don't let that fool you: The Munch Factory is on its game when it comes to lunch in Gentilly. It's not health food either; we're talking bayou nachos, Munchin' Wings, burgers, and fries. Sometimes, you just gotta munch.
Uptown/Carrollton
High Hat Cafe (address and info)
What you're getting: Fried catfish, Delta Hot Tamales, Gumbo Ya-Ya
At this point, we're nearing the give-up point trying to pick lunch places, especially when it comes to Uptown, but the show must go on. We love the sandwiches at Wayfare and the burgers at Cowbell -- and who doesn't adore a Company Burger? -- however, the High Hat wins the blue ribbon here for its fantastic Louisiana/Delta fare in a casual, comfortable setting. The catfish is outta sight.
Mid-City
Katie's Restaurant (address and info)
What you're getting: Crawfish beignet and The Barge po-boy
Boy, this was a tough call, seeing all the cool things going on in Mid-City these days, and the temptation to list Bud's Broiler here was exceptionally strong. Lunch at Katie's is never a disappointment, though, so it gets our nod, especially because it features The Barge, an entire loaf of Gendusa French bread stuffed with fried shrimp, oysters, and catfish fit to serve two-four people (or one really, really hungry one).
 
West Bank
Café 615 Home of Da Wabbit (address and info)
What you're getting: Sloppy roast beef on French
When on the "Wank," it's all about dat Wabbit, brah. While Cafe 615 offers great seafood platters and "Gretna's finest muffaletta," it's really all about its roast beef, which is sliced thin and soaked in brown gravy goodness.
French Quarter
Green Goddess (address and info)
What you're getting: The Cuban Luau
Dear God (or Goddess), how do you pick ONE great place for lunch in the Quarter?! Answer: it ain't easy. That said, Green Goddess gets the edge here for its worldly offerings and outdoor seating in lovely Exchange Place. It's version of a Cuban sandwich featuring Hawaiian black salt slow-roasted pork, and it's a serious winner. Extra points are won here for the creative cocktail program as well.
Lakeview
Mondo (address and info)
What you're getting: Pizza with pear, prosciutto, teleme, goat cheese, and arugula
Susan Spicer basically owns lunch in Lakeview, thanks to Mondo, an excellent and casual departure from her famous French Quarter eatery, Bayona. It helps that she proudly calls the neighborhood home. With the killer sandwiches and outstanding pizzas at this place, you'd probably want to live there, too.
 
New Orleans East
Banh Mi Sao Mai (address and info)
What you're getting: Meatball "po-boy"
If you're lunching in Da East, you're clearly headed for Vietnamese, but there are only so many times you can hit Dong Phuong Bakery (actually, this is a matter of some debate). To shake things up, try the ridiculously tasty meatball banh mi at Banh Mi Sao Mai, smothered in the shop's famous house-made tomato sauce and the requisite pickled veggies.
Garden District/Central City
Martin Wine Cellar (address and info)
What you're getting: The Deli Deluxe (corned beef, pastrami, Swiss, Russian dressing & Creole mustard served hot on an onion roll)
Want a really great deli sandwich or big salad with enough time to enjoy on your lunch break? It's all about the newly opened (although original, confusingly enough) Martin's on Baronne St. The Metairie location has long been a lunch hotspot, and it looks like its sparkling Uptown cousin is sharing that same fate. Seriously, the sandwiches are truly outstanding. Plus, you can pick up a bottle of booze or vino for later on your way out!
CBD
Cochon Butcher (address and info)
What you're getting: The house muffaletta
Another terribly tough decision here, owing to the proliferation of outstanding eateries in the Central Business District. Plenty of fine-dining restaurants offer lunch as well as an elegant dinner, and the new Willa Jean bakery is truly outstanding, but for a solid and thoroughly casual lunch experience, it's hard to top Donald Link's butcher/sandwich counter. The hot muffaletta with house-cured meats here is almost impossible to beat. Better still, you can pick up some meats and olive salad to go on your way out. Super bonus.
 
Seventh Ward/Treme
Lil' Dizzy's Cafe (address and info)
What you're getting: A cup of gumbo and the Trout Baquet
Creole soul food is the hallmark of this Seventh Ward eatery, and if that doesn't sound like it'll hit the spot around 1pm, who on Earth knows what will? The lunch specials are particularly noteworthy (fantastic red beans on Mondays, naturally), as is the spot-on seafood gumbo and excellent fried chicken.
Old Metairie
Bear's Poboys (address and info)
What you're getting: Roast beef po-boy dressed; onion rings
Newcomers to Old Metry like Blue Line Sandwich Co. are putting up some good game in the Jefferson Parish lunch department, though it's extremely difficult to bypass Bear's when it comes to the midday meal. It's a classic. Always has been, always will be.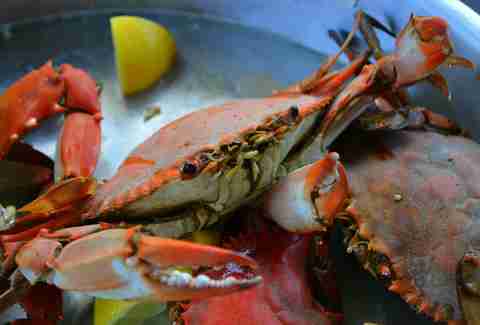 New Metairie
Bevi Seafood Co. (address and info)
What you're getting: Smokey oyster po-boy with smoked gouda and pastrami bacon
It may be new to New Metry, but people are already raving about seafood market/restaurant Bevi, and they're wholly right to do so. Not only does it have some of the best boiled crawfish in town (seasonally, of course), its prepared foods are a home run, as well, and could easily go toe to toe with just about any seafood place in the 504, even Parran's, which is really saying something. We also can't wait for its new Mid-City location to arrive.
 
Sign up here for our daily New Orleans email and be the first to get all the food/drink/fun in the Big Easy.