New Orleans Neighborhoods, Ranked by Their Food & Drink
Wherever you go in New Orleans, you're bound to find something good to eat & drink. This is, after all, New Orleans. But all NOLA 'hoods were not created equal, and some clearly stand above others when it comes to drinking and eating. Here then, is the official ranking of New Orleans neighborhoods, by virtue of what they have to offer on the plate and from the bar.
(Note: Given the enormity of attempting to rank 72 distinct neighborhoods -- Plum Orchard vs. Gert Town? Dillard vs. Black Pearl? -- this ranking has been conducted using the city's 13 planning districts as a basic guideline.)
12. Lower 9th Ward
As many know, few neighborhoods have had a more difficult time bouncing back after the devastation of Hurricane Katrina than the Lower 9th. It's slowly making some progress (thanks, Brad Pitt!), but sadly, it's not quite a destination spot for bars and restaurants, though we'd love nothing more than to see that happen. That said, a po' boy at Cajun Joe's won't do you wrong if you're out that way.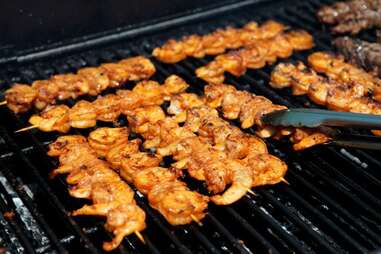 10. NOLA East
Like the West Bank, if you're headed to the East to feast, you're probably doing so because you know that some fantastic Vietnamese restaurants in town are out there (Dong Phuong, Ba Mien, Banh Mi Sao Mai, etc). You'll also find some cool seafood spots, and great Honduran cuisine, as well, like Casa Honduras. Also, don't miss the soul-filling lunch plates at Vucinovich's.
9. West Bank
The "Wank" is known by savvy locals as the place to go for amazing Vietnamese food, including two restaurants that are considered by many to be the best Viet eateries in the city: Tan Dinh and Pho Tau Bay. But if you happen to get your fill of pho elsewhere when you find yourself across the river, there's always a great roast beef po' boy at Da Wabbit or DiMartino's, not to mention excellent boiled seafood and other Cajun fare over at Zydeco's.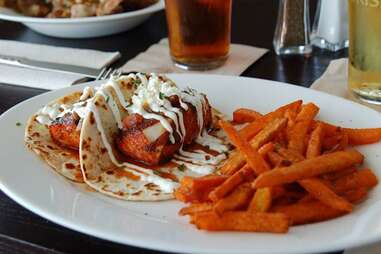 8. Lakeview
It might be a hike from Downtown, but going to Lakeview is a hike worth taking, particularly when it comes to seafood. Recent days have seen a revitalization of the old-time seafood shacks right on the water -- like The Blue Crab and Brisbi's -- where you can enjoy a giant platter of fried shrimp, catfish, oysters, and crabs while you watch the brown pelicans skim over Lake Pontchartrain.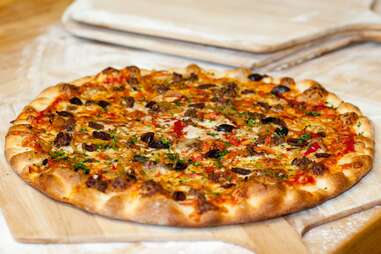 7. Bywater
At some point in the middle of last decade, during the rebuilding following Katrina, an Upper 9th Ward neighborhood known as Bywater became home of the New Orleans hipster influx. And with the skinny jeans and all things ironic came new, hip restaurants and bars as well, making it a place definitely worth checking out. Notable standouts include Elizabeth's, Oxalis, Mariza, Jack Dempsey's (red fish po' boys, ya heard?), Booty's Street Food, Maurepas Foods, Bacchanal Wine, Pizza Delicious, and a slew of others. And yes, they have kale.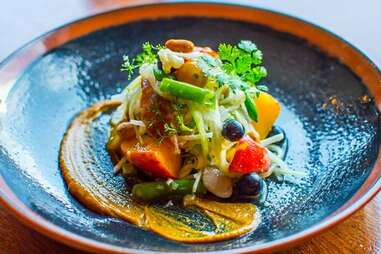 6. Mid-City (incl. 7th Ward/Treme)
Mid-City has been blowing up in recent years with some outstanding new spots, a clear testament to which is Michael Gulotta's restaurant MoPho, which could have opened anywhere in town, but is nonetheless killing it. But even with cool new places bringing attention to the 'hood, you can't deny its longstanding history as an eating/drinking destination, with everything up to and including Dooky Chase's, Parkway Bakery & Tavern, Mandina's, Angelo Brocato's (lemon ice!), Li'l Dizzy's, Liuzza's, and more bars than you can shake a stick at, incl. the Bayou Beer Garden, Treo, and Twelve Mile Limit, for starters.
5. Marigny
Even if Marigny were comprised solely of Frenchmen St, it'd still take a spot so high up this list. No place in the city offers so many wonderful places to experience live music, and with it an evening filled with adult beverages. With so many live music bars to choose from -- from d.b.a. to Blue Nile, Three Muses, the Spotted Cat, and so on -- it can be daunting just to choose somewhere to hang out. Unfortunately, the food offerings in Marigny aren't as varied as its music venues, otherwise this 'hood might be higher up on the list, but that doesn't mean there isn't so much to love.
4. Central Business District
In the businesslike corridor between I-10 and Canal St (extending down to the Warehouse District), you'll find some of the very best eating NOLA has to offer, including four courtesy of Chef Donald Link (Herbsaint, Cochon, Peche Seafood Grill, Cochon Butcher) and four by John Besh (August, Borgne, Domenica, Lüke), among many, many others. You'll also find excellent spots to drink and party, like the Howlin' Wolf, Lucy's Retired Surfer Bar, Irvin Mayfield's Jazz Playhouse, and cool cocktail lounges like The Swizzle Stick Bar, Loa, Victory, and, of course, the famous Sazerac Bar in the Roosevelt Hotel.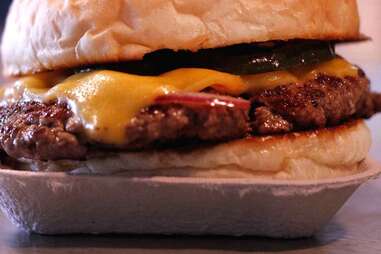 3. Uptown/Carrollton
Oak St alone, amazingly revitalized by the Po-boy Festival it hosts every year, is a pretty rocking place to spend your time, with the Maple Leaf Bar (Rebirth plays every week!) and Jacques-Imo's among your options. This is where you're headed if you want to grab a shrimp po' boy at Domilise's and then a sno-ball at Hansen's Sno-Bliz, the best spots for both in the city. And towards the Riverbend, you have excellent spots like Brigtsen's and Dante's Kitchen, and plenty of great places to wet your whistle as well, particularly down the Freret St corridor, home of Cure, Wayfare, and The Company Burger.
2. Central City/Garden District
The stretch of Magazine St between Napoleon Ave and the Interstate alone is, block by block, just jammed full of so many fantastic places to eat and drink, from fancy cocktails at Bouligny Tavern to dives like The Club Ms Mae's and The Rendezvous Tavern, and cuisine spanning from tapas to Greek, Mexican, po' boy shops, Caribbean, sushi, pizza, and the refined fare of restaurants like La Petite Grocery, Lilette, and Coquette. You also have that same stretch along historic St. Charles Ave, where you'll find places like the Avenue Pub, the Irish House, The Delachaise, and so on. It's all pretty wonderful.
1. French Quarter
The undisputed best 'hood for food and drink in New Orleans is, unsurprisingly, the Vieux Carre. Whether you're looking for dive bars with outstanding eats (Killer Poboys at the Erin Rose Bar), classic Creole fare at a century-old Grand Dame restaurant (Antoine's, Arnaud's, Galatoire's, Broussard's, Brennan's, Marti's, etc.), the drunken carnival of Bourbon St, classic cocktail haunts (the Carousel Bar at the Hotel Monteleone, SoBou, Kingfish), 4am beignets at Cafe Du Monde, and... well, that list could go on for a very long time. It is suffice to say that there are more great places to dine and drink packed into the Quarter than any other single neighborhood in town.
Sign up here for our daily New Orleans email and be the first to get all the food/drink/fun in the Big Easy.