When it comes to New Orleans and food, phrases like "an embarrassment of riches" tend to gush forth in conversation. Everyone knows that nobody -- and we mean nobody -- cooks and eats like denizens of the Crescent City, from down and dirty po-boy and gumbo spots to 150-year-old Creole institutions. Some parts of the city, however, fare better than others when it comes to dining, so we put ourselves to the unenviable task of ranking each NOLA 'hood by their respective food.
(Note: Given the enormity of attempting to rank 72 distinct neighborhoods -- Plum Orchard vs. Gert Town? Dillard vs. Black Pearl? -- this ranking has been conducted using the city's 13 planning districts as a basic guideline.)
Recommended Video
This Restaurant Offers 50+ Garlic-Infused Dishes
11. Lower Ninth Ward
There are more than a handful of unglamorous neighborhoods in the 504, but fewer have gotten more attention for hardship than the Lower 9, which took a big hit in the "federal floods." It still struggles to rebuild, and that includes the restaurant options in the 'hood. We'd love nothing more than to see loads of new restaurants opening up in the Lower Ninth, but until then, a po-boy at Cajun Joe's will do your belly right if you're out that way.
10. Gentilly
Gentilly's dining scene is on the move, particularly with new additions like new-school cafeteria The Füd Bar, which gets bonus points for its wallet-friendly homestyle grub and an umlaut. Still, it's not quite the 'hood you'll send your tourist friends to when they come to town looking for the best food. There are some cool neighborhood spots in the area, including Sammy's Food Service & Deli, McKenzie's Chicken in a Box, and Daddy's Donuts.
9. The West Bank
The "Wank" is known by savvy locals as the place to go for amazing Vietnamese food, including two restaurants that are considered by many to be the best Viet eateries in NOLA: Tan Dinh and Pho Bang. Here you also have one of the best Thai joints in town, Banana Blossom, and the glories that are to be had at the Hong Kong Market (including a sweet and cheap sandwich counter). But if you're not in the mood for pho when you find yourself across the river, there's always a great roast beef po-boy at Da Wabbit or DiMartino's, as well as a myriad of Cajun delights over at Zydeco's.
8. Lakeview
Seafood joints on the water overlooking the Lake are a NOLA institution, and they had a hard time following the storm and floods of '05. But thanks to places like The Blue Crab and Brisbi's, the tradition of enjoying platters of gloriously fried shrimp, oysters, catfish, and softshells lives on in all its splendor. Add to that some new-school options -- particularly at the hands of beloved Chef Susan Spicer (of Mondo fame and her eagerly anticipated new offering, Rosedale), as well as a new outpost of District Donuts.Sliders.Brew and you have a NOLA food 'hood worth reckoning with.
7. Bywater
By now, you're probably aware that the Bywater is notable as being a hotbed for hipster transplants and Airbnbers (much to the chagrin of longtime locals and natives). But with the skinny jeans and lumberjack chic came a revitalized dining sensibility in the Upper Ninth Ward. Notable standouts include casual Italian fare at Mariza, Elizabeth's (try the praline bacon!), Oxalis, old-school po-boys at Jack Dempsey's, Bacchanal Wine, Pizza Delicious, and a slew of others ranging from vegan fare at Sneaky Pickle to everything meat-tastic at The Joint. There's also the contentious upscale food court St. Roch Market for your craft cocktails, oysters, coffee, and more in a stylishly renovated historic location.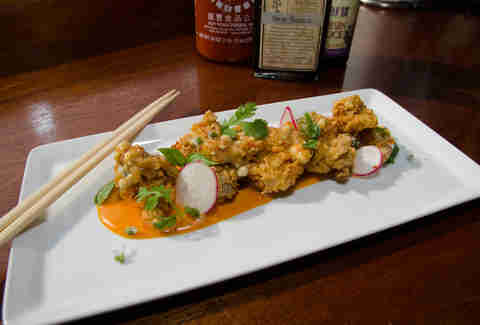 6. Mid-City (inc. 7th Ward/Treme)
Mid-City has blown up in recent years with outstanding new restaurants such as Michael Gulotta's Creole/Viet fusion eatery MoPho, the carnivorous carnival that is Toups' Meatery, upmarket Mediterranean at 1000 Figs, and killer BBQ newcomer Blue Oak. And if you're jonesing for a sack of boiled crawfish and crabs, you now have Bevi Seafood for your "berl" needs. But even with cool new places bringing attention to the 'hood, you can't deny its longstanding history as an eating/drinking destination, with everything up to and including Dooky Chase's, Parkway Bakery & Tavern, Mandina's, Angelo Brocato's (lemon ice!), Li'l Dizzy's, Liuzza's, and oodles of bars ranging from classic cocktails to craft beer and, naturally, neighborhood corner joints.
5. Marigny
When it comes to live music in New Orleans, it's pretty hard to beat the Marigny when it comes to neighborhoods. While the food options aren't as bountiful as its bars and music, there's plenty of good eats for when all that dancing to hot jazz stirs up an appetite. We love the cuisine and cocktails at Three Muses, cozy Italian at Adolfo's, and Yuki Izakaya is one-of-a-kind when it comes to Japanese food in NOLA.
4. CBD/Warehouse District
Between the businesslike CBD and the now-swanky Warehouse District, you have a concentration of some of the finest restaurants the Crescent City has to to offer. A brief count will yield four joints at the hands of Chef Donald Link (Herbsaint, Cochon, Peche Seafood Grill, Cochon Butcher), four by John Besh (August, Borgne, Domenica, Lüke), and that's just for starters. The packed dining landscape hasn't kept newcomers away -- recent outstanding entries to the neighborhood eating scene include the stellar Compère Lapin, Josephine Estelle, Seaworthy, Willa Jean, and Justin Devillier's Balise.
3. Uptown/Carrollton
There's more to Uptown than just Tulane, Audubon Park, and the historic mansions and cemeteries of the Garden District. Want a po-boy and a sno-ball? Hit Domilise's and Hansen's Sno-Bliz, the best spots for both in the city. A trip towards the riverbend at Carrollton and St. Charles will bring you to favorites like Brigtsen's and Carrollton Market. And if you head towards the Freret St corridor, you'll find Cure, Wayfare, The Company Burger, and the newly opened wine bar and modern French spot, Bar Frances. There are approximately 100 other eateries ranging from Lebanese to sushi, Mexican, diner-style burgers, pizza, Vietnamese, and even a killer kosher waffle restaurant (no, really: it's called Waffles on Maple).
2. Central City/Garden District
Magazine street is somewhat of a "miracle mile" when it comes to eating and drinking, as evidenced by eateries that run the gamut from Greek to Mexican, po-boy shops, Caribbean, sushi, pizza, and the refined fare of restaurants like La Petite Grocery, Lilette, and Coquette. New, admirable entries seem to open monthly, which recently have included Cavan and Altamura in the Garden District, as well as Casa Borrega, Primitivo, and the recently revamped food hall Roux Carre in the OC Haley corridor. Then of course you have historic St. Charles Ave, where you'll find places like the Avenue Pub, the Irish House, Mr. John's Steakhouse, and The Delachaise. And, naturally, you can't forget Commander's Palace -- one of the finest examples of New Orleans cuisine the city has to offer, in one of the most beautiful dining spaces in town.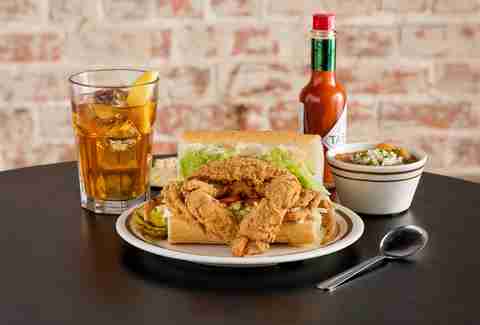 1. French Quarter
The oldest and most visited hood in New Orleans is also, we firmly believe, the best place in New Orleans to eat and drink, hands down. You want old and glorious grande dame Creole restaurants? Try Antoine's, Galatoire's, Broussard's, or Brennan's. Cocktail bars that invented some of the classics like the Brandy Crusta, the Vieux Carre, and the Grasshopper? Arnaud's French 75 Bar, The Carousel Bar, and Tujague's, respectively. If you're after beautifully shucked oysters, you have Acme and Felix's, 4am beignets at Cafe Du Monde, quick (and amazing) jambalaya and po-boys at Verti Marte, balcony dining overlooking Jackson Square at Tableau... and that's just getting warmed up. For sheer concentration of fantastic places to fill your belly and warm your soul with food and drink, the Quarter is, unsurprisingly, impossible to beat.
Sign up here for our daily New Orleans email and be the first to get all the food/drink/fun in the Big Easy.