In a city like New Orleans, starting a successful restaurant can be less than easy. Still, with a lower overhead than other major American cities (yes, we mean you, New York!), combined with amazing local produce and seafood, the Crescent City has always courted new additions to its culinary scene. 2014 has been a fine testament to this tradition, with some truly outstanding new eateries looking to grab some attention. Here are the best from this year:
Recommended Video
These Onion Rings Are Stuffed With Cheeseburgers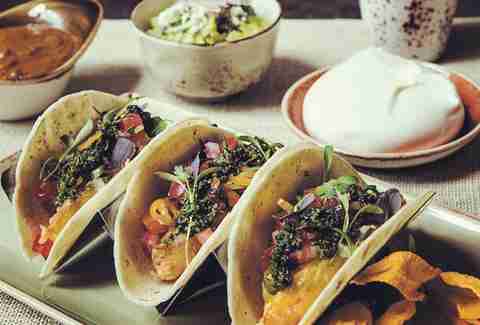 CBD
This new taqueria in the Central Business District is exactly what you think would happen if you paired up NOLA golden boy/Chef John Besh with Chef Aarón Sánchez: killer modern Mexican cuisine in a casual atmosphere (check the tattoo art lining the walls) featuring locally sourced ingredients. That sometimes means fried crickets with your guacamole, by the way, but we're game. Don't miss out on the dessert menu either; they make their own Choco Tacos, hermano!
Lower Garden District
Did New Orleans need a food laboratory/chef's table restaurant serving up Dr. Seuss-esque concoctions (meals are a tasting-menu parade of 12-15 courses for the intrepid diners, and last two and a half to three hours)? If anyone is going to say "yes" to that question, it's Chef Phillip Lopez, who you might recognize from his flagship restaurant, Root, known for its foie gras cotton candy, cigar box-smoked scallops, and other whimsical fare. Square Root takes it to the next level. If you're an adventurous eater looking to drop $150 per person (more with drink pairings) on a crazy and elaborate dinner, this is the place for you.
French Quarter
A perennial local favorite, Marti's became a number of different restaurants (including Peristyle) before being brilliantly reinvented this year. It's quickly become a favorite dining spot once again, thanks to a gorgeous dining room and a seafood-heavy menu that also includes house-made chorizo, stuffed Texas quail, and one hell of a double-cut pork chop. It's the kind of place you go for your birthday, or on a fancy date. Or on your fancy date's birthday. Or, you know, Wednesday.
French Quarter
Talk about a facelift... the extensive, multi-million-dollar renovation of Broussard's, which reopened grandly in 2014, is more of a whole body lift. In a town filled with elegant dining spaces, this place stands up to the very best. The soul of the place, however, is deeply intact. For traditional French Creole fare, it's hard to do better than Broussard's. The handsome Empire Bar, behind which you'll find legendary bartender Paul Gustings, is also a great spot for a proper cocktail.
French Quarter
If ever there was a restaurant version of "the old switcheroo", Meauxbar is it. After closing (much to the disappointment of local diners), the owners of another popular restaurant, Sainte Marie, decided to close shop as well, and transport the kitchen crew en masse to reopen Meauxbar. If that's a little confusing, the menu, courtesy of rising star Chef Kristen Essig, is far from it. The refined, eclectic menu includes everything from escargot and bone marrow (with a shot of Herbsaint out of the bone, if you like) to a fantastic Goat Cheese Tart, French Onion Grilled Cheese, and bolognese over spatzle.
Marigny
New Orleans might have an overabundance of wonderful Vietnamese restaurants, but finding some great, authentic Chinese food has always been more of a challenge. Enter Bao & Noodle, which looks to serve up traditional mainland fare at friendly prices. Chef/owner Doug Crowell, a Herbsaint veteran, looks to his wife's Chinese-American heritage for menu inspiration, and you'll find classics like beef chow fun and scallion pancakes, as well as char siu bao (sticky buns) and something called Strange Flavor Peanuts.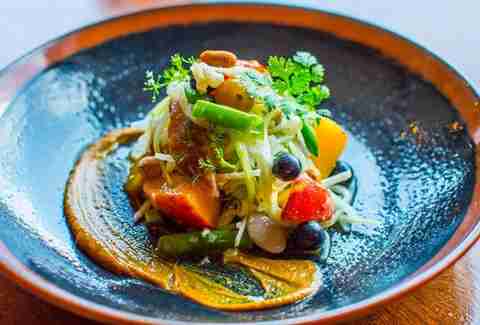 Mid-City
Chef Michael Gulotta (formerly chef de cuisine at Restaurant August) opened what is easily one of the most exciting and inventive restaurants in the Crescent City with MoPho. Aside from having a fun name, the new Mid-City eatery offers pho and banh mi, of course, but be on the lookout for Gulotta's creative blending of Southeast Asia and South Louisiana, like Crispy Fried P&J Oysters with a pickled blue cheese salad and "MoPho mayo", pepper jelly-braised clams, and some of the most amazing glazed chicken wings in town.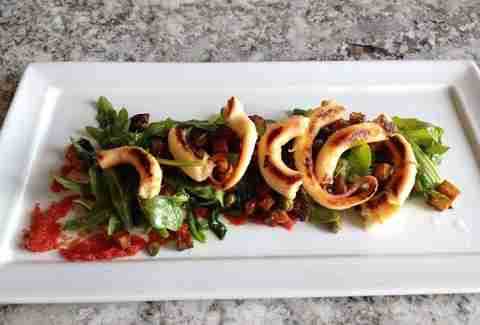 Uptown
The Riverbend area of Uptown New Orleans is no stranger to great restaurants (think Brigtsen's and Dante's Kitchen, among others). Adding to the scene is the freshly opened Carrollton Market, which impressed local diners right out of the gate with its "market-driven menu". Seriously: the chef and crew scour local farmers' markets for seasonal ingredients, which means the menu changes constantly with what's coming out of the ground or the Gulf. It's a risky gambit for a restaurant, but Carrollton Market pulls it off.
Uptown
Hand-pulled ramen noodles with creative toppings in a lovingly brewed broth paired with... pie? Why not? Noodle & Pie has plenty of both, and both are well worth your hard-earned duckets. The excellent small plates are an added bonus, including deep-fried Brussels sprouts, and a wholly awesome Korean sesame fried chicken that will make you say "Popeye who?"
Uptown
Chef Alon Shaya's pizza at Domenica, in the Roosevelt Hotel, is so damn good, it needed its own new home Uptown. Expect the same outstanding Neapolitan-style pies topped with fresh, seasonal ingredients and house-cured meats in addition to the very best garlic knots in New Orleans, which are served with an air-light, roasted Parmesan fonduta for all your dipping needs. It also has Domenica's crazy (and crazy-tasty) whole roasted cauliflower, as an added bonus.
CBD
There's always been plenty of excellent Italian food in the Big Easy, thanks to a heritage rich with Italian immigrants (thank goodness -- otherwise there would be no such thing as a muffaletta!). Adding to the scene is Marcello's, which offers a huge menu filled with the classics, as well as a few modern additions, not to mention an extensive vino list to go with them. There's plenty of calamari, veal parm, spaghetti bolognese, and chicken cacciatore, as well as lamb lollipops over pappardelle, and fettuccine with fried oysters and vodka sauce.
Sign up here for our daily New Orleans email and be the first to get all the food/drink/fun in the Big Easy.