7 quintessential New Orleans desserts and where to find them
New Orleans is a town of decadence, and pretty much everyone knows it (hell, there's even a festival called "Decadence"). And when people think about the food of the Crescent City, they're apt to mention po-boys, muffalettas, and a slew of non-sandwichclassics. But NOLA doesn't stop with the entree, not by a long shot. Desserts in the Big Easy are as iconic as the streetcars, live oak trees, and shirt-soaking humidity. Here are the most iconic desserts in town, and where you can get your hands/face on them.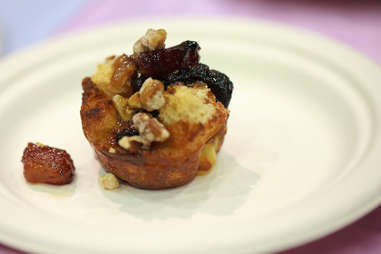 1. Bread pudding
Where you're getting it:Bon Ton Café
Central Business District
Just about every restaurant in New Orleans seems to have a version of this dish, and for good reason. It's a classic. An amazingly delicious classic. For a great representation of one of NOLA's most treasured sweet treats, head to the Bon Ton Café for their bread pudding with whiskey sauce.
2. Pralines
Where you're getting it:Pralines by Jean
Uptown
First of all, New Orleanians pronounce it PRAW-leen. Say "PRAY-leen" and you'll get funny-yet-somehow-not-condescending looks from the locals. Second, what's not to love about creamy, sweet cookies made out of butter and sugar? Answer: nothing.
3. Lemon ice
Where you're getting it:Angelo Brocato's
Mid-City
Yes, a classic Italian lemon ice is also a classic NOLA dessert. Why, you ask? Because there was large influx of Italian immigrants in Louisiana around the turn of the 20th century, and of course that only added to the city's culinary landscape. Also, the pleasant things it does to your tastebuds.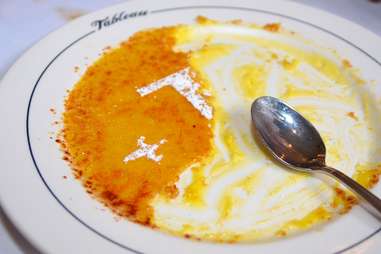 4. Creme brulee
Where you're getting it:Tableau
French Quarter
Sure, creme brulee is a quintessential French dessert, but it's been adopted and raised by New Orleans' loving arms. Options abound around the city, but don't miss the version at Tableau, which uses a dinner plate instead of a bowl/cup in order to maximize the sugar-to-custard ratio. Plus, any dessert made with a blowtorch is just inherently awesome.
5. Bananas Foster
Where you're getting it:Commander's Palace
Garden District
If blowtorch desserts are awesome (see above), desserts that are engulfed in flames tableside are freaking EPIC. The original was at Brennan's Restaurant, which is now very sadly closed. However, Commander's version -- "a tableside flambé of bananas with Caribbean rum, brown sugar, banana liqueur & vanilla bean ice cream" -- gives this classic its due. Pro tip: wait until your dessert has ceased flaming before consuming.
6. Pecan pie
Where you're getting it:Upperline
Uptown
Here's a bit of New Orleans logic for you: there are plentiful pecan trees in Louisiana. Hence, there are plentiful pecans, and therefore plentiful pecan pies. QED, sucker. And it's pronounced "pu-KAHN" 'round these parts, not "PEE-can," FYI (everything is pronounced differently here). Make sure to add a scoop of ice cream on top for the full experience, which is one you do not want to miss.
7. Doberge cake
Where you're getting it: Debbie Does Doberge
Various restaurants, available by order
Again with the pronunciation (!): doberge ("DOUGH-bash") is one of those things that New Orleanians love to hold close to the vest, because it's so good, and so quintessentially NOLA, they can't stand the thought of it being made anywhere else. Imagine a dessert made of up to 11 alternating layers of cake and pudding (usually chocolate or lemon), all held together by a buttercream or fondant shell. Are you imagining it? You're welcome. That, friend, is doberge.