Meet Thrillist New Orleans' Chef of the Year: Alex Harrell of Angeline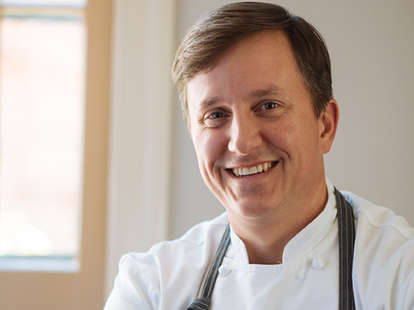 Editor's Note: This article is part two of Thrillist's year-end look at the best of our cities' local food and drink scenes in 2016. In addition to our annual Best New Restaurants awards, this year, we're spotlighting the men and women behind the dishes we love to tell you to eat. Our chef of the year stepped into the former space of a beloved restaurant -- not a hard feat by itself -- and earned his own devoted following through ever-evolving Southern plates. You can also check out our picks for the rest of America's 2016 Best Chefs, and then catch up on the Best New Restaurants.
An embarrassment of riches best describes New Orleans' restaurant scene. Equally lush is the city's number of brilliant chefs, many of whom are responsible for restaurant empires both close to home and afar -- think Emeril Lagasse, Susan Spicer, Donald Link, and John Besh. On the local level, each has been named Chef of the Year by New Orleans' dining public, food writers, and editors.
Thrillist New Orleans' Chef of the Year must cook consistent, memorable food and cultivate a welcoming environment for guests and staff. The chef must be hardworking and tenacious, dedicated to and respectful of local farmers, product, and other chefs. They should also be tough, yet fun to be around, and generous (both of energy and, preferably, portion size). Alex Harrell, chef-owner of Angeline, showcases all this and more at his French Quarter restaurant.
The path to the kitchen started at home
Harrell's career follows a traditional path with a few twists, including a bachelor's degree in biology and no culinary school experience. His passion for the culinary arts, however, started at home -- Harrell's father is a retired physician who raises cattle and has serious pasta skills while his pickling chops come from his grandmother.
Chef Alex discovered his love for cooking when he took a job with a family friend's beachside restaurant. Harrell promptly shifted gears, moved to New Orleans in 1998, and began working the pantry for Susan Spicer at Bayona. He then progressed through the kitchen ranks under the tutelage of legendary local Chef Gerard Maras (Gerard's Downtown, Ralph's on the Park, and Table One). In 2010, Harrell landed an executive chef gig to help open Sylvain. He left in 2015 to forge his own restaurant path with the opening of Angeline.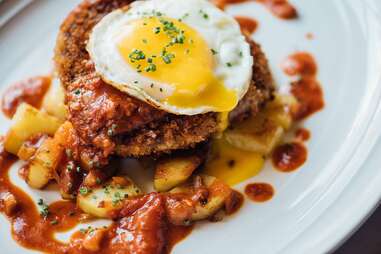 Starting a risky business with food that has sticking power
Pronounced "Ann-jah-line" (his mother's middle name and a family name), Harrell's French Quarter restaurant is connected to the Hotel Provincial. In a prior life, the restaurant space housed the very prominent Stella!. Harrell took a risk by re-working the restaurant's interior design and room configuration, making it slightly more casual. He also cleverly moved the front door and host stand from the building's driveway-side entrance to a front door on the street-side, facing Chartres.
"New Orleanians are not fond of change, but redesigning Angeline's interior and moving the door was necessary to give our own stamp to a place that had serious and notorious fine dining history," he said. "It was also good sense because it increased our visibility, and accessibility. Believe it or not, putting the front door on the front of the building was novel."
Angeline's menu offers refined Southern food which is "always naturally evolving and thoughtful to customer expectations without losing my spirit."
"We are cooking for others, so it's about trying to achieve the balance of representing myself and what people like and want to eat," he added. Harrell hits all marks with dishes that have carved long-term spots on his dinner menu, such as black eyed pea & collard green soup with bourbon, bacon, and a smoky pork broth, gulf shrimp & country ham with stewed butter beans, glazed sweet potatoes, kale and preserved lemon, and roasted hanger steak with pan-fried Brussels sprouts, hot water cornbread fritters, smoked oyster mayo, and house Worcestershire sauce.
Brunch is a new-ish addition to his roster and has been successful. "The Fried Chicken & Biscuits and the Crispy Boudin & Coosa Valley Grits are big deals." Brunch service also features excellent cocktails and an enormous slice of French toast that will give you pause.
Find balance, but be nice or leave
Harrell has balance; he is well-liked by his staff for being pleasant, creative, open to others' ideas, and is tough when called for. He cultivates good energy throughout every facet of his restaurant, and as a result has a committed staff and happy customers. In a time when it's chic to call out or say "no" to fussy diners, dietary restrictions, and special requests, Harrell bucks the norm and is a "yes" man. Everyone is made to feel comfortable and cared-for at Angeline.
He is also well-liked by other chefs for his strong work ethic and drama-free attitude, though he enjoys a bit of good (harmless) industry gossip. Our "chef of the year" will party with his kitchen brothers and sisters, but also fiercely maintains his independence. His stick-to-itiveness is impressive -- he's managed the everyday challenges of opening a new restaurant in a busy market, the generally transient nature of the industry, and controversy that arose from the occasionally crazy and finicky world of food journalism.
As most New Orleans restaurateurs will admit, 2016 has been a wild ride and one of the most difficult years in recent memory for business -- a mix of busy with stretches of excruciatingly slow, and with all the new openings, a very intense battle for dining dollars. Yet, Harrell has stayed strong and Angeline has weathered the storm.
"With all the new restaurants, there's a lot of competition; it's friendly competition, but it still means I have to be smart -- change stuff, move things around, etc. -- to stay in the game," he said. Flexibility and smarts have served him well.
Playing nice and keeping it local
Like most chefs these days, Harrell is a big proponent of local and regional products. He has grits milled to spec from his wife's Alabama hometown of Coosa Valley, and his menu is filled with seafood, boudin, greens, and meats from Louisiana or within the South. He's also involved in the local chapter of Slow Food, is a member of the Southern Foodways Alliance, volunteers time, cooks for and donates to charity events, and is actively engaged with fellow chefs and the culinary community.
While Harrell likes the attention that he's earned from local and national magazines, television appearances, and speaking engagements, he's exceedingly normal. He possesses none of the hot-headedness or flair for drama one might expect from a popular chef, and manages to stay true to himself. Alex Harrell is the complete package: a chef who strengthens New Orleans' dining scene with the talent, character, and grit to be Thrillist New Orleans' 2016 Chef of the Year.
Sign up here for our daily New Orleans email and be the first to get all the food/drink/fun in the Big Easy.
Lorin Gaudin is an intrepid eater, drinker, finder, and writer of all things delicious. Follower her as she devours New Orleans at @NolaFoodgoddess.