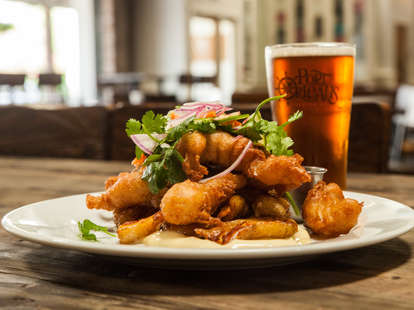 New Orleans' Best New Restaurants of 2017
The food scene in New Orleans took a decidedly global turn this year. While Creole and Cajun flavors are as much a part of the ever-evolving cuisine as they have been for 300 years, flavors from around the world asserted themselves in a big way in 2017. The Indian food from Saffron NOLA is nothing short of remarkable, the flavors of Southeast Asia boldly distinguished themselves in several of the year's best restaurants, and Mangú's mangú has created new Dominican food fans by the legions. Here are the best new restaurants of 2017, and may they carry you from the Delta to Germany, Vietnam, and beyond. There may even be a detour to Texas in there, if you like barbecue.
Warehouse District
A refined collision of Southeast Asia and Southeast Louisiana
Food & Wine's 2016 chef of the year, Michael Gulotta, parlayed the success of Mopho, his Vietnamese-Louisiana eatery focused on pho and banh mi, into a higher-end restaurant where his vision encompasses Vietnamese, Italian, and Gulf South flavor profiles. Maypop's menu is daring and beautifully executed. Noodles are made in-house and take their influences from both Italy and Southeast Asia; the chickpea capellini pasta with royal red shrimp in saffron curry is exceptional. If you like seafood, go for the fried Gulf oysters, which are served with an aioli made with tar-black soy mash aged in bourbon barrels. And if you don't get the Maypop pie for dessert, you're a fool.
Gretna
Go no farther if you want authentic Dominican food
The West Bank, on the other side of the Mississippi River from New Orleans and Metairie, is home to some of the best under-the-radar international cuisine in the area. One such restaurant is Mangú, serving authentic Dominican fare to a wide variety of people who are now suddenly ravenous for mangú -- mashed green plantains (think mashed potatoes but with more flavor) served with meat or fish. The small but cheerfully decorated restaurant also serves other Dominican street foods like quipes (beef croquettes), and yaroa -- the Dominican equivalent of poutine that's stacked with fries or fried sweet plantains, pork, and melted cheese. In addition, the friendly service, great fruit-based drink menu (both alcoholic and non-alcoholic), and traditional desserts make this a great excursion across the bridge.
Tulane
Southern cooking meets Asian street food
It's not unusual to sit in this cozy spot decorated with bright island colors and smell (and sometimes see) smoke -- a lot of it. Don't panic. It's just chef Marcus Jacobs grilling seafood and meats over high temperatures in a tiny kitchen. Just relax and order an old-school cocktail while perusing the menu. Jacobs worked for the Link Group's Herbsaint before traveling to Southeast Asia, then came back to New Orleans to open Marjie's Grill. Local ingredients meet the flavors of the street food of Vietnam, Laos, and Thailand, so you get dishes like fried Des Allemandes catfish topped with crispy pig ears and a coriander herb salad, or fresh cracklin dusted with turmeric-chile spice. The shrimp are right off the boat, and the vegetables are prepared in creative, flavorful ways.
Bywater
Casual outdoor biergarten with a transportive all-German menu
Founded by Berlin native and New Orleans resident Sven Vorkauf, this former pop-up (though it still uses its rig for festivals and events) recreates a German biergarten with traditional dishes (bratwurst, schnitzel, spätzle, pretzels) and an all-German beer, wine, and liqueur selection. The house-made brats and other sausages are phenomenal (and the Sunday dinner special of crispy braised pork shank is drool-inducing), and yeah, you're gonna want to save some room for apple strudel.
Irish Channel
High-end, approachable, perfectly paired bar food
The Stokehold is a collaboration between three chefs (Phillip Mariano, formerly of Domenica and Josephine Estelle; Jeremy Wolgamott, from High Hat Cafe; and Tim Bordes, purveyor of produce and meats for local farms) at Port Orleans, one of New Orleans' newest breweries. The trio creates a dish that pairs with every beer available at the taproom, including combinations like a best bitter session ale and roasted bone marrow with fig vinaigrette, parsley, and toast; or Port Orleans' flagship Storyville IPA with a crab roll made with butter-poached crab, tarragon, and Old Bay, served on a burnt rye and hop roll. With the New Orleans beer scene picking up major steam, a place like this is a no-brainer.
Central City
A rare BBQ wunderkind in the Big Easy
New Orleans doesn't have a native BBQ tradition like other spots in the South. We sure do know how to smoke some pork, though, which is half the battle. Now the city has a nationally recognized annual BBQ festival, Hogs for the Cause, and several well-regarded BBQ joints like this one. The most recent venture is Central City BBQ, which marries co-owner Aaron Burgau's fine dining experience with a down-home BBQ joint, which looks and tastes like it comes from a Central Texas roadhouse. (OK, maybe a little brighter and newer.) There's a truly impressive number of enormous smokers out back, and while everything is tasty, the brisket burnt ends and corn spoonbread are the way to go.
East Riverside
Some of the best Indian fine dining you can get
In a city where there's a dearth of quality Indian food, many lovers of the cuisine would cross the Mississippi River on Friday nights to eat the food put out by Saffron, a catering company on the West Bank. After several years, the much-anticipated Saffron restaurant opened in Uptown New Orleans in August to much acclaim, and right now it's one of the toughest reservations in town. The Vilkhu family serves authentic but reimagined Indian food in a fine-dining format, with decidedly Indian flavors that are also influenced by New Orleans, France, China, Thailand, and Singapore. Saffron serves dinner Tuesday through Saturday and brunch on Sunday, and each of the gorgeous and bright dishes is a delight. (Don't overlook the cocktail menu, which successfully marries creativity and unusual ingredients like saffron, tamarind, and mango chutney.)
East Riverside
The sparest ramen menu around, and it delivers
Like most cities, New Orleans is still ramping up into the ramen trend (it's hard for us to turn away from pho). Noodle & Pie paved the way before it closed earlier this year, and Kin picked up its torch. Now we have Nomiya, a tiny, no-frills, ramen bar that serves just two kinds of pork broth ramens: spicy (geki-kara) and not-spicy (the standard tonkotsu). Except for edamame, pork bun offerings, and anything you want to add to the ramen, that's the whole menu. The two options are terrific, and they'll simplify most folks' decision-making, even if vegans and vegetarians have to wait for Nomiya's vegan broth to come out. (The chef and owner Hidetoshi "Elvis" Suzuki says he's working on it, but it's not there yet.)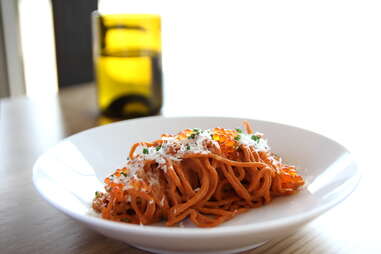 Leonidas
An update on Cajun and Creole classics worthy of their legacy
DTB stands for Down the Bayou, and Chef Carl Schaubhut's restaurant is probably the closest to traditional Louisiana flavors on this list. The playful twists on Cajun staples, like vegetarian mushroom boudin, andouille pâté, and frog leg confit indicate that tradition is more a loose guideline than a rule. Shaking up Cajun and Creole flavors to look at the cuisine in a whole new way is one trick, and using far-flung, global ingredients like vadouvan, pickled lemon, pipian verde, fermented pepper jelly, and chermoula is another. Both techniques yield impressive results, and the cocktail program, helmed by Lu Brow, is just as creative.
Touro
Quick-serve, healthy Hawaiian cuisine
This Hawaiian-style, raw fish-inspired eatery on Magazine Street opened in February to much fanfare and quickly made plans to expand all over the city. With a second location open in Metairie and another to open soon in the Central Business District, this build-a-bowl salad concept features raw chopped seafood including yellowfin, salmon, and octopus (also tofu) with add-ins like spring onions or cucumbers, toppings like pickled ginger, edamame, macadamia nuts, several types of tobiko, and Asian-flavor-spiked aioli, and sauces and marinades like tamari, ponzu, sesame oil, or chili paste.
Sign up here for our daily New Orleans email and be the first to get all the food/drink/fun in the Big Easy.
Nora McGunnigle lives and writes about food, beer, cocktails, and travel in New Orleans.