The 12 Best Louisiana Po-Boy Spots Not in New Orleans
A loaf of freshly baked French bread spilling over with fried seafood or meat and gravy is as New Orleanian as the St. Charles streetcar, Dr. John, and the potholes on Bourbon St. And while many po-boy enthusiasts claim that you can't get "real" French bread outside of the 504, nobody seemed to tell that to the rest of the state. So, if you're not in NOLA but you need to satisfy your po-boy jones, here are some of the best in the state outside of the Crescent City...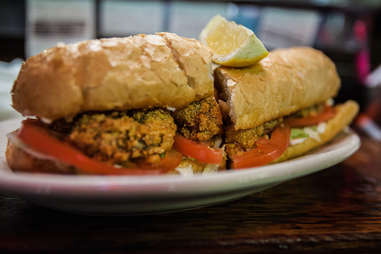 Shreveport
What you're getting: Shrimp po-boy and onion rings
If you've never been to Herby-K's, you've probably never been to the Shreve. The place is an institution, and the hammered-flat fried shrimp platter, known as the Shrimp Buster is one of the best things you can possibly eat when you're up that way. Better still, get those shrimp on a po-boy, pair it with a side of thick-cut onion rings, and thank us later.

Shreveport
What you're getting: The Geaux Tigers: Maxwell's Market andouille sausage with pepper Jack cheese and Tiger sauce
Up in Caddo Parish, things might feel slightly more East Texas than South Louisiana. No one told that to Marilynn's Place, though. There's plenty of "Loosiana" flavor on the menu, with po-boys ranging from NOLA-style roast beef debris to the The William Edward Joyce "curry fried catfish -- so good it needs a publicist!"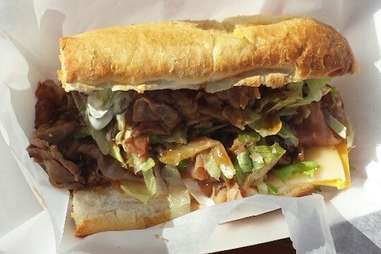 Shreveport
What you're getting: The Bubba: spicy shrimp sauteed in butter sauce
With its ample-sized shrimp and close-to-perfect bread, Lucky's does more than provide real NOLA food lip service (see what we did there?), which is good if you happen to, you know, be in Shreveport.
Lafayette
What you're getting: The Olde Tyme Special: ham, turkey, roast beef and Swiss
Olde Tyme might have a problem with spelling and superfluous vowels, but it definitely doesn't have a problem when it comes to making a great po-boy, leading to a deadly loyal following in the Lafayette area. The prices are certainly friendly, and it's hard not to order the namesake sandwich, which provides three different meats (plus cheese) on a French loaf.
Lafayette
What you're getting: The Cajun Castro: Cajun roast pork, ham, Swiss, smothered greens, fried pickles, Creole mustard
You have to love any Louisiana restaurant that advertises its air conditioning right up there with the food. So, by the transitive property, you have to love Pop's, a relative newcomer to the Lafayette culinary scene, but making some waves with its creative efforts. Take, for instance, a recent special that featured sliced turkey, ham, sharp cheddar, crispy bacon, lettuce, tomato, mayo, *and* crispy fried rabbit. Well played, Pop's. Well played, indeed.
Lake Charles
What you're getting: Shrimp reauxmoulade peauxboy
Okay, so Buffi's kind of overdoes is on the Cajun spellings of its wares, but what do you expect? It's in Lake Charles, for goodness sake! But we'll forgive the place because of its awesome shrimp remoulade po-boy (sorry "reauxmoulade"). And also because of the sliced, boiled potatoes on its sandwiches, which is a novel approach.

Baton Rouge
What you're getting: The Rich Boy: half ham, half roast beef
Just a few blocks from the Old State Capitol, NOLA cuisine aficionados will immediately recognize Poor Boy Lloyd's as the real deal as soon as they see the words "blue plate mayonnaise" on the menu. It also has an extensive menu of plate lunches (including red beans and rice, ya heard!) in addition to the signature po-boys, sandwiches, and salads.

Baton Rouge
What you're getting: Hot sausage po-boy
If you want a side of Red Stick history with your po-boy, hit up Pastime Restaurant, which has been serving up Italian comfort fare and sandwiches in the Pelican State since the 1920s. If you can get through the menu without ordering a boudin pizza (seriously), you'll find a solid list of po-boy options, like the Canadian burger, which is basically a hamburger on French bread with Canadian bacon, which sounds pretty great, eh.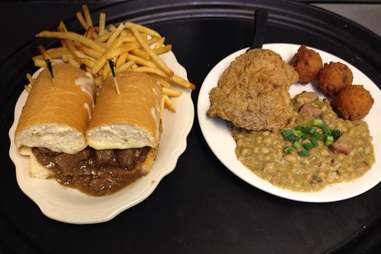 Baton Rouge
What you're getting: New Orleans-style BBQ shrimp po-boy
Hungry Tiger fans need not stay hungry at the Chimes, which is known primarily as a taproom with a solid beer selection near the LSU campus, but the place does offer some cool food options to help suck up some of those porters and IPAs, including a NOLA-style BBQ shrimp po-boy drowning in spicy butter sauce.
Houma
What you're getting: The Who Dat Burger Po-boy
Bayou Blue might not be the classiest joint in the state, but what it lacks in sophistication it makes up for in friendly portion sizes and prices. Take, for instance, its homage to the New Orleans Saints, a Who Dat Burger dressed with melted cheese, mayo, lettuce, tomato, smoky BBQ sauce, mustard, pickles, grilled onions, *and* fried onion rings. Yeah, you're not leaving this place hungry, that's for sure.

Houma
What you're getting: Roast beef po-boy
There are few places outside of New Orleans that properly execute a roast beef po-boy smothered in "debris" gravy, but Mr. PoBoy is definitely one of them. It's juicy, meaty, sloppy deliciousness -- but Mr. PoBoy's fried shrimp shouldn't be overlooked, either.

Thibodaux
What you're getting: Fried shrimp po-boy
Okay, so yeah, Danny & Clyde's is a gas station chain. You know what else? It has really, really good po-boys. Seriously! Sometimes you need to fill up your own tank with a loaf overstuffed with fried shrimp while you're on the road. And if that's the case, you could do so much worse than Danny & Clyde's.
Sign up here for our daily New Orleans email and be the first to get all the food/drink/fun in the Big Easy.