Whether you're in town for an LSU game, are looking to get to know your city a little better, or are just suuuper hungry, you'll learn quickly that Baton Rouge is a city built on culinary institutions. Here, restaurants can be traced back through generations and Southern hospitality makes a good kitchen feel like home, no matter the cuisine. Bring us your frat bros, your vegan yoga moms, your Midwestern tourists who aren't sure they can handle our spices -- there's room for everyone.
 
8334 Airline Hwy
BR's oldest -- and perhaps most authentic -- Mexican restaurant sits unassumingly on a strip of highway, with its 84-year-old founder still puttering around the kitchen. El Rio Grande has been a fixture of BR since the '60s, and when you taste its fresh salsa and tamales, you'll understand why. For a more upscale, Cajun-infused Mexican experience, try El Rio's younger sister, Mestizo.
Recommended Video
This Mojito Hot Toddy Is the Destroyer of Colds
3357 Highland Rd
Every day at noon, the famous chimes echo across LSU's campus as Memorial Tower sings the time followed by the alma mater. Named for the legendary sound, The Chimes has stood watch over the North Gates for decades. This traditional Southern and Creole restaurant serves up classics like po-boys, gumbo, blackened alligator, and oysters on the half shell, and 80 beers on tap means a brew for any mood.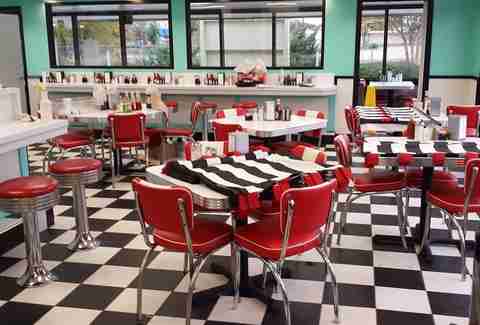 3322 Lake St
To know Louie's is to love Louie's -- and to smell it on your clothes for the rest of the day. A longtime standby of inebriated students, night owls, and early risers in the LSU area, this 24-hour diner is the only place in town that will bring you a bacon cheeseburger and a side of pancakes without a second glance. Leave your dietary restrictions at the door, and when the waitress asks whether you want cheddar, Swiss or Jack cheese on your fries, tell her, "Yes."
 
2943 Perkins Rd
Not all greasy spoons are created equal, and George's sets itself apart. This dive beneath an interstate overpass is known for the dollar bills stuck to the ceiling, for its famous slogan ("Business is great, people are terrific, life is wonderful"), and for serving up some of the city's best burgers, fries, onion rings, and po-boys. Put some heartburn meds on standby and belly up to this bar for one classic BR meal.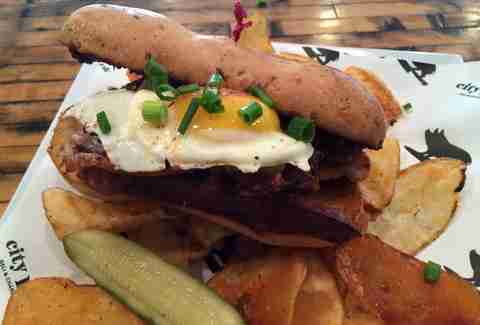 2363 Hollydale Ave
City Pork is the new kid on the block compared to other spots on this list, but it's taken it less than two years to become the most buzzed about restaurant in BR. As the name implies, this deli slings some mean pork, and the people here pride themselves on treating every part of the pig with TLC. Try the Cubano: a po-boy bun pressed and filled with City Pork's famous 17-hour smoked pork shoulder, honey ham, house-made pickles, Dijon, and Swiss cheese.
 
3056 Perkins Rd
Somewhere between a magpie's dream, a fortune teller's hazy lair, and an Old World Italian café is Pinetta's, both an icon and a hidden gem of BR. Since opening its doors in 1962, Pinetta's red-and-white checkered tablecloths, carefully curated wine cellar, and flickering candlelight have made it the city's romantic go-to. While the menu offers hearty, homestyle Italian, plus German and Turkish fare, you'd be remiss to pass up its famous red sauce -- each batch is cooked with devotion over three full days.
2857 Perkins Rd
Part restaurant, part bar, and part live music venue, Chelsea's Café is the cool kids' table of BR. Your server will probably have at least half of a tattoo sleeve, you'll probably hear a funk band tuning up if you stay late enough, and you can get a $2 gin and tonic during happy hour. Of all this local institution's claims to fame, the greatest is its grilled cheese. Perhaps the most renowned sandwich in town, its take on the American classic comes on homemade focaccia with six cheeses and a gently spicy tomato soup on the side.
5412 Government St
The comfort flavors of Southern cooking, the stylishness of a French café, and the jazziness of a New Orleans bistro come together to make Bistro Byronz one of Baton Rouge's most emblematic eateries. From roast beef debris sandwiches to the Poisson Acadiana (fried fish over rice, topped with crawfish etouffée), Bistro Byronz is known for striking the balance between light lunches and comfort food. Be sure to try its bread pudding flavor of the month -- if you're lucky enough to stop in during Carnival season, the king cake bread pudding is more than worth the trip.
9990 Perkins Rd
For those not intimate with the Louisiana vernacular, "lagniappe" is Cajun French for "a little something extra." So what's the little something extra at Louisiana Lagniappe? A little extra care in the kitchen? A little extra spice on the plate? Both are true of this Cajun/Creole staple, one of Baton Rouge's most popular restaurants. Any newbie or veteran to Louisiana cooking can find something to love on its menu of elevated local classics.
100 Lafayette St.
Perched atop Downtown's Shaw Center for the Arts, Tsunami dishes out creative sushi rolls and the best view in town. The upscale eatery uses only the finest ingredients to craft elegant and adventurous rolls and nigiri, like the formidable Candy Cane roll made with panko sea bass and the Big Easy roll made with local crawfish and cilantro. Sit back with a cocktail, order a few rolls, and watch the barges cruise under the lights of the Mississippi River Bridge.
 
4542 Bennington Ave
Rustic Italian meets farm-to-fork at Gino's, a from-scratch fixture of BR's culinary scene for nearly 45 years. Founded by Sicilian immigrants, Gino's fresh ingredients and deep roots consistently create the most authentic cannelloni and homemade Italian sausage in the city. In Louisiana, life revolves around family kitchens -- turns out Cajuns and Sicilians have that in common.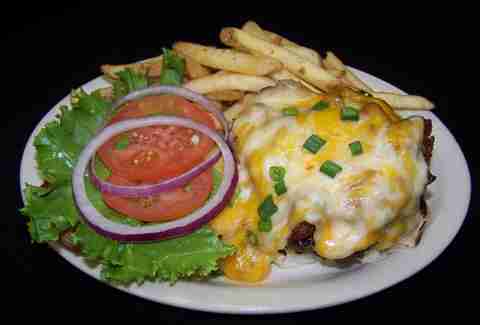 13556 Jefferson Hwy
Brunch at Mason's can be a noisy affair with crowds of Sunday morning regulars flocking to tables, but it wouldn't be a true Louisiana meal if it wasn't a little loud. You might come for the breakfast burger or the chicken and waffles, but you'll stay for the build-your-own Bloody Marys -- or as they call them, Bloody Masons. The drink starts with horseradish and local hot sauce and comes packed with whatever you want, including crispy bacon, pickled okra, and a straw made of beef. That's right, ladies and gentlemen, a beef straw.
4350 Highland Rd
Happiness is a pralines-and-cream milkshake, an order of Parmesan and duck fat fries, and a warm Fat Cow burger. A few steps from the South Gates of LSU, this joint offers gourmet, signature burgers stacked with hand-ground Angus beef patties and everything from applewood-smoked bacon and fried onion straws to sliced pears and goat cheese. Not into beef? Sub the patty for balsamic chicken breast, grilled salmon, or grilled portobello mushrooms.
Sign up here for our daily New Orleans email and be the first to get all the food/drink/fun in the Big Easy.
Kaci Yoder is a writer, editor, and wannabe pastry chef out of Baton Rouge, La. Follow her at @kaciyoder  and @bringcupcakes.