Visitors and locals alike rarely think to dine in Metairie, a suburban area of New Orleans located about 20 minutes from the French Quarter. The neighborhood, however, offers some of the best takes on beloved, regional dishes from gumbo to crawfish. It also features ethnic foods not easily found in the heart of the city, historic dives, and affordable upscale dining. For people who are spontaneous, or just not very good at making reservations, Metairie is an unexpectedly pleasant way to get a taste of life beyond New Orleans' default destinations.
Recommended Video
Is Dessert Pizza Really a Pizza?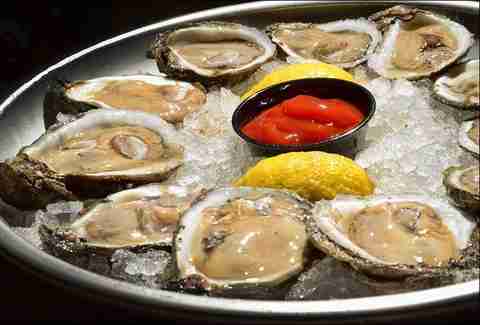 This seafood joint is a reliable place to indulge in all the New Orleans classics from turtle soup to barbecue shrimp. Its flagship Metairie location was established in the old home of Bozo's, a legendary oyster bar dating back to 1928. They've got a similar menu plus additional items like a fried chicken made with peanut oil that is said to rival some of the best fried chicken in the city including Willie Mae's Scotch House and Coop's Place.
Despite all the stellar seafood restaurants in New Orleans, there are few spots to get good sushi. As a result, Kanno has acquired somewhat of a cult following since it was opened by Osaka-trained Chef Hidetoshi Suzuki in 2002. The modest establishment is located in a strip mall in Fat City with limited seating and parking. Oh, and they close when they run out of fish. It's worth it, though, if you've got a craving for high-grade sashimi.
This seafood market and restaurant sources all their crawfish, crab, oysters, and shrimp from waters within a 30 mile radius of the city. Customers can purchase the local shellfish, when it's in season, from an ice-chest in the front or take a seat at the counter. It's the ideal place for visitors who don't want to fight for their dinner at a dive bar boil to try shrimp or crawfish seasoned to perfection.
The "Banh Mi Boy," a New Orleans po-boy with Vietnamese fillings, became a growing trend in the city in recent years. This cheap eatery specializes in the traditional sandwich with pickled vegetables, pâté, grilled sweet and spicy meats, and cilantro on fresh rolls from the famed Duong Phong bakery. It also takes culinary cultural exchange to new levels of extravagance with loaded fries featuring roast beef debris, fried oysters, scallions, and more.
The self-proclaimed "home of the original charbroiled oysters" is one of the few places foodies in New Orleans consistently travel to Metairie for. The restaurant churns out more than 900-dozen oysters a day drenched in a garlicky herb butter and topped with cheese. Patrons also venture to Drago's for its giant, juicy lobsters.
Most locals will tell you the best place to get gumbo is from someone's kitchen, but Chef Ron Iafrate opened this humble café to prove them wrong. His patiently cooked roux serves as the base for the classic seafood gumbo as well as his specialty versions topped with fried shrimp or catfish. The restaurant's got a steady stream of regulars as well as visitors committed to venturing out of the French Quarter for the best of the best.
There's a lot of competition these days among Vietnamese restaurants for the title of best pho in New Orleans. Pho Orchid, however, is always a solid contender. It has a menu of more than two dozen freshly made soups, most of which are under $10. They also offer vegetarian pho, homemade vermicelli, fish in hot pot, and specialty beverages like club soda with condensed milk and egg yolk.
This gem, just outside Metairie in Old Jefferson, is located off a bike path that runs along the Mississippi from New Orleans. The shack-like building has had many lives over the last century, including a grocery store, a pharmacy, and a liquor store. It's now got classic New Orleans bar food like the alligator po-boy, a good selection of draft beer, and live music. The main draw is the intimate, neighborhood vibe.
It takes a lot to receive recognition in New Orleans as a po-boy shop, but Bear's is unquestionably one of the best spots around. It's got that hole-in-the-wall charm, serving up sandwiches and seafood platters from a kitchen connected to the oldest dive bar in Metairie. Its famous roast beef debris po-boy, which includes beef roasted in-house and then soaked in gravy, is a family recipe dating back to the 1970s.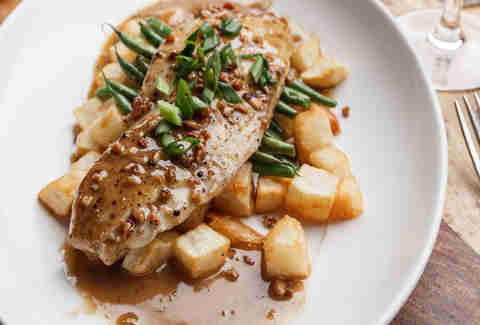 Owner and chef Ralph Brennan is one of New Orleans' culinary giants, but few people know about his casual Creole eatery. The sleek dining experience offers an alternative for people who want to try decadent dishes like crawfish beignets or warm whisky bread pudding without the lavishness of old-school French Quarter establishments. Diners on a budget can get the two-course lunch for $19 or the three-course dinner for $35.
This upscale Creole restaurant feels like a secret. Owner-chef Stephen Huth offers homemade raviolis to start and generous portions of reasonably priced veal, filet mignon, and slow-roasted duck as main courses. It's got a loyal following of locals who nestle into the small, romantic environment for hours.
Veteran Jazz-festers have likely encountered The Galley's epic soft-shell crab po-boy sold every year at the Fairgrounds since 1977. Each loaf has an entire deep-fried crab -- legs, claws, and all -- spilling out of it. Vicki and Dennis Patania gained so much traction from this specialty that they converted an old convenience store into a modest, brick-and-mortar in Metairie in the '90s. The service is minimal and it's often packed, but it's worth a trip for the baskets stuffed with crab, catfish, and shrimp or one of Vicky's seafood soups.
Sign up here for our daily New Orleans email and be the first to get all the food/drink/fun in the Big Easy.