Here at Thrillist, we're constantly unearthing the best new places to eat and drink, so we know how overwhelming things can get. That's why we created The Thrillist Great Eight: eight spots that have got it going on more than a supporting character in an Angela Bassett flick. From surefire next-big-things to standbys that still pack 'em in, everything you need to plan your next night out is right here.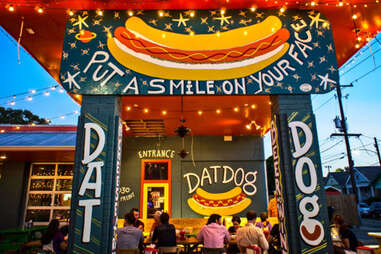 1) Dat Dog5030 Freret St; 504.899.6883
Started as a UK doghouse founded by a NOLA native, Dat Dog's Freret St. location was the original US outpost (with another on Magazine St. and a third forthcoming on Frenchman), bunning 14 different tube steaks you won't mind knowing the ingredients of, from the fowl-tasting Turducken, to Bayou-sourced alligator sausage. The dizzying list of toppings all come gratis, so don't forget to pile 'em on till they touch the sky.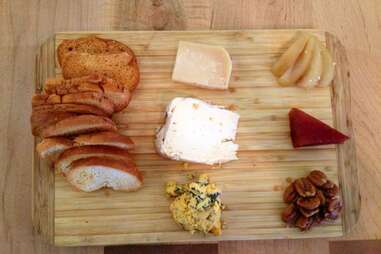 2) Toups Meatery845 N. Carrollton; 504.252.4999
If you've ever wondered what would happen if you plucked a good ole boy out of deep Cajun country, gave him a decade of fine dining experience and unleashed him in New Orleans to start his own restaurant, then you clearly have too much time on your hands -- but the result would be Toups Meatery. Chef Isaac Toups' gleeful celebration of all things carnivorous promises sophisticated takes on Cajun staples like boudin and cracklins, as well as lamb's neck, a dinosaur-sized pork chop, and a marrow bone that you can do shots of bourbon from (when you're finished eating the delicious marrow, that is).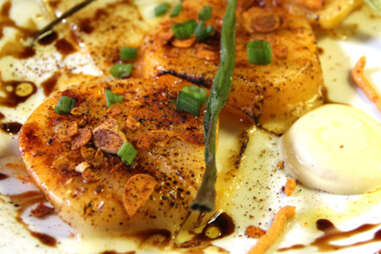 3) Green Goddess 307 Exchange Pl; 504.301.3347
Down an alley near the Monteleone, this hole in the wall serves the best hangover breakfast in town: Creole tomatoes topped with blow-torched Manchego, loaded with exotic salts, spices & sugars to honor NOLA's port-city heritage, and sided with spiced almonds, garlic aioli, roasted green onions, Romesco sauce, pomegranate molasses, and extra-extra virgin olive oil. Work on tomorrow's hangover with a sneakily intoxicating Walking Spanish: coconut water, fresh lime juice, ginger, Bols, Velvet Falernum, Flor de Cana rum, Cadamaro, and a sherry float.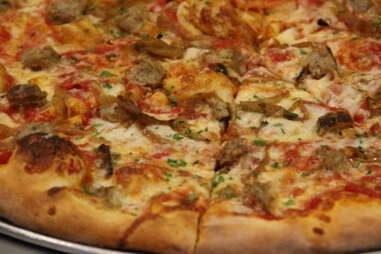 4) Pizza Delicious617 Piety St; 504.676.8482
On Bywater's Piety Street, NOLA's first NY-style slice shop was started by two LI guys who'd never made pizza before. Then again, you can accomplish anything when you're the only place pouring locally made, curiously red-colored Attelier Vie absinthe, and you're totally hopped up on absinthe cookies (which they also offer).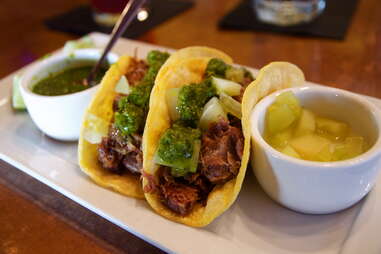 5) Maurepas Foods3200 Burgundy St; 504.267.0072
The farm couldn't get any closer to the table than this Bywater newcomer (not without things getting super-awkward, that is), which is helmed by a chef and kitchen crew who focus on locally sourced ingredients, and aim to serve up white tablecloth-worthy meals without the white tablecloths. Look for upscale comfort dishes like roasted goat tacos, a lamb sausage sandwich with pimento cheese, and confit chicken with grits, greens and a slow poached egg, all at neighborhood-friendly prices.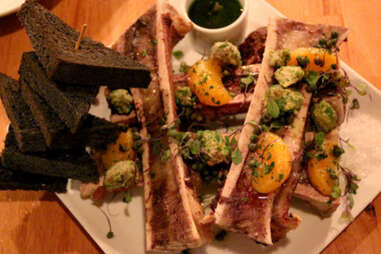 6) Root200 Julia St; 504.252.9480
The city's most hyper-modern American restaurant's manned by StarChefs-acclaimed August alum Phillip Lopez, dishing out deconstructed comforts like a "living terrarium of foie gras," Cohiba-box-smoked scallops, and a Saturday morning cartoons-worthy bowl of housemade cocoa puffs and peppermint patties in milk.
7) Cochon Butcher930 Tchoupitoulas St; 504.588.7675
Every night, the spillover crowds from Cochon pack this around-the-corner butcher shop and sandwich bar that dishes out a Central Grocery-shaming Muffuletta stacked with smoky, house-cured ham, hot pastrami, and spicy olive salad.
8) Borgne601 Loyola Ave; 504-613-3860
Wash down brown-bag-baked fish with a conspicuously open bottle of the ex-Glatoire chef's prized island rum at Borgne, John Besh's Creole-meets-Canaries eatery occupying the Hyatt Regency's ground floor and furnished with ever-changing chalkboard murals of the rock star guests occupying the upstairs hotel rooms.