The Most Mouth-Watering New Orleans Sandwiches That Aren't Po'Boys
Perfect for a park picnic.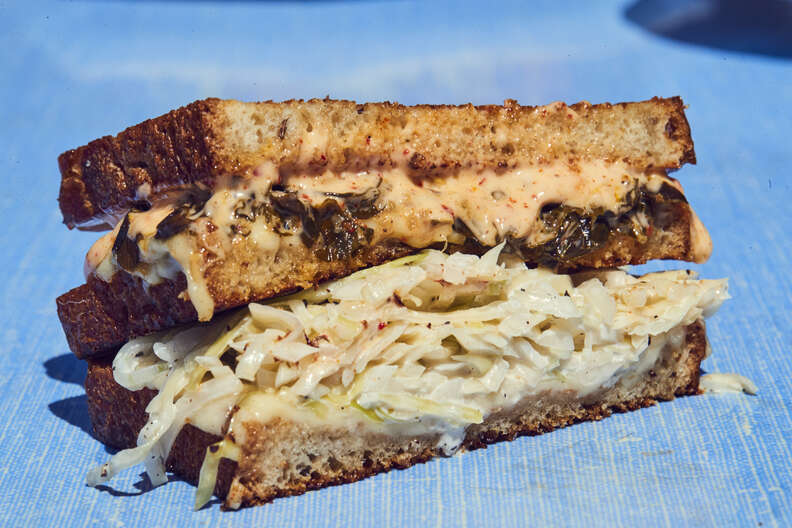 Collard Green Melt at Turkey and the Wolf

| William Hereford
Collard Green Melt at Turkey and the Wolf

| William Hereford
When anyone thinks of New Orleans' edible offerings, there are always a few things that spring to mind first: Bright red boiled crawfish, gorgeous charbroiled oysters, and po'boys stuffed with seafood or sloppy roast beef. While these staples deserve their place in the culinary canon, visitors and locals alike do the city a disservice by ignoring the plethora of other delectables that get sandwiched between two slices of bread. When it comes to sandwiches, New Orleans po'boys will always have a special place in our hearts. But it's our job to make sure you're paying attention to all the other bready examples, especially since this seems to be the summer of the park picnic. Here's the list of our absolute favorites.
French Quarter
There are few things as reliable in the French Quarter as this iconic 24-hour corner store. A favorite of just about anyone who's stayed out too late or woken up too early, Verti Marte is known to deliver one of the best fried chicken sandwiches in town. Best paired with one of the shop's innumerable sides -- the insanely rich creamed spinach is a must-try -- it's a classic Southern staple done better than just about anywhere else.
How to order: Head straight to the shop, or get free delivery in the French Quarter, Faubourg Marigny, or CBD by calling 504-525-4767. Delivery also available through DoorDash and Waitr.
South Seventh Ward
Kukhnya operated for years out of a cramped kitchen in the back of Bywater bar Siberia, but moved into its own larger space last summer. Luckily its jaw-dropping selection of "Eastern European soul food" has somehow only improved with the new digs. It's hard to go wrong with anything on the menu, but the Omni-Reuben is particularly pleasing. As the name implies, it's the classic sandwich taken to the next level, with roasted beets atop corned beef, braised cabbage, and swiss cheese on rye bread. Pair it with a Russian vodka on the rocks, and repeat after me: Nostrovia.
How to order: Outdoor seating is available for dine-in, or call 504-766-1613 for takeout.
Irish Channel
When this spunky little sandwich shop earned Bon Appetit's title of Best New Restaurant in America a couple years back, it didn't surprise anyone who'd been lucky enough to sample what chef Mason Hereford is cooking up. While it's true the menu here offers bangers only, the collard green melt is the singular kind of sandwich that leaves vegetarians and carnivores alike sated and satisfied. The rye bread is stuffed with slow-cooked collards, coleslaw bathed in pickled cherry-pepper dressing, and melty Swiss cheese -- and you'll be left loving every bite.
How to order: Order takeout through Upserve.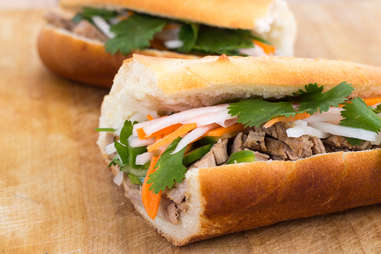 New Orleans East
It's hard to know what lends Dong Phuong a better reputation: Its king cakes during Mardi Gras that merit blocks-long lines, or its banh mi, which is mercifully available all year long. The James Beard Award-winning bakery serves up this sandwich wrapped in a light and crispy French bread, and you can be there genuinely isn't a bad option in Dong Phuong's list of over a dozen banh mi sandwiches. That said, the Vietnamese grilled pork is particularly great, along with the BBQ chicken. Make sure you check out their "Banh Mi Boxes," which come with a selection of sweets and cold drinks, too.
How to order: Order online for takeout.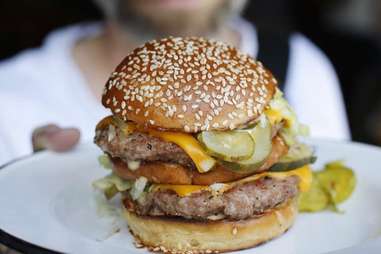 Warehouse District
What's better than a good old fashioned food pun? This sandwich. Chef Donald Link's take on the McDonald's classic offers two all-pork patties, special sauce, lettuce, cheese, pickle, and onion on a sesame seed bun. What else were you expecting? Just make sure you grab some extra napkins before you tuck in -- and schedule a nap for later.
How to order: Dine in, or order takeout and delivery through ToastTab.
Irish Channel
We're not sure there's a better way to cure a hangover than with a trip to Stein's. That said, the classic deli is well worth a visit at any time of day. The no-nonsense approach of the proprietor here will have you shape up real quick, as will the scrambled egg, cheese, and tomato sandwich, which you should absolutely get served to you on one of the Davidovich bagels. Don't forget to pay a visit to Whatever Coffee, which is tucked into a corner at the front of the shop.
How to order: Walk up for takeout only service.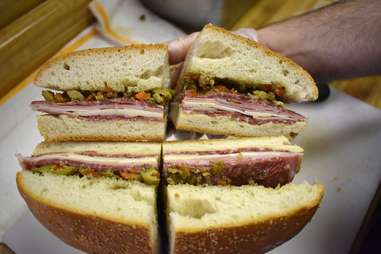 French Quarter
If there's one other iconic New Orleans sandwich, it's undoubtedly the muffuletta. It's common to see the line at Central Grocery heading out the door and leading down the block. That's because it originated here, and it doesn't get much better than the original. You'll find a heavy (seriously heavy) portion of olive salad, Italian meats, and provolone heaped inside a giant, crusty loaf of sesame seed bread. If you're eating alone, you could get just a half or a quarter -- but why would you?
How to order: Walk up for takeout only, or get it shipped anywhere through Goldbelly.
Multiple locations
Sometimes you don't need an innovative twist on a great meal, you just need to keep it classic. Toast's Croque Madame is one such example of a traditional sandwich simply done perfectly. Expertly toasted, thoroughly decadent, and decidedly delicious, Toast's version of the well-known Parisian sandwich might just well be the best in town, and that's saying something for a city known for its brunching.
How to order: Call ahead, or check the website for wait times for dine-in.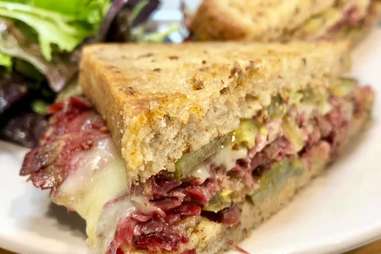 CBD and Uptown
St. James Cheese Company's menu is filled with excellent sandwich options, from the classic Hook's Cheddar to a perfect grilled cheese (hint: ask for the added bacon). But there's nothing quite like the Smokey Blue, thanks to its thinly sliced roast beef, a house-smoked Mycella blue cheese, and Worcester mayo served up between two lightly toasted slices of multigrain bread. It's all umami, and it's thick enough to serve as two meals, if you can hold out long enough.
How to order: Takeout and delivery only. Order online through the website.
French Quarter
It's a classic sandwich, prepared exactly how you'd expect: pork, ham, Swiss cheese, house-made pickles, a swipe of mayo and mustard, and grilled, because there just are some things that don't need improving. That it comes from the little French Quarter cafe from Nick Detrich, Konrad Kantor, and Chris Hannah, which means the beverage program is also on point, is just a lovely bonus.
How to order: Outdoor seating for dine-in and takeout.
Sign up here for our daily New Orleans email and be the first to get all the food/drink/fun in the Big Easy.
Andrew Paul is a writer living in New Orleans with work recently featured by AV Club, GQ, Rolling Stone, as well as McSweeney's Internet Tendency and TNY's Daily Shouts. He swears it's his jeans shrinking in the wash that recently required one less belt notch. @anandypaul