Few of New Orleans' native food offerings are as renowned as the po'boy. The term -- often believed to be a Great Depression-era shortening of "poor boy" referring to unemployed and striking workers' lunches -- has spawned countless variations, filled with everything from the traditional roast beef or fried seafood, to an entire Thanksgiving menu stuffed between the sandwich's flaky, fresh French bread. No one would deny the po'boy reigns supreme in Crescent City, but there are still a host of other delicious sandwich options in town. We've done our due diligence researching all the alternative between-bread combinations to present our list of New Orleans sandwiches worth your attention.
Recommended Video
This Fried Bologna Sandwich Is a Southern Classic
Fried Chicken Sandwich
Verti Marte
French Quarter
Although we're situated about as deep into the Deep South as you can get, New Orleans is often considered somewhat separate from the larger region. It's understandable -- the city's unique mix of Spanish, French, Creole, Vietnamese, and African cultures can't be found anywhere else in the country, much less the world. Still, that doesn't mean we can't fry chicken with the best of them, and the French Quarter's iconic 24-hour corner store, Verti Marte, delivers the best fried chicken sandwich in town. Best paired with one of the shop's innumerable sides -- the insanely rich creamed spinach is must-try -- it's a classic Southern staple done better than just about anywhere else.
Omni-Reuben
Green Room Kukhnya
South Seventh Ward
Kukhnya operated for years out of a cramped kitchen in the back of Bywater bar Siberia, but just moved into its own larger space earlier this summer. Luckily its jaw-dropping selection of "Eastern European soul food" has somehow only improved since with the new digs. It's hard to go wrong with anything on the menu, but the Omni-Reuben is particularly perfect -- as the name implies, it's the classic sandwich taken to the next level, with roasted beets atop corned beef, braised cabbage, and swiss cheese on rye bread. Pair it with a Russian vodka on the rocks, and repeat after me: Nostrovia.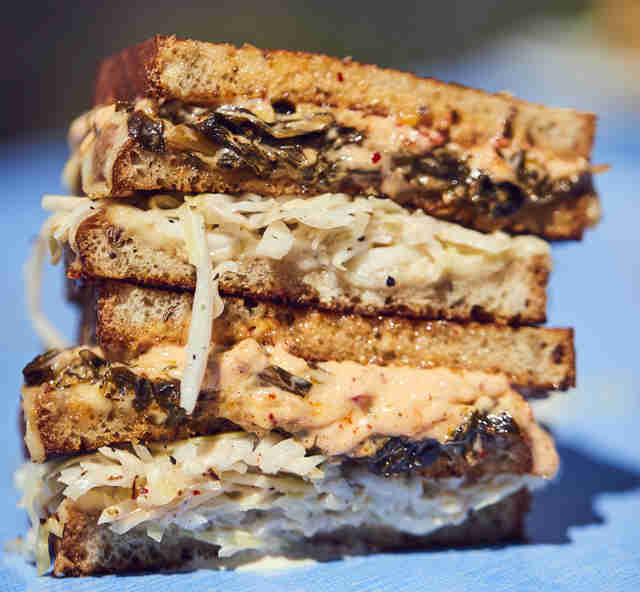 Collard Green Melt
Turkey and the Wolf
Irish Channel
Look, it's a sandwich shop Bon Appetit named its Best New Restaurant in America a couple years back, so, of course, the folks at Turkey and the Wolf know what they're doing. Sandwiches are generally pretty carnivore-friendly, especially in New Orleans, so it's that much more impressive that the award-winning restaurant's best sandwich offering is its Collard Green Melt. The ratio of slow-cooked greens to cheese and coleslaw is ideal, but the pickled cherry-pepper dressing is what really takes this one to another level.
Grilled Steak Sandwich
Tartine
Uptown
Tucked away in a tiny, Parisian-themed cafe near Tulane University, Tartine has long been a hidden gem in town offering some of the best breakfast and brunch options in town. While we technically can't include its namesake dish (open-faced sandwiches are a different category altogether), the grilled steak sandwich is worth its own spot on the list. Seared-rare steak, picked carrots, spicy aioli, and an eye-openingly fresh pistou all combine for a satisfying late-morning meal. Insider tip: Add a fried egg on top for the best day-ruiner of your life.
Banh Mi
Dong Phuong
New Orleans East
Yes, like a traditional po'boy, a banh mi is technically a sandwich employing French bread, but you gotta understand -- no one bakes and fills that French bread like the James Beard Award-winning folks over at Dong Phuong. For some reason, banh mis are only now achieving rightful respect elsewhere in the country. Unlike a regular po'boy, which can often feel like you just ate a delicious brick, a banh mi is often much lighter and fresher than its deep-fried counterpart. There genuinely isn't a bad option in Dong Phuong's list of over a dozen banh mi sandwiches, but the Vietnamese grilled pork is particularly great, along with the BBQ chicken. Luckily, at only a few bucks a pop each, you can stock up on a few to share -- or not -- with friends. Don't forget to grab some of the other incredible baked goods while you're there, too.
Le Pig Mac
Cochon Butcher
Warehouse District
Look, we get it. McDonald's is popular for a reason. In addition to being cheap-as-hell and convenient, it's hard to beat a Big Mac for fast-food guilty pleasures. Cochon Butcher understands this better than most, which is why it gifted us with Le Pig Mac -- its own spin on the iconic drive-thru meal with in-house smoked meat and a non-processed "special sauce" that won't make you feel quite as sinful afterwards.
Stoltzfus
Stein's Deli
Irish Channel
Stein's has long been one of New Orleans' undisputed, must-try delis, with a killer mix of both Jewish and Italian offerings ranging from meatball subs to reubens. The Stotlzfus breakfast sandwich is the best bet for newcomers, no matter the time of day. Scrambled eggs, a choice of pastrami or corned beef, spicy brown mustard, and Swiss cheese combine for one of the city's best hangover cures. Not to mention it's right next door to District Donuts, a one-two punch if there ever was one. You choose the bread, but we recommend getting Stein's Stoltzfus on a bagel, since they're shipped in fresh from New York City every day.
Muffuletta
Central Grocery
French Quarter
If there's one other iconic New Orleans sandwich, it's undoubtedly the muffuletta. That said, it's a meal that's been adopted by so many other regions and cities throughout the states that some are surprised to learn it originated in Louisiana. Specifically, it originated at Central Grocery in the French Quarter, which served the very first muffuletta back at the turn of the century. It doesn't get much better than the original, but there's another reason the third-generation family spot deserves a visit -- this sandwich leans heavier than other versions on the olive salad in proportion to its meat and cheese ratios, but the real hero is the bread itself binding together the perfect combination, a focaccia-meets-French-bread that's just insanely good. Be sure to stop in while making your way through the Quarter for a trip down muffuletta memory lane.
Torta Cubano
Taqueria Guerrero
Mid-City
For as diverse a city as New Orleans, it can sometimes prove a bit difficult to find decent Tex-Mex. Luckily, Taqueria Guerrero provides a welcome solution to this problem, with an incredible menu ranging from lengua tacos to chicken tamales to burritos the size of your head. An overlooked option on the menu, however, is the crazy good, no-frills torta Cubano, which is sometimes all one needs to satisfy a sandwich craving. Guerrero's is also neighbors with the renowned Italian bakery and ice cream shop Angelo Brocato, so be sure to hit up both for a tour of family-made food goodness.
Croque Madame
Toast
Multiple locations 
Sometimes you don't need an innovative twist on a great meal, you just need to make that great dish, well, great. Toast's Croque Madame is one such example of a classic sandwich simply done perfectly. It shouldn't come as a surprise to eaters, though, since Toast is the sister restaurant to Tartine featured earlier in the list. Perfectly toasted, thoroughly decadent, and decidedly delicious, Toast's version of the well-known Parisian sandwich might just well be the best in town, and that's saying something for a city known for its brunching.
Sign up here for our daily New Orleans email and be the first to get all the food/drink/fun in the Big Easy.