Where to Get New Orleans' Most Iconic Icy Treat This Summer
Cool off with classic and creative snowballs.
There's nothing like the sweet refreshment of a cold snowball on a hot summer day. You won't find icy snow cones here in New Orleans; our snowballs are so fluffy they're almost unreal. We may not be able to agree on how it is spelled—some call it a "snoball" while others add a "w"—everyone has a favorite spot for this classic treat.
Situated in neighborhoods around the city, these stands are the stuff of childhood memories—sweet syrups and sticky fingers on a summer day—but snowballs are beloved by locals of all ages (and hey, there's nothing wrong with adding a little booze to one for an adult treat). All shops have the classic flavors, but some specialize in over-the-top creamy creations or inventive combos made with natural ingredients. Top yours with condensed milk or get it stuffed with ice cream and you've got an only-in-New Orleans taste of summer.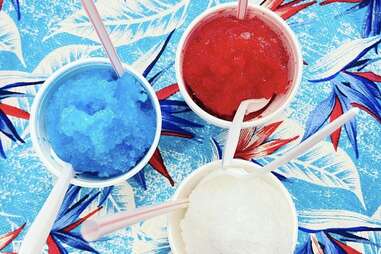 Metairie
Casey's is a no-frills snowball stand with classic flavors and specialty options like king cake and Bazooka. Alongside classic New Orleans snowballs is a list of cream flavors that includes the likes of tres leches, Frangelico, and pralines 'n cream, though the shop is famous for its chocolate cream. Other cool options include sundaes and monsoons (soft serve ice cream mixed with bits of sweet treats like Oreos or Reese's Pieces mixed in).
Uptown
Hansen's boasts the city's first electric ice shaving machine, built by Ernest Hansen and George Ortolano in 1939. The shop has been churning out fluffy snowballs with creative flavors ever since then—still in the Hansen family—earning a James Beard American Classics award in 2014. You'll likely find a line stretching down the block, but it's worth the wait for flavors like satsuma, passionfruit, or ginger-cayenne, and specialty toppings like charred peach syrup or Bananas Foster.
Mid-City
Located across from Delgado in the same strip as MoPho, Ike's is a solid option for snowballs near City Park. Traditional flavors include the usuals like green apple, strawberry, and cake batter, but for something a little different try wine cooler, Georgia peach, or mojito. Bring your pups—not only does Ike's have a dog-friendly patio, but they also offer special chicken- or beef-flavored snowballs doggies are sure to love.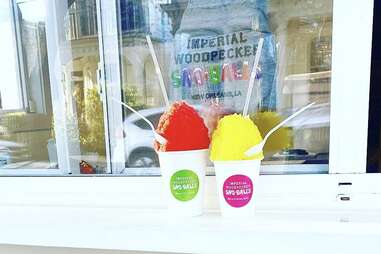 Uptown
This little spot on Magazine Street is known for inventive flavor combinations made with all-natural housemade syrups. Refreshing options include lemon basil, pineapple cilantro, and watermelon jalapeno. Or go for one of the cream flavors like cereal cream, Earl Grey, chicory coffee, or vanilla bean. For an extra special treat, top your snowball with marshmallow fluff or vanilla ice cream.
Metairie
One of the newest snowball shops in New Orleans is decidedly different from the competition. Nectar + Ice serves up sweet treats suitable for those who are vegan, halal, or have allergies. All the snowball bases are made in-house, and vegan substitutes like coconut condensed milk are available. Try a mochi-stuffed snowball or one of their signatures, like the Oreo cake, a wedding cake snowball stuffed with cheesecake and topped with white and dark chocolate and Oreo cookies.
Mid-City
Pandora's is the spot for a refreshing pick-me-up after a stroll in City Park or along Bayou St. John. Lines can get long here, as fans seek out unique cream flavors like wedding cake, red velvet, cookie dough, grasshopper, and Bananas Foster. Classic flavors are on the menu too, as well as sugar free options.
Rodney's Snowballs
Lake Forest
Snowball fans in the east head to Rodney's in Lake Forest. The walk-up stand has all the classic flavors like nectar cream, cherry, passionfruit, and mango, plus options like margarita or cotton candy. Try a deluxe creation like the Pina Colada Cream topped with condensed milk. Rodney's has other sweet treats like malts and sundaes as well as savory snacks like hot tamales and chili cheese nachos.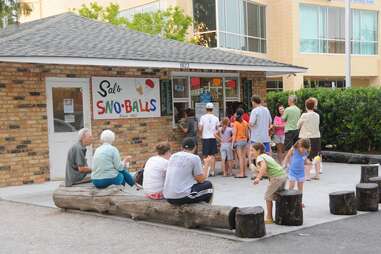 Metairie
Sal's in Old Metairie has been an old-school favorite since 1960. The menu is simple and classic, with traditional options plus additional signature flavors like Popeye (minty bubblegum), Purple Dawn (spearmint and strawberry), s'mores, and a variety of cream flavors. Sal's has plenty of outdoor seating under shady trees, and they're open until 10 pm for late-night snowball runs.
Metairie
As if an ice cream-stuffed snowball wasn't decadent enough, Sno-La took it further and introduced the cheesecake-stuffed snowball. This stand is where you go to indulge: Try signature options like the Chantilly Cake—a wedding cake cream and strawberry snowball stuffed with cheesecake, strawberries, and blueberries and topped with whipped cream—or the Pelican, a Bananas Foster and red velvet cream snowball stuffed with cheesecake and topped with condensed milk.
Uptown
This tiny, family-run neighborhood snowball stand has been in business since 1945. Plum Street offers more than 50 flavors, from spearmint and watermelon to orchid cream vanilla and nectar cream. Snowballs are served in Chinese takeout containers in varying sizes. Take your "pail" outside, where you'll find a bench and a few chairs, or stroll the neighborhood while you enjoy your tasty treat.