The Most Unexpected Places You Can Eat Well in NOLA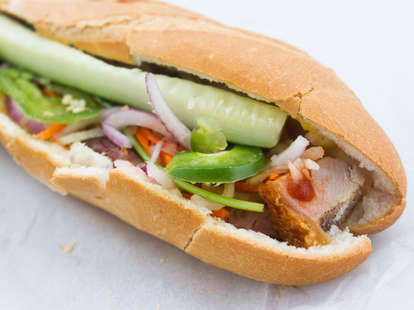 Finding good food in New Orleans is a no-brainer -- after all, this is one of the world's best food cities. When everyone and their mama is a good cook, it should come as no surprise that even the most unlikely places produce delicious dishes. From gas stations to airport food courts, you can eat well in some seriously unexpected places. Eat outside the box and add these spots to your next round of dining options.
Jetgo gas station
Fill up your car and then your belly at this mom-and-pop shawarma shop. Tucked inside the convenience store of this neighborhood gas station on Magazine St, the stand-alone Shawarma on the Go takes gas station food to the next level. Here, you'll find great chicken shawarma and lamb/beef gyros carved right from the spit onto locally baked pita or as the main go on a platter. The cooks' banter is entertaining, the fries are fantastic, and the sauces are homemade -- we recommend the garlicky "tum" to accompany your pita, plate, or fries -- and the falafel have excellent crunch, tooth, and tenderness.
Bayou St. John
This 90-year-old grocery store has well-stocked shelves of local and specialty items -- many with an Italian accent -- and everyone knows about the great butchery and brilliant house-made Italian sausages. Stop by on Saturdays, when Terranova's sells a limited quantity of stunning muffulettas piled high with meats, cheeses, and giardiniere-laced olive salad on airy rounds of seeded Italian loaves. Order the Christmas tree-shaped hogshead cheese for your holiday party and, if stuffed artichokes are in on display, do the smart thing and order a few. Don't miss the burritos and order a chicken with artichoke stuffing.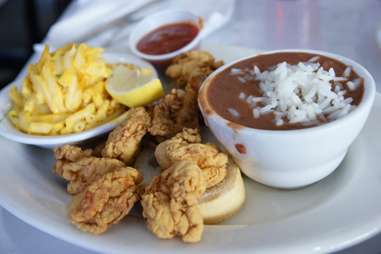 Praline Connection
Louis Armstrong Airport
Forget that sweet, nutty goodness of a praline (or grab some to go from the candy shop and food store just before you go through security). Midway down Concourse B is a no-frills airport food-court, overpowered by the heavy smells of a Subway sandwich kiosk. Waltz past and soothe your weary soul with Praline Connection's Cajun-Creole goodness. Praline's greens, gravy, and crisp-crusted fried chicken livers will beat anything you can get in flight. Livers not your thing? The fried chicken is just this side of heaven, or go vegetarian with a soulful plate of greens, beans, and rice.
Radisson Hotel New Orleans Airport
Visible from the airport terminal, across the runway, is a Radisson Hotel. Tucked inside is The hotel's restaurant, 4Corners Bistro, which secrets an Eastern Indian chef who rocks a robust list of Indian specialties. Enjoy properly spiced Masala dosa (a crisp lentil pancake with potato filling), creamy Chicken Tikka, fresh-baked naan, palak paneer (spinach with fresh cheese), and finish it off (or start) with mango lassi. If Indian isn't your thing, 4Corners Bistro also serves up a variety of local Creole/Cajun favorites.
Airline Drive
While there's a multitude of Ideal Market locations around the Metro area, we have special love for the large Airline Dr store. Here, a fired-up indoor grill is continuously cooking marinated beef and chicken barbacoa for great on-the-fly tacos. Brush up on your Spanish or simply point and smile to choose stews, rice, chicharrones (meat and skin, skin only, or seasoned), pupusas, roasted corn, and more. Skip the flan, get the tres leches, and gawk at the store's expansive stock.
Gretna
This Vietnamese market is well-known for its banh mi (with meatballs, please), breads, and desserts (and now liquor!) -- but it's all about the char siu pork and peking duck. Ask the counter server to chop the meats, grab a bag of lotus buns, some scallions, and chili oil to cobble together bao for warm and delicious football watching food. Get a sixer of Tiger beer, then walk across the parking lot to the beef jerky store (Kho Bo Ngoc Quyen) to get snacks. Lots and lots of snacks.
Central City
This corner convenience store a couple blocks off St. Charles Avenue serves its neighborhood for chips, sodas, and cigs. But it also houses decorated Chef Crispin Pasia and a broad menu of expertly prepared, home-style Filipino dishes. Start with a pile of crispy, slim cigar-thin lumpia, then hit the rich, peanut butter-shot oxtail stew called kare kare. Ask for sharp and salty shrimp paste to zip up things, and an eating tutorial from the chef -- he's happy to oblige. Folks also go wild for the and crispy pata, deep-fried pig trotters or knuckles with a black vinegar dipping sauce.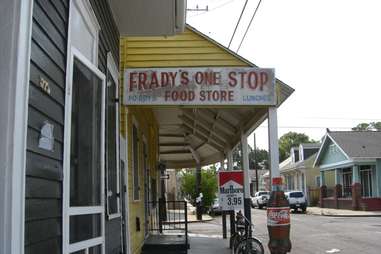 Bywater
This beloved Bywater grocery has been operating since 1968 and is a great example of old New Orleans neighborhood joints where food and service reign, and little has changed. Check out the excellent plate lunches and old-school po-boys -- we love the dressed French fry po-boy with beef gravy. Get their divine homemade deviled eggs, and do not miss the carrot souffle, meatloaf and mashed potatoes, or homemade meatballs. Bring cash, this place does not do cards.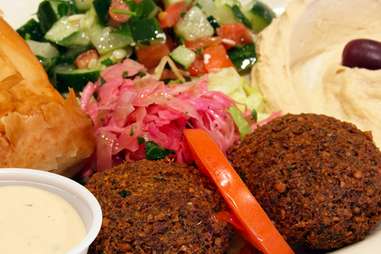 Kenner
Near the airport, just off Williams Blvd, is a plain-jane strip center that is home to two gems. At Falafel King, all the food is Halal and falafel are indeed king. Crispy on the outside and properly seasoned, the falafel make a great dish or sandwich (the homemade pita has a great chewy texture) on their own, but we think it's just a bit of morning-meal genius to order the breakfast special that includes hummus, foul (fava beans), and mutabal (eggplant dip). For dessert, get crunchy, sticky sweet shredded phyllo dough kunafa with cream, and a spiced and sweet Turkish coffee.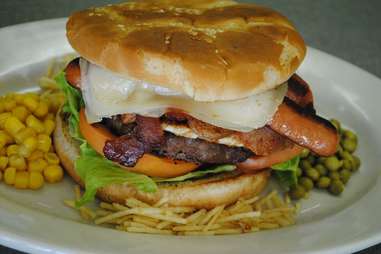 Kenner
Immediately next door to Falafel King, is the second gem in the crown of this strip center. Yes, it is a great resource for Brazilian ingredients, foodstuffs, and local event information. Yes, there is a TV blaring (usually soccer or a telenovela). Order to stay or to-go, but know that the food is phenomenal. Pao de Queijo (Brazilian cheese breads) resemble over-sized gougeres, all buttery, cheesy, and surprisingly gluten free. There is also a decadent acai breakfast bowl made with syrupy, sweet condensed milk, and on Saturdays only, the must-get bean and meat stew feijoada, is where it's at.
Sign up here for our daily New Orleans email and be the first to get all the food/drink/fun in the Big Easy.
Lorin Gaudin is an intrepid eater, drinker, finder, and writer of all things delicious. Follower her as she devours New Orleans at @NolaFoodgoddess.