10 Things Not to Miss at New Orleans' First Beignet Festival
New Orleans is no stranger to celebration and regularly revels in its music, culture, and food. This year is a big first for the Crescent City, which will host the inaugural Beignet Festival on October 8th in Lafayette Square. For those of you who have been living under a rock made of kale, these fried pieces of dough covered in sugar are our official state donut.
So what could be better than doing your civic duty by stuffing your face with beignets? Stuffing your face for a good cause. Sherwood and Amy Collins have organized the festival as a way to raise awareness and support for their charity, Tres Doux Foundation, which benefits organizations that support children on the autism spectrum. The festival includes more than 15 vendors, five musical acts including Big Sam's Funky Nation, and a ton of activities for kids.
NOLA's favorite bakers are cooking up something special, from extra-sweet Oreo beignets to super-savory crawfish and oysters and boudin twists on the dish. Here's what not to miss at New Orleans' first ever beignet Fest:
Praline beignets
The Big Easy is known for two desserts: beignets and pralines. The two are so delicious on their own, but bringing them together is a foodie's paradise. Loretta S. Harrison founded her namesake company over 35 years ago using a secret family recipe. Loretta's Pralines are among the top the city has to offer, and when she mixes them with beignets, it's a little cloud of heaven.
Oreo beignets
Oreos, like beignets, are versatile, coming in different flavors, sizes, and stuffings. They can both be made thick or thin, plain or double-stuffed. But perhaps the best rendition yet is when Oreos are stuffed inside the crispy sweetness of a beignet by New Orleans' popular breakfast spot, Luca Eats. Imagine biting into a crispy pastry and being greeted with an Oreo surprise inside.
Café au lait & beignets ice cream cone
If pie can be à la mode, then why not beignets as well? New Orleans Ice Cream Company creates delicious frozen goodness with all-natural ingredients and inspiration from local fare. Flavors include Creole Cream Cheese, Mardi Gras Pie, and Coffee & Chicory, so it's only fitting that they have a beignet flavor. Order a scoopful at the festival.
Chocolate beignet bites
Beignets plus chocolate might equal pure joy. The originators of the chocolate beignet, New Orleans Coffee and Beignet Company, will be onsite serving up their delectable mouthfuls of fried dough and chocolate. We dare you to just have one bite.
Vegan pastries
No need to worry, gluten-free and vegan friends! Local pastry shop Girls Gone Vegan specializes in making gluten-free and vegan pastries such as cinnamon rolls, king cakes, and even donuts. At the festival they will be offering an array of donuts from chocolate cake, maple, birthday cake, and more. This bakery's masterful goods are every bit as scrumptious as those that include wheat and dairy.
Crawfish beignets
While beignets are famous for their sweetness, the fried dough also makes for great savory dishes, as proven by Legacy Kitchen's crawfish beignets. When crawfish are served like this, there is no need to "pinch the tail and suck the head," just eat the whole thing up and don't look back.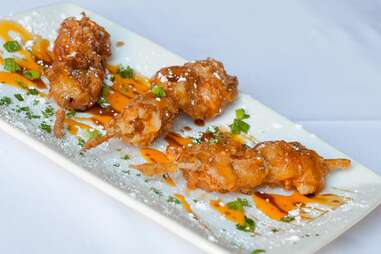 Oyster beignets
Royal House's specialty is its oysters, so it's no surprise that for Beignet Fest, Royal House presents oyster-stuffed beignets. Festival goers will bite into these scrumptious pillows where the crispy texture of the salty beignet is the perfect balance to the softness of the oyster.
Beignet fries
Whoever said good things come in small packages is proven right by Café Maspero's beignet fries. The famous local establishment almost always has a line out the door, but once seated, guests who have worked up an appetite are given ample portions of hearty food, including fried fish and alligator po-boys. This restaurant knows a thing or two about deep-fried food, and for the Beignet Fest they're making sweet French fries by taking that delicious beignet dough, slicing it thin, and frying it up for a sweet handful of happiness.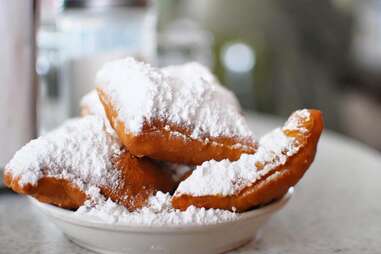 Bananas Foster beignets
The Ruby Slipper Café opened after Katrina, serving a little slice of love with its many delicious dishes and receiving much recognition for its breakfast in local newspapers like Gambit and The Times-Picayune. One of their most popular desserts is their Bananas Foster, so for the festival they will pack this Crescent City specialty into a crisp beignet.
Bacon cheddar beignets with chipotle cream
Cheddar might make everything better, but bacon makes everything amazing. Together, the two are quite the food power duo. For the festival, music venue The Howlin' Wolf Den strings cheddar and bacon together in perfect harmony. This stuffed beignet will have foodie fans screaming as if they were at a Howlin' Wolf concert.
Sign up here for our daily New Orleans email and be the first to get all the food/drink/fun in the Big Easy.
Madina Papadopoulos is a freelance writer and author that splits her time between New York City and New Orleans. Her lifestyle articles have appeared in Paste Magazine, Cosmopolitan.com, Delta Sky Mag, and The Village Voice, to name a few. Follow her on Twitter @madinapaola and Instagram, @IThinkThereforeIEat.