Why You Can't Leave NOLA Without Eating Vietnamese Food
In a city world-famous for food, this community is serving fantastic Vietnamese unlike anywhere else.
The pre-dawn Vietnamese farmer's market in New Orleans East is a space removed from popular notions of "The Big Easy." Brass bands and second lines are gone from sight, and the landscape of creole cottages or French Quarter brick streets seem cities away. Instead, in a strip mall parking lot, Vietnamese women in rice paddy hats sit on blankets strewn with fresh produce, truck beds are arrayed with fish still stinking of gulf water, and farm animals squawk and clatter around their cages.
It is at once disorienting and revealing -- jarring to see that 25 minutes away from the tourists sipping frozen daiquiris on Bourbon Street, an aging generation of Vietnamese refugees lives and works in the margins of New Orleans. But it is also clear that this generation, and the generation they've raised after them, have built a tight-knit community here, born from and centered around food. This farmer's market serves as a kind of social hub for the Vietnamese community in this area, and many of the vendors sell produce grown in their own gardens and fish caught on their own fishing boats. This yield is bought and cooked in their own homes, but it also ends up in restaurant kitchens.
Those kitchens serve some of the best food you can find in this city. Millions of people visit New Orleans every year as a culinary destination world renowned for local foods you simply need to try -- the po-boys, the muffalettas, the soft shell crab, and the beignets -- as well as its Creole and Cajun cuisine. Less acknowledged, however, is the abundance of innovative and authentic Vietnamese restaurants serving hangover-busting bowls of pho and fresh varieties of bánh mì and helmed by refugees who settled after the Vietnam War. In a city world-famous for its distinct and delicious food offerings, this is a must-try cuisine that is absolutely, traditionally Vietnamese, but no less New Orleanian at the same time.
"We made a history here." -- Linh Nguyen of Ba Mien Restaurant
For the Vietnamese refugees in New Orleans, food was and is a way to recreate a home left and lost. "As a culture, we are very family oriented and believe in the practice of gathering together," says Mai Nguyen, the owner of Ba Mien Restaurant. For many, "At the center of all of this, is food."
After Saigon fell in April 1975, many displaced Vietnamese migrated to American cities, to wherever might take them in. Many ended up in sunny coastal California, which explains the large Vietnamese populations in San Diego, San Jose, Orange County, or San Francisco today. But many others spread across the US to unfamiliar landscapes like landlocked Tennessee or frigid Washington DC.
New Orleans was different. Here, the Vietnamese community found a home that, in some small measure, felt like the country they would never know again. Vietnam boasts a coastline on its entire eastern side, so settling near the Gulf Coast was ideal -- for its resources, its work opportunities, its climate, and the familiarity of its lifestyle. There was a year-round market for seafood in New Orleans, and refugees found work as fishermen, shrimpers, and crabbers. And perhaps most importantly, displaced Vietnamese were able to catch or grow the food that represented a long cultural history. Linh Nguyen, of sandwich shop Banh Mi Boys, puts it this way: "We made a history here," one that made a new country feel a little less alien. "Our community fits in well, as we are both the same."
Indeed, the through-line between Vietnam and New Orleans goes beyond just geography and climate; in both countries, food is entangled, enmeshed, and inseparable from its history and culture. New Orleans' Cajun and Creole cuisines famously borrow from the French, who forever imbued the Crescent City with its influence when it founded the city in 1718. This naturally lends itself to Vietnamese cooking -- also heavily influenced by France, which colonized the country in the mid-1800s. A superb French baguette is essential to a good bánh mì, for example.
In recent years, many younger or enterprising Vietnamese Americans have introduced locals to Vietnamese cuisine by opening restaurants in well-trafficked parts of the city, like the Garden District or Uptown, and they've added their own twists to reflect the cultural fusion of New Orleans. Visitors can get a delicious bowl of pho in the hip, modern spaces of Magasin, a popular eatery in the Garden District and the Central Business District, or try Mid-City's Vietnamese Creole fusion at MoPho or the lamb lollipops at Namese. But the city's best traditional Vietnamese mainstays remain mostly on the outskirts, in New Orleans East and the Westbank, where refugee communities first made their homes. Ultimately, the Vietnamese are also New Orleanians.
"The importance of the food relates to how close you hold those roots to you and how they are honored," says Linh Nguyen. "Food equals tradition in Vietnamese culture, and tradition is important." Luckily for the Vietnamese, a city like New Orleans is no stranger to tradition.
14207 Chef Menteur Hwy, New Orleans East
Bread (and bánh mì) so good, restaurants all over NOLA buy it
Dong Phuong has made a name for itself nationally after winning the James Beard Award in 2018. But, locally, it has always been revered for its fresh bread, which supplies restaurants all over the city serving bánh mì on their menus. During Mardi Gras season, lines snake out the door for their coveted king cake, but year-round, the restaurant and bakery still operate to popular morning and lunchtime crowds in the original, humble brick building off Chef Menteur Hwy in New Orleans East.
1100 Stephens St, Gretna
Family-style comfort food made by Mama Tu
This family-style restaurant on the Westbank originally began in a small space behind the then-undeveloped Manhattan Blvd more than two decades ago. Owners Anna and Jeff Nguyen have since moved to a grander venue filled with dozens of round tables for family gatherings. The doors are flanked by imposing lion statues, and patrons are immediately greeted by large, glowing fish tanks. But they still serve the same Southern Vietnamese dishes that their family matriarch Mama Tu cooked up. She still commands the kitchen today, preserving important cooking customs in comfort foods like shrimp paste on sugarcane (chạo tôm), caramelized fish in a clay pot (cá kho tộ), and sweet and sour catfish soup (canh chua cá).
1565 Tulane Ave, Downtown
Longtime local favorite with decades of history
Since 1982, many people would flock from their offices at lunchtime to go to hole-in-the-wall Pho Tau Bay on the Westbank. Now, those lunchgoers don't have to travel far to the newer space in downtown. The updated atmosphere is decidedly industrial and modern, with clean lines and exposed brick, but many of the same people who worked there a decade ago are still behind the lunch counter taking your order. Specializing in Vietnamese lunchtime fare, their pho broth is revered for the clear, clean taste that comes with hours of simmering and a secret family recipe.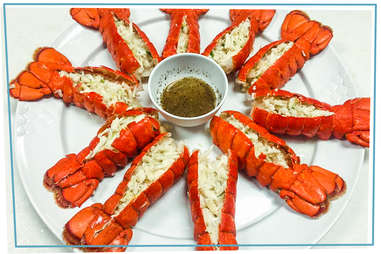 13235 Chef Menteur Hwy, New Orleans East
Flavors from all over Vietnam, not just the South
Most of the Vietnamese community in New Orleans (and America more broadly) are from the southern region, which makes sense when considering the predominantly Southern Vietnamese cooking available. Ba Mien Restaurant makes an effort to introduce distinct regional cuisines, such as hủ tiếu from South Vietnam, or bánh cuốn from North Vietnam. Ba Mien's owner and head chef, Mai Nguyen, says, "I learned many new dishes throughout my travels when I visited my home county," and she made sure to create a menu that accurately reflects the varied and complex regional flavors. Located in New Orleans East, Ba Mien Restaurant is considered an institution in Vietnamese cooking and catering in the city. Filled with plain square tables, the walls sparsely adorned with some Vietnamese artwork, it is a humble, strip mall space, that allows the food to shine.
1028 Manhattan Blvd, Harvey
New kid in town with amazing for seafood wonders
A newer establishment on the New Orleans Vietnamese food scene, TD Seafood has already made local waves with their seafood options. Served boiled and tossed in a savory garlic sauce, this method originated in the Houston Vietnamese community and travelled along the coast to New Orleans. TD Seafood is also one of the few places in the city where you can get a traditional bowl of bún bò Huế, or spicy beef noodle soup from Central Vietnam. Their bowl has all the fixings, including pig knuckle, cubes of pig's blood, and chả lụa (a kind of pork baloney wrapped in banana leaf), if you want it. The walls are covered in televisions and the tables are all protected with wipeable tablecloths. When they bring out big wooden bowls full of seafood while various games flash across plasma screens, TD Seafood Pho House has the feel of a sports bar crossed with a backyard boil.
5001 Airline Dr, Metairie
Irreplaceable sandwiches hidden behind a gas station
Banh Mi Boys is a cozy sandwich shop that can be found on the other side of a gas station off Airline Dr. Run by first-generation Vietnamese American siblings, the menu reflects the convergence of Vietnamese and New Orleans culture. They offer classic po' boys on iconic Leidenheimer bread, classic Vietnamese bánh mì on Dong Phuong baguettes, and creations of their own that honor a fusion of the two, such as Bò Kho debris or Vietnamese fried chicken bánh mì. Designed as a quick and convenient to-go option, seating indoors is limited to a small lunch counter. But, outside, there's a colorful, hand-painted mural and plenty of seating under their shaded patio area.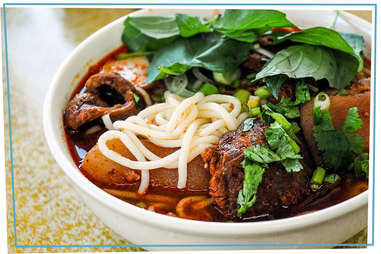 1705 Lafayette St, Gretna
Family-owned spot good for breakfast, lunch, and dinner
A Westbank favorite, Tan Dinh is a traditional Vietnamese restaurant that offers a wide variety of rice, noodle, and soup dishes. They're known for their house specialties of slow-simmered goat (dê xào lăn) or alligator curry (cá sấu xào lăn), crispy chicken wings tossed in tamarind or lemongrass sauce, and spicy pork spare ribs. They're a true jack-of-all-trades family-owned Vietnamese establishment, open for breakfast, lunch, and dinner, and providing a menu that runs the gamut of classic Vietnamese dishes. Fridges near the front counter are filled with homemade Vietnamese desserts, or restaurant patrons can order blended bubble tea drinks. The restaurant is much larger inside than it appears from the outside, with rows of seating that fill up every day during peak hours
E. M. Tran is a Vietnamese American writer from New Orleans. You can read her work at elizabethmtran.com.