Dakar NOLA Settles Into a Permanent Home on Magazine Street
Chef Serigne Mbaye's highly anticipated modern Senegalese tasting menu restaurant explores the West African diaspora's influence on New Orleans cuisine.
Chef Serigne Mbaye's much anticipated restaurant opens Wednesday, and it will carry the name of the pop-up series he and business partner, Effie Richardson, produced, Dakar NOLA.
The 28-year-old chef, born in Harlem and raised in Senegal, made waves with a pop-up that explored the West African diaspora in Louisiana and landed Mbaye on the James Beard short list for Emerging Chef last June. Now in his own space, celebrities and culinary friends showed up in force—I shared a table with Willem Dafoe (more about that later)—and chefs Nina Compton and Melissa Martin were all smiles for Mbaye and the front and back of house fully BIPOC team.
Mbaye knows New Orleans is the right place for his first restaurant. "There is a deep connection between Senegal and New Orleans," he says. "Through Dakar NOLA I am starting the conversation of this story for many who don't know the history."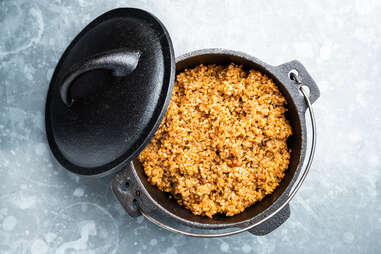 Nearly a quarter of enslaved people forced from Africa to the southern US came from a region between the Senegal and Gambia Rivers. Mbaye draws on this connection, intentionally, for seven courses. The restaurant offers seating nightly at 7 pm, Wednesday through Saturday, by reservation.
"The people of the Senegambia region who were brought to New Orleans during the trans-Atlanta slave trade brought their cuisine and cooking techniques and laid the foundation for what we now know as Creole cuisine," Mbaye says.
A dish named The Last Meal features black-eyed peas braised in palm oil—the historic, fatty dish helped enslaved people survive the arduous Middle Passage. Mbaye adds Louisiana crab over top at Dakar NOLA, just barely cooked through for a silken bite. Redfish follows, with intricately scored skin and served alongside Jollof, a precursor to Red Rice and Jambalaya. It's a stunner over a lightly creamed fish stock, but is quickly overtaken by the Crevette, a dish of whole shrimp with tamarind—a nod to New Orleans' BBQ shrimp—shelled only at the belly.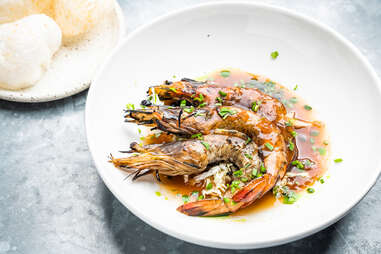 The menu is tweaked nightly and revamped every four to six weeks. Unless a private table is requested, parties are seated together, and that's how I came to eat at the community table with Willem Dafoe, who is currently in New Orleans filming AND, a Yorgos Lanthimos film with Emma Stone. For years, I'll be telling the story of the time I washed my hands with Willem Dafoe. Dinner at Dakar NOLA begins with tableside hand washing followed by Ataya tea and a Mburu roll with spiced butter.
Larger tables at Dakar NOLA are oval, an intentional choice by Rebeckah Blossom and Lauren LeMaster of Master & Man Interior Design for the 30-seat dining room, painted in shades of cream and dark olive. "The shape offers a sense of community at the table that Serigne kept describing to us," says Blossom. "A place you can have a real conversation."
Make sure to snap a photo in front of the salon wall filled with African masks and headdresses, which were a gift from the family of Civil Rights lawyer Lolis Elie, who helped desegregate New Orleans. His son is writer, filmmaker, and food historian, Lolis Eric Elie.
Dakar NOLA's location on the 3000 block of Magazine St is notable; it sits between Lilette and Le Petite Grocery, just blocks apart. The three restaurants create a juggernaut of fine dining here, the amount of culinary acumen on this stretch is a bit staggering. And though Mbaye and Richarsdon say the choice was unintentional, it's a new page for New Orleans to have a Black-owned, -operated, and -staffed restaurant in this locale.
"I'm excited to be a restaurateur post-COVID because there is a new narrative being told," says Richardson. "A paradigm shift has occurred in how people operate their restaurants as well as what the diner expects. Operating Dakar NOLA is an opportunity to make an impact in my community by telling the untold story of the communities' ancestors."
Looking ahead, Dakar NOLA will launch Sunday Supper, partnering monthly with Mbaye's ever widening circle of culinary friends. It kicks off when Mbaye brings his mom, Khady Kante, into the kitchen with him in December.
For now, the restaurant partners with two area wine shops, Second Vine Wines and Spirit Wines (each a block away for selections to BYO) while awaiting a premises license.
DakarNOLA is located 3814 Magazine Street in New Orleans. It opens Wednesday, November 24.
Call 504-493-9396 or visit dakarnola.com.
Stephanie Burnette (@eatdrinkcarolinas) is a food and travel writer, editor, and food stylist and splits her time between Greenville, SC and the Bywater in New Orleans.