Every Menu Item at Popeyes, Ranked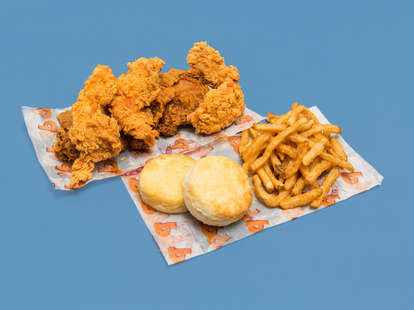 Cole Saladino/Thrillist
Cole Saladino/Thrillist
When I was in grade school, we would have "Popeyes Fridays," and, friends, those were some of the best days of my young life. A two-piece box with a biscuit and a toy was about the most glorious thing I or any of my young compadres could imagine. Even though it was founded in NOLA, we all know that Popeyes is a huge international chain now. But it still harks back to childhood, in all the best ways. So I did what I had to, and thoughtfully ate my way through the entire menu. You know... for nostalgia. And science. And stuff.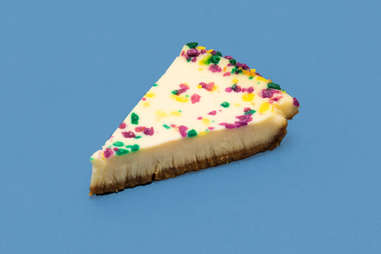 23. Cajun fish
DO NOT EAT.

22. Mardi Gras cheesecake
If you are eating this, you are wearing Mardi Gras beads out of season, and probably carrying a Hand Grenade from Tropical Isle.

21. Pecan pie
This should work really well in theory, but it always fails in execution. Always. If you want dessert at Popeyes, go for the fried pies.

20. Mac & cheese
This is the single most disappointing side in the whole restaurant. I know some of you will disagree with me, but I'm holding firm here. It's not inedible, by any standards, especially if you like pasta drowned in cheese. But it sadly fails to live up to the "Louisiana Kitchen" branding.

19. Cole slaw
OK, so it's a good idea to eat something involving vegetables with a meal, and slaw is generally a solid bet. And vegetables doused in butter and cream can be delicious. But this one is, to our taste, overly creamy and bland (read: absolutely loaded with mayo), which makes the whole eating-your-vegetables concept feel like a wash.
18. Cajun rice
Any "dirty rice" that isn't made from scratch at the hands of a person from Opelousas or Thibodeaux (or places similar) is always going to give us pause. It's rice with some spice. Not terrible, but also not the real deal.

17. Green beans
Buttery green beans are a great southern tradition, so it doesn't take Dumbledore to figure out why Popeyes added them to the menu. That said, as far as vegetables at Popeyes go, this is your safest bet. And especially if you add some pepper vinegar. Now we're talking.

16. Jambalaya
It's not as good as their red beans (more on this in a moment), but the Pope-YES does a pretty great job with their jambalaya (chicken and sausage, of course). Yeah, it's not at ya mama's house, but as a side to pair with your chicken? Thumbs firmly up here.
15. Cajun fries
One time, in a hamburger chain in the mall in St. Louis, I was offered a "Cajun burger." Curious, I had to inquire. "It's, um, like a regular hamburger, but it have Cajun on it," came the explanation by a clearly exhausted mall fast food employee. That ethos is evident in the Popeyes fries, which are just never crispy enough. If you want fast food fries in NOLA, everyone knows it's Rally's or bust.

14. Cinnamon apple pie
People don't normally think of desserts when they think of Popeyes, but this fried pie is about as close as we locals can get to a Hubig's pie these days (RIP), and on that score, it totally fits the bill.

13. Popcorn shrimp
These are great only if you've had a few drinks.

12. Butterfly shrimp
Surprisingly good, for shrimp at a chicken chain. These won't be the best fried shrimps you can have in NOLA, but a solid effort. (You should really opt for the chicken here, though.)
11. Seafood po-boy
Honestly, this is a totally standup seafood po-boy. Not that Popeyes would be your go-to destination for a seafood po-boy in NOLA, but it's enjoyable, with nicely fried seafood and a soft roll of French bread to hold it together.

10. Mashed potatoes
Mashed potatoes are kind of hard to mess up, but these are especially buttery and creamy, which is decidedly a plus. Outside of the red beans, these are probably the greatest side dish at Popeyes.

9. Tenders (blackened)
Why does anyone try to "eat healthy" at Popeyes? It's an existential conundrum to which we'll never have an answer. That said, for grilled chicken at a place where you need to be ordering fried, these aren't bad.

8. Strawberry 'n' cream cheese pie
This bad boy is like a hot, creamy, sugary, beautiful, heart-stopping drug.

7. Chicken po-boy
It's a solid po-boy. Not the best po-boy in town, granted, but there's a reason folks line up every day for this sandwich. Especially when dressed in true NOLA fashion, with pickles, tomatoes, lettuce, and "mynez."
6. Tenders (mild)
Great, but not the same without that cayenne kick. If you're going Popeyes, you need to go spicy...

5. Tenders (spicy)
There's something inevitably sad about taking chicken from the bone, a loss of an essential, elemental carnivorous component. That said, these tenders are our jam. They are designed to be eaten by the bucketful.

4. Red beans and rice
No kidding, the red beans at Popeyes are amazing, and anyone telling you otherwise has never had truly great red beans. Best consumed on Mardi Gras Day. Or really, any day.

3. Bonafide chicken (mild)
Second cousin to the spicy chicken, the less-seasoned version is still great, and always will be. But there's no holding a candle to that spice. This is the chicken you get for grandma, or invalids. It does the job, but it's not very exciting.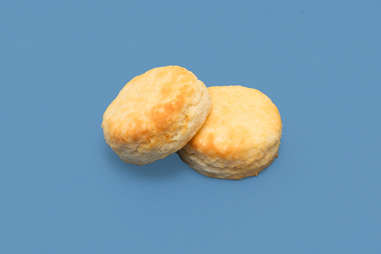 2. Biscuits
I have seen so many poor chefs try to replicate the magic of a Popeyes buttermilk biscuit -- even with classical training and ingredients from local farms! -- and inevitably fail. Miserably. You can't have the chicken without the biscuits. It is the law of the land here.
1. Bonafide chicken (spicy)
I don't care where you are in the world, the smell of Popeyes spicy chicken will invade an entire room (usually a barroom, and often on Saints Sunday), and if you grew up in these parts, it's our equivalent to Proust's madeleines. But it really is better here in NOLA than anywhere else, even if they have a Popeyes in Dubai or wherever. That crackly skin and fragrant, spicy meat... it's basically our birthright. This beautiful, hot chicken is the reason that Popeyes exists, and boy howdy, do we love it.
Sign up here for our daily New Orleans email and be the first to get all the food/drink/fun in the Big Easy.
Scott Gold is a writer in New Orleans who clearly has a love for fried chicken. Follow him on Twitter @scottgold.