Yes, New Orleans is the hottest food city in America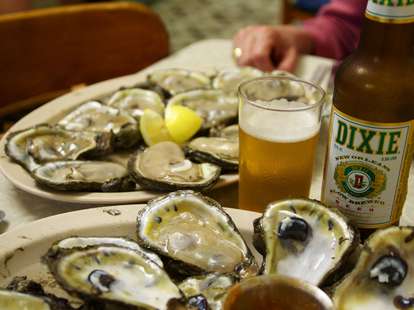 The Big Easy is in boom times, baby. As the fastest growing city in America, national talent is flocking to New Orleans like never before, and the restaurant scene has kept pace. Why? Cost of living and business overhead is a fraction of what it would be to run an eatery in any other major metropolitan city. Also, people like to eat stuff. So new spots are opening at a crazy rate, while stalwart favorites and Grand Dame restaurants are refreshing their menus to draw in a newer, younger clientele. Add that up, and you have the recipe for culinary magic, all in one amazing, incomparable city. Let's see why...
1)We're taking chances.
In the past few years, more than a handful of intrepid chefs have tested the local waters with pop-up restaurants, only to find wild success and subsequent brick-and-mortars. Because of pop-ups, we now have Nathaniel Zimet's Boucherie (started as a purple food truck), NYC-style slices at Pizza Delicious, handmade ramen and sweet treats at Noodle & Pie, gourmet tube steaks from Dat Dog, and more. Not to mention the growing number of current pop-ups to keep diners on their toes, like Purloo, Milkfish, Borracho, Gemelli's, and more rearing their newbie heads seemingly each week.
2) We're an old soul, but have embraced the new.
Before Katrina, New Orleans diners would have scoffed at the words "modernist cuisine" or "molecular gastronomy". Now, with the kitchen wizardry of chefs like Phillip Lopez at Root, with his foie gras lolly pops and black-laquered chicken, as well as SoBou's Juan Carlos Gonzales (he of the ghost chile cotton candy and tuna tartare ice cream cones), the Crescent City is joyfully celebrating the new while paying homage to tradition. It's the best of both worlds!
3) We invented the cocktail.
Sure, there are neat things happening in San Francisco, Chicago, Portland, and New York when it comes to boozy libations, but all the suspenders and mustache wax in the world won't alter the fact that the cocktail was born in New Orleans, and we're still its baby-daddy. Why else would the entire industry gather here to hone their craft during Tales of the Cocktail each August? You want fancy infusions, syrups, tinctures, house-made bitters, and "rocks" carved into perfect spheres by hand with ice cleavers? We got that. Want to drink a Sazerac or French 75 where they were actually invented, over a century ago? Man, you're demanding, but we've got you covered there, too.
4) "Traditional" doesn't mean "boring".
There are maybe two or three other cities in America with restaurants as old as some of the ones in New Orleans, but it's guaranteed they're not as much fun. Restos like Commander's Palace continue to keep the old times lively with their 25 cent martini lunches, while making sure the menu stays fresh (Chef Tory McPhail recently won a James Beard award for doing just that).
5) We have the best service in the country.
At Galatoire's, you ask for your waiter's section by name as you wait in line for the fabled Friday lunch. At places like Arnaud's, classic dishes like cafe brulot and bananas foster are skillfully engulfed in flames tableside by a professional who damned well knows what he or she is doing (stuff involving fire tends to bring that out), and typifies the level of service and dedication that extends throughout the bar & resto scene here.
6) "Local" and "seasonal" aren't new buzzwords in these parts.
New Orleans has always reveled in the embarrassment of riches that is our local produce, seafood, meat, and game. Creole tomatoes, cauliflower, mirliton, blackberries, peaches, and corn are our bread and butter (also, bread and butter). We are and always have been the kings of crabs, crawfish, huge shrimp, and amazing fish, not to mention alligators, frogs, and turtles. You like oysters? So do we... that's why we don't gouge you $3.50 per bivalve for them, like an asshole. For under 12 bucks, you can get a dozen of the freshest, cleanest, BIGGEST oysters on the planet, like at Casamento's, which has been rocking the oyster bar since 1919.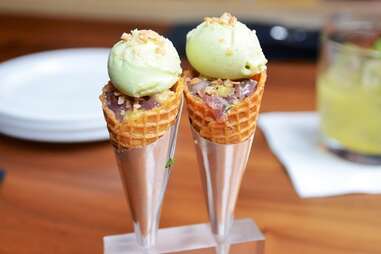 7) We still take reservations.
Sure, there are a number of eateries -- mostly casual -- that take only walk-ins. But this hyper-egalitarian no-res policy for popular fine dining eateries? Pssht. If you make a reservation, we will take care of you, the way it used to (and should) be.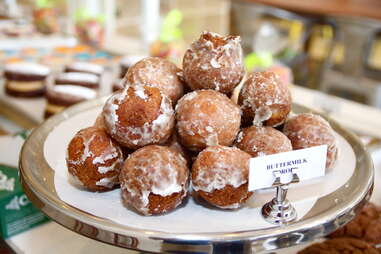 8) You don't have to wait in line for four hours for a pastry.
Up your cronuts, New York. We have do'sants, beignets, and buttermilk drops, and we have them RIGHT NOW.