The 10 best food trucks in New Orleans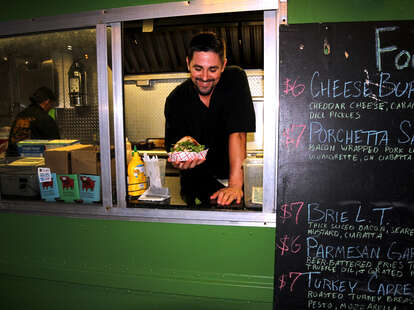 Photo: Alejandro de los Rios
New Orleans hasn't become America's most up-and-coming resto city because they like fast food -- unless you're talking about their burgeoning fleet of food trucks that is, which thanks to new way-better regulations from the City Council, has seen a boom in business. Celebrating their success, we've cut together this list of the Big Easy's ten greatest mobile chow-slingers…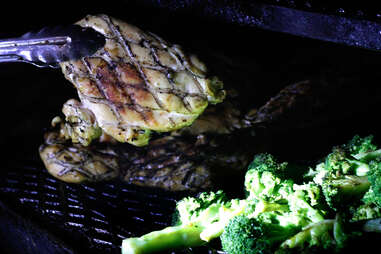 10) Bittles with the Vittles
Sometimes hard to track down, but nevertheless a New Orleans staple, Bittles is always found along the second-line brass band parades that occur nearly every Sunday in various parts of the city, where they'll be tooting their own horn about their deliciously spicy signature wings & grilled broccoli. If you're into midweek vittles, the truck can also be found parked up most Thursdays at Vaughn's in the Bywater.
9) Brigade Coffee
It's not every day you can get craft-brewed coffee straight out of a renovated 1979 Citroen H Van, unless you happen to habitually stalk the Brigade Coffee truck, which slings hot & cold brew joe every day of the week.
8) Frencheeze
Decadent and savory, this truck offers inventive twists on the classic grilled cheese, putting out pulled pork w/ bleu on a French roll, or bacon & grape jelly on a croissant -- and their sliders contain almost eight ounces of beef (for those keeping score, that means this "slider" has more meat than two quarter pounders).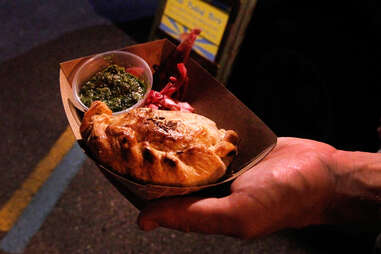 7) Empanada Intifada
Kind of a one-trick food truck, these guys specialize almost entirely in Chilean-style empanadas with a Southern twist; you'll find pork-shoulder braised in a satsuma, as well as black bean, banana, and plantain-stuffed numbers.
6) Skillet
Run by film industry workers, these dudes still have plenty of lines... forming for their ever-changing, yet always delicious menu, filled with the likes of waffle-cone bowls stuffed w/ pulled pork & fixins.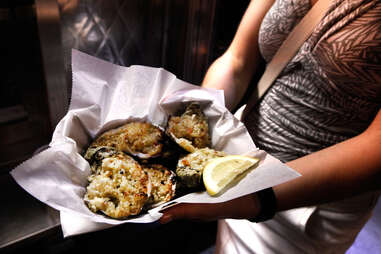 5) Food Drunk
Nothing is what it seems with this "chef-inspired, alcohol-influenced cuisine"; hot dogs are made with angus beef, and burgers are made with brisket; don't overlook their seared Ahi tuna, chargrilled oysters, or duck fat fries either, they're perfect after an "alcohol-influenced" night.
4) Que Crawl
One of the first post-Katrina trucks, this big purple four-wheeler laid the foundation for the vaunted resto Boucherie. Look out for the Que Crawl's distinctive brisket & boudin balls at pretty much every NOLA festival.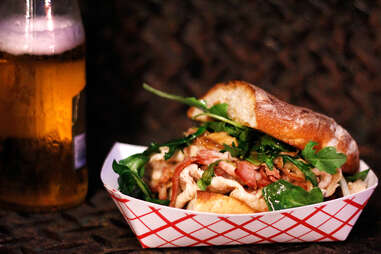 3) Foodie Call
Run by brothers who're trained in fine-dining restos, these guys dish-out great high-end street food such as Brie-LT's, duck etouffé, and turtle soup -- but the star is this porchetta-loaded sandwich (that's bacon-wrapped pork loin, and it's every bit as delicious as it sounds).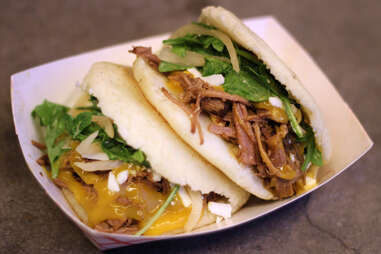 2) La Cocinita
La Cocinita's Latin-American eats are constructed via a choose-your-own-adventure menu: pick a meat (braised pork, carne asada, etc.), then a vessel (quesidilla? taco?), and slather it with spicy mango, "stupid hot" sauce, or one of 11 others, to make the likes of these Venezuelan brisket-stuffed arepas.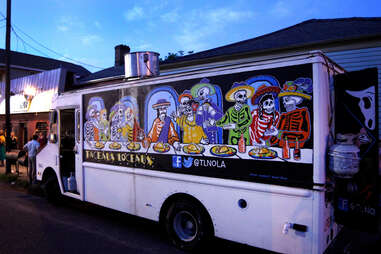 1) Taceaux Loceaux
No one beats Taceaux Loceaux for Twitter presence, truck design, and most importantly, tacos, as your own last supper will likely not even remotely compare to their "Seoul Man" Korean chicken, or "Messin' with Texas" brisket, served up w/ avocado fries.