Halal Guys Opens in NOLA Today: Here's What to Expect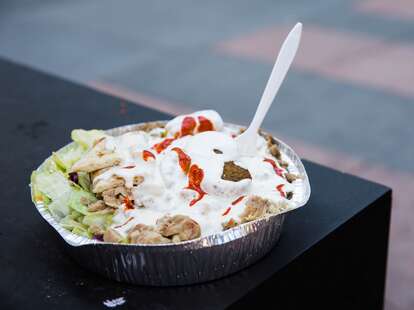 Sarah Anderson/Thrillist
Sarah Anderson/Thrillist
If you've ever felt a longing for some semblance of a New York City life in NOLA -- whether you've lived there previously or not -- there's good news. The single most "New York" thing, other than inconceivably high rents and 40 million rats, has made its way to New Orleans: street meat.
After 25 years serving NYC from its carts and brick-and-mortar operations, and recent expansion to other places like Chicago, Houston, the Philippines, and for some reason, Milwaukee, Halal Guys will bring its operation to NOLA this Friday (specifically to St. Charles Ave).
To prepare you for everything you need to expect (that includes lots of white sauce), here's a cheat sheet to get you familiar with the street-meat kings.
It started out as a hot dog operation
Before chicken and rice platters entered the equation, owners Mohamed Abouelenein, Abdelbaset Elsayed, and Ahmed Elsaka were doling out hot dogs at a cart on the corner of 53rd St & Sixth Ave in Manhattan. Cab drivers' demand for easy, portable halal food in the borough prompted them to switch up the menu, and the rest is history.
Your biggest decision will be a platter or a sandwich
There are two options on the menu: one is a platter (aka "chicken and rice"), which comes with your choice of chicken, gyro meat, or falafel on top of rice, slices of pita, lettuce, and tomato; the other is a sandwich, which amounts to all of the above (minus the rice) wrapped in pita. Both are suitable options, though it appears you get a little more for your (already ridiculously low) buck if you go the platter route. If you're looking for a little extra, there are also sides of fries, hummus or tahini with pita, and baklava.
No matter what you order, it's all about the white sauce
Here's the most important thing you need to know: whatever you choose to order at Halal Guys, you better be coating it in the secret white sauce. While the guys still wont give up the secret of what goes into it, if you get addicted (and you will), we conveniently reverse-engineered it for your home-cooking pleasure.
... and you should probably add (a little) hot sauce, too
THG's hot sauce has a Scoville rating of 100,000-130,000 -- that's twice as hot a cayenne chili, so... don't get too overconfident.
Sign up here for our daily New Orleans email and be the first to get all the food/drink/fun in the Big Easy.