New Orleans' 15 Best Meals Under $5
The dining scene in the Crescent City is seriously off the chain these days. With so many outstanding eateries to choose from, it's easy to dine out all the time, which often comes with the unfortunate complication of draining one's bank account. Fortunately, there are also plenty of sweet culinary deals that you can take advantage of without them taking advantage of you. If you only have five bucks in your pocket, check out these great options.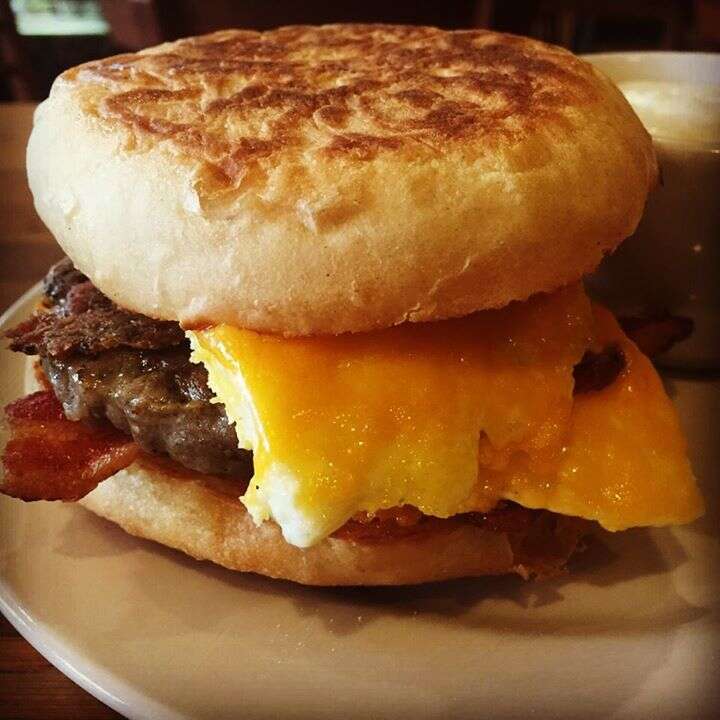 Mid-City
What you're getting: The "Big John"
There are many delights to be enjoyed at this Mid-City breakfast mecca, and for as little as five clams, you can get the "Big John": sausage and cheddar cheese on a buttermilk biscuit with a cup of coffee. Done. Sold.

Various locations
What you're getting: The No. 4
It might not be known for gourmet ingredients like some other burger places in town, but Bud's is a NOLA institution. At well under $5, you can get the No. 4, a burger with shredded cheddar cheese, and either chili or Bud's special hickory sauce. That's a difficult decision; choose wisely!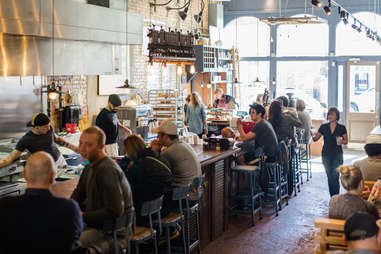 Lower Garden District
What you're getting: Chicken slider
Some of the fancier options at DISTRICT might run up the register a bit, but you absolutely can't go wrong with its pitch-perfect little sliders, particularly the tender, juicy fried chicken with sweet and spicy slaw, candied jalapeños, and crispy skin.

Bywater/St. Claude
What you're getting: Two piece dark fried chicken combo
Is Hank's a shady-looking old-school convenience store on St. Claude? Oh yeah. But the fried chicken is excellent, excellently cheap, and hard to beat for the price.
Bywater
What you're getting: A pair of rolls
Until recently, there weren't many decent places to get pizza by the slice in NOLA (and that Bourbon St slice is to be avoided at all costs). But not only does "The D" do a spot-on NYC foldable slice for under three bucks, for $5, you can get not one but TWO doughy pinwheels packed with cheese and pepperoni, broccoli, cauliflower, or spinach. That's a damn steal.

Uptown
What you're getting: 25-cent raw oysters
The Blind Pelican has one of the best oyster happy hours in town, serving up cool bivalves on the half shell for only a quarter apiece. If you don't want to do the math, we'll do it for you: for five bucks, you can have *20* raw ones. You have to buy a beverage to indulge, but c'mon... you were going to do that anyway, right?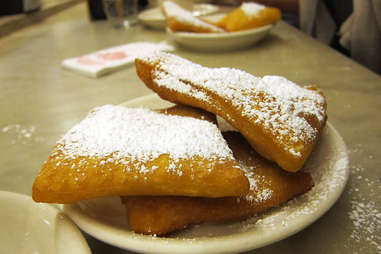 City Park/Mid-City
What you're getting: Beignets (naturally)
While Cafe Du Monde may be more famous, Morning Call has been serving up hot, cheap ($2 for an order of three) beignets for almost a century and a half now. So you know for certain that it knows its fried dough piled with powdered sugar, and it knows it well. Props to the Metairie location, but we love the new outlet in City Park for the scenery.

CBD
What you're getting: Meat pies
This grocery mart might not look like much, but it's the place you want to hit if you're Downtown, maybe a little fuzzy and hungry, and you want some delicious, cheap fried food. The chicken is great, but don't miss out on the classic meat pies, based on a Natchitoches, LA, classic.
Treme
What you're getting: Buttermilk drops, of course
These sweet, glazed cakey drops of goodness are New Orleans' other favorite donut, and their popularity (at least for visitors) is usually eclipsed by beignets (see above). Well, they shouldn't be, especially at $4 for half a dozen.

St. Roch
What you're getting: Hot sausage po-boy with egg and cheese
Sammy's has some fine po-boys (including the "Ray Ray," a favorite at Po-Boy Fest), but you'd be crazy not to consider its breakfast options, which include hot sausage on French with eggs and cheese for $3.99, which won't terribly slim-down your wallet... or your waistline, for that matter.
Gretna/West Bank
What you're getting: A bánh mì
While you're out at the HKM buying fish sauce, durians, frozen gyoza, and kimchi, stop by its sandwich stand & butcher in the back for an amazing -- and amazingly cheap (under $4, depending on filling) "Vietnamese po-boy." You might have to eat it sitting on the curb or in your car, but it's so worth it.

Lower Garden District
What you're getting: A bagel with flavored cream cheese
NOLA might not be known for its Jewish deli options, but mazel tov to Stein's on Magazine for keeping that little-known tradition alive in the Big Easy. It sells Davidovich bagels in various flavors (or all of them -- get an "everything"!) combined with a number of gussied-up cream cheeses ranging from smoked salmon to chive, veggie, honey nut, and more, all for only $2.29. Oy, such a deal!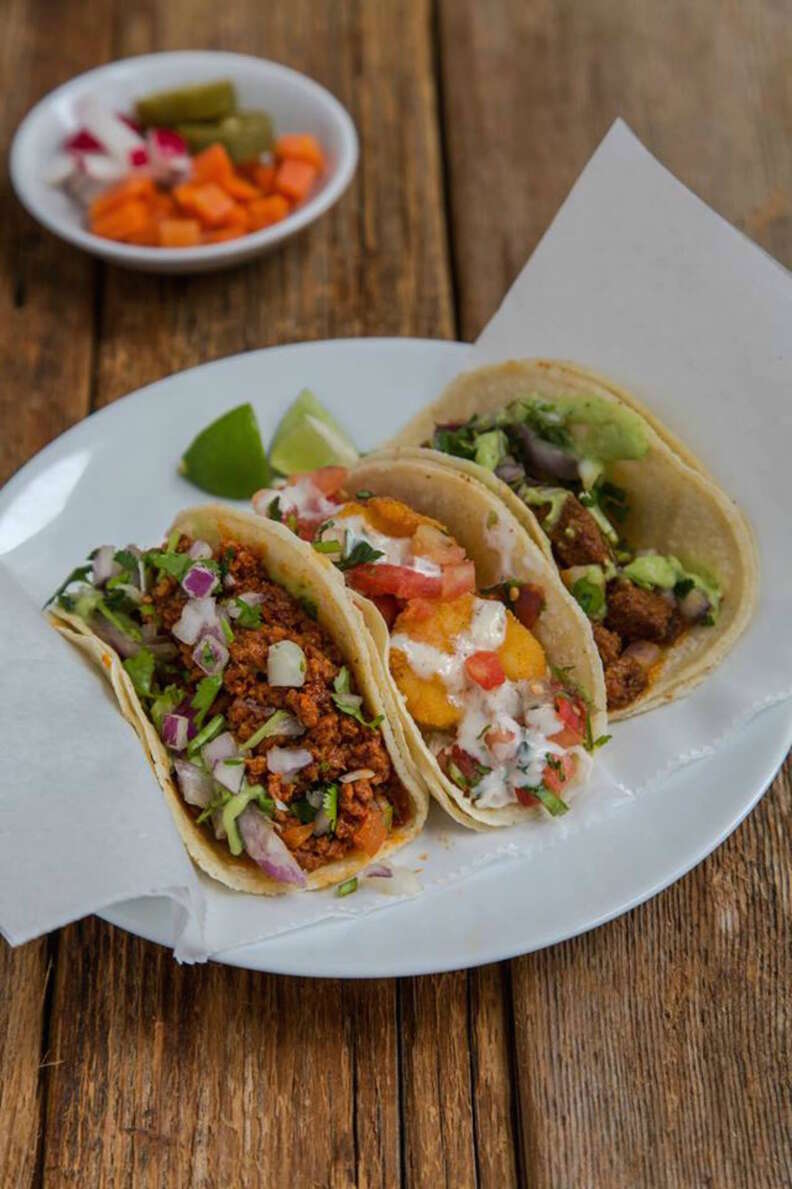 Various locations
What you're getting: A pair of tacos
With a number of locations around town, Felipe's has long been a place where locals and visitors alike enjoy satisfying their Mexican cuisine jones. For only $4.95 you can get two soft corn tortillas loaded up with your choice of filling (everything from chicken to chorizo, al pastor, carnitas, and grilled veggies) as well as cilantro, onion & guacamolillo sauce.
Uptown
What you're getting: The Mini Moo
Feeling a little bit peckish for some cheesy comestibles? You can't do much better than St. James when it comes to cheese shops in NOLA. And if you have a finski in your pocket, you can get its Mini Moo, a cute little grilled number on wheat filled with melty Hook's cheddar and served with fruit and chips. A most excellent snack.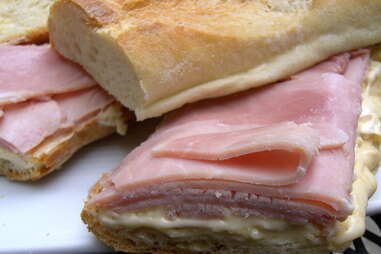 French Quarter
What you're getting: Baguette with jambon and beurre
This "fast French" spot in the Quarter has some killer "les sandwiches," but if you're looking for one of the best deals in the Vieux Carre, get the "jambon buerre," a crusty Bellegarde Bakery baguette topped with smoky ham and several wedges of good French butter, all for only five bones. That's what we call a "les deal."
Sign up here for our daily New Orleans email and be the first to get all the food/drink/fun in the Big Easy.