Cozy Up at These Romantic Restaurants in New Orleans
New Orleans is prone to romance, though honestly the most common form is that of people falling in love with this place and not necessarily each other. Still, with its mossy tree-lined avenues, architecture of faded elegance, lazy swing of the Mississippi River, and plenty of nooks to disappear into within the French Quarter, the city might inspire a tryst or two.
When it's time to start making moves on whomever you're eyeing up across the bar or swiping right on from the comfort of your own couch, here are places that'll help get date night started out right. From intimate tapas bars to cozy natural wine spots, here are the most romantic restaurants in New Orleans. What happens next, though, is up to you.
Uptown
Chinese and Japanese cuisine in a funky interior
Take a date to Luvi, and you'll be guaranteed a topic of conversation over the colorful plating, fresh dishes, and bright decor. Chef Hao Gong's inventive Shanghai cooking offers more than just adventurous dining. Dishes like pork and ginger dumplings or a raw bar selection of seared tuna and black caviar will give you something to discuss if your date night conversational skills fail you.
Uptown
A modern Uptown dining room for coastal Spanish tapas
What's more intimate than sharing a meal where you share each plate? The Spanish-inspired dining here brings you shareables like citrus-and-vermouth-marinated olives, octopus à la plancha, and plates full of blistered shishito peppers that can surprise you with spice. Don't forget to take a look at the wine menu, either. One bottle of Tempranillo can go a long way.
Marigny
Chic neighborhood spot for pizza, pasta, and seafood
While the main dining room is a bustling hodgepodge of families, groups of friends, and servers navigating it all, the more intimate balcony above is the best place to be seated before digging into lemonfish crudo or squid ink spaghetti. Order a pizza to share, and spend some time inspecting the cocktail menu. After your meal, head toward the river to find the entrance to Crescent Park for a sunset stroll.
French Quarter
Cozy American gastropub with plant-filled back patio
This cozy, candlelit restaurant just off Jackson Square is perfect for when you want to get close -- as in, literally close, because you'll need to huddle over the light to read the menu -- but it's about as intimate of a space as you'll find in the city's busiest neighborhood. While some offerings have been recently updated, you'll still find the option to impress your date by ordering the $90 champagne and fries combo.
Uptown
Art-filled 1870s townhouse serving elevated Creole classics​​​​​​​
It doesn't matter who you are or who you brought to dinner: JoAnn Clevenger reigns as queen in her classic New Orleans restaurant. While your meal will more than satisfy -- especially if you order the slow-roasted duck with ginger-peach sauce -- you'll also be able to talk over all of Clevenger's art that hardly leaves any wall-space left.
Irish Channel
Chandelier-adorned bistro known for innovative Southern cuisine
There are few things as sexy as feminism, so head to Coquette to enjoy the makings of a badass woman-run kitchen. Though chef Kristen Essig also recently opened the neighborhood restaurant Thalia, her Irish Channel mainstay is the better option for impressing a date. Beginning your meal with the $40 Pappy Old Fashioned (proceeds go to a local food bank) is a nice way to start.
Bywater
Seafood, cocktails, and natural shine at this hidden gem
This is the kind of place where it feels like you're making a discovery every time you eat here. From its nondescript entrance to the cozy indoor seating and the menu of natural wines, you'll find something new to enjoy. Hopefully your dining partner feels the same way. If so, have fun cracking into the pavlova for dessert.
Uptown
Channel Paris near the streetcar line with steak frites and French wine
Grab a couple of cocktails and order the goose-fat fries from the courtyard's bistro seating. You'll feel like you're in the heart of Paris in no time. If things go well, stick around for dinner as you watch the streetcar rumble past on St. Charles Avenue. If things don't go well, hop on one for a quick exit.
Uptown
From-scratch Creole food in a converted cottage
Chef Justin Devillier made his name in New Orleans here, and for good reason. Start your meal by sharing a plate of the blue crab beignets and the pan-roasted scallops, then make the call as to whether you'll keep sharing small plates or opt for your own entrees -- the ultimate litmus test for any early relationship.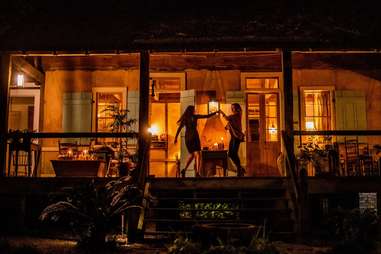 Bywater
Acclaimed wine and cheese shop with live music out back
Start your date night off by choosing a bottle of wine and a selection of cheeses together, which the restaurant will turn into an over-the-top board with toasts, pickles, and other accouterments. Then make a beeline for the first table you can find to catch some of whatever local music act is performing that night. Don't forget to bring extra cash to tip the band.
Marigny
Hip, sophisticated space with a raw bar and stellar cocktails
Settle yourself into one of The Franklin's big, cozy chairs and order up a dozen oysters because, well, you know what they say. I'm pretty sure slathering them with hot sauce or laying them bare across a saltine doesn't prevent any of the rowdy feelings you may have later, especially after downing a few cocktails.
Lower Garden District
The best breakfast sandwiches in town for the morning after​​​​​​​
At this point, your dinner may have turned into breakfast, and the surest way to start your morning is with one of Dan Stein's bagels in hand. And who knows? After the night you had, you may have even earned one of the proprietor's side-eye glances.
Sign up here for our daily New Orleans email and be the first to get all the food/drink/fun in the Big Easy.
Chelsea Brasted is a freelance writer in her hometown of New Orleans, who formerly worked for
The Times-Picayune
as an arts and entertainment reporter and city columnist, and thinks there is nothing more romantic than a go-cup.