The 15 Most Essential Food Experiences in New Orleans
Forget Popeye's—these hyperlocal culinary adventures provide a true taste of the Big Easy.
A lot of people come to New Orleans to drink. Much like Las Vegas, you can walk down the street with open containers of alcohol in pure, 100% legal bliss. And while downing enormous Hurricanes and Hand Grenades on Bourbon Street undoubtedly has its place, there's so much more to New Orleans' culinary landscape than frosty to-go cocktails.
But here's the thing about New Orleans: While its population size is easily outranked by nearly all of the most well-known cities in the world, a good meal here easily outpaces a great meal in most other places. Food is one of the most vital parts of local culture, and it's not uncommon to hear locals sharing news of where they've most recently eaten or contemplating where they're going next even as they order cocktails and entrees at the table next to you. If you want to start an argument with a local, tell them you know where to find the best king cake or po-boy.
Here's a handy lay of the land: For those in the know, the four pillars of New Orleans cuisine are Creole, Cajun, Vietnamese, and soul food. Dress codes at the finer establishments should always be minded, else you may find yourself in a loaner jacket that's been collecting dust in a restaurant closet. There are four general geographical quadrants in New Orleans—toward the Mississippi, toward Lake Pontchartrain, Uptown, and Downtown—each with their own flavors and cultural vibes. But no matter where you're headed, you can rest assured you'll stumble across something delicious along the way.
Check your preconceptions at the door—here are the 15 most essential food and drink experiences in New Orleans, all told from a local's perspective.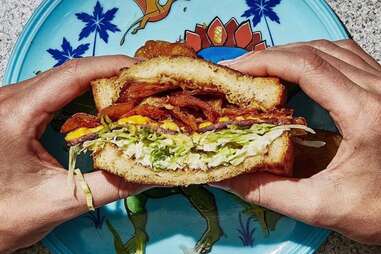 Collard Green Melt and Fried Bologna Sandwich at Turkey and the Wolf
Irish Channel
Mason Hereford and company created something magical when they opened Turkey and the Wolf in 2016, bringing fuss-free whimsy and fun to the local lunch hour. Undoubtedly on the leading edge of 80s and 90s cultural appreciation, the casual Irish Channel corner joint has remained true to its roots despite the national acclaim it's received over the years. For example, the restaurant could easily handle a dinner service, but leadership has avoided expanding hours, instead opting for a more typical work schedule for its staff. Plus, the sandwiches are stellar. Few things compare to the collard green melt, which comes dripping with pickled cherry pepper dressing and Swiss cheese, or the fried bologna sandwich, which arrives piled high with potato chips between thick-cut white bread.
Po-Boys at R&O Restaurant and Catering
Metairie
Everyone in New Orleans has their favorite po-boy, so picking a spot to land on this list is a bit like declaring all-out war. But someone's gotta do it, and R&O's is a staple, representing the classic marriage of New Orleans seafood and Italian favorites, where "red gravy" means Italian red sauce. The restaurant sits just outside the city line on the edge of Lake Pontchartrain in Bucktown, and it's one of those family restaurants that's true to the name. It's both run by family, and is perfect when you're looking to appeal to a crowd. Park on the nearby levee, and stop in for any of the classics: A po-boy piled high with fried shrimp, oysters, or soft shell crab, a salami-covered pizza or spaghetti and meatballs. Whatever you do, just expect to pack home some leftovers.
Seafood at Peche
Warehouse District
Cajun restaurateur Donald Link has long reigned as one of the most well-known and successful chefs in the city, and you can see why with any stop into one of the spots within his restaurant group's collection: La Boulangerie, Cochon or Cochon Butcher, Herbsaint, or Gianna. But if you're looking for fresh seafood (and when you're in New Orleans, you should), Peche is the place to go. Make reservations if you're planning a big night out, or try to get lucky by sidling into a spot at the bar. Start with snacks or something from the raw barthe hushpuppies are always a good idea—and then go adventuring. If you've got a crowd, make sure to order the whole grilled fish, which arrives with a bit of pomp and circumstance, and fight over who gets to dive in first.
King Cake, Breakfast Gumbo, or Yakka Mein at Bywater Bakery
Bywater
Bywater Bakery is a neighborhood favorite that's garnered both local popularity and national attention in recent years thanks to its standout king cakes that prompt long lines during Carnival season. It stands as a giant red barn on Dauphine Street, and serves breakfast and lunch plus dreamy pastries and cakes most weekdays. You can't go wrong with the Breakfast Gumbo, a spin on the traditional served with scrambled eggs over grits, or if you're feeling the effects of a night out on the town, go for the Yaka Mein—the piping-hot beef noodle soup stocks green onions and egg to cure what ails you. On Fridays, housemade bagels with schmear make an appearance, and if it's sugar you're craving, treat yourself to a box of fragrant Petit Fours.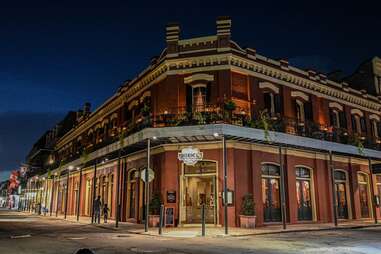 Gumbo with a side of ghoulish lore at Muriel's
The French Quarter
Muriel's, located on the corner of Jackson Square in the French Quarter, serves its casual refined fare in a very spooky atmosphere. Legend has it a resident ghost oversees the all-star gumbo, grits, chicken, pork chops, and fresh salmon pouring out of the kitchen, while the holy trinity of Bread Pudding, Creme Brulee, and Chocolate Cake keeps the demons at bay come dessert time. Just don't let the haunted reputation scare you off—the food here is good enough to ward off even the most persistent of goosebumps.
New Orleans' originals at Commander's Palace
Garden District
You simply can't miss this place, both aesthetically and food-wise. It looks like it takes up an entire city block and is painted a bright shade of light blue. When it comes to fine dining in New Orleans, Commander's Palace has few peers (and most of them hail from the same family). The restaurant kicked off the careers of star chefs like Paul Prudhomme and Emeril Lagasse thanks to the tutelage and mentoring of Ella Brennan, the family matriarch who died in 2018, so there are few places as quintessential to a city as this one. Stop by for an hours-long lunch, and make sure you get the turtle soup (say yes to the sherry). Today, the restaurant is still run by Brennan's family, and a new chef is in the kitchen—Meg Bickford, the first female executive chef in Commander's Palace history.
Treme
Just over Rampart Street from the French Quarter sits the gorgeous historical neighborhood of Treme. Did you know the late Leah Chase of Dooky Chase fame is one of the inspirations for the Disney movie The Princess and the Frog? She led a very storied life while also running this wonderful kitchen. Her legacy continues today at the Treme mainstay on Orleans Avenue, a place that's fed Civil Rights icons like Martin Luther King, Jr. and others while providing a safe haven for those working for human rights.
Their lunch buffet lets guests sample everything the city has to offer by way of staples like plump sausages and Red Beans and Rice alongside Creole favorites like Gumbo and Stuffed Shrimp. There's even a Fried Chicken Po-boy and Tomato Basil Soup combo with your name on it. For dessert, make a beeline to the Pecan Pie and thank us later.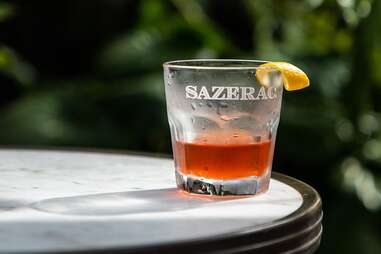 Central Business District
As decreed by law by the Louisiana Legislature, the Sazerac is the Official Cocktail of New Orleans. The drink is a memorable blend of rye whiskey, bitters, and a touch of Absinthe, garnished with an effervescent twist of lemon peel. It was first created in the mid-1800s at the Sazerac Coffeehouse in The Crescent City and spiked with Sazerac de Forge et Fils Cognac. You can still get the famous tipple today a few steps away from where it all started over at the Sazerac House on Magazine Street. Sample this sturdy signature while exploring the three-floor interactive museum, complete with tours, tastings, and a built-in distillery where they produce an array of spirits in-house.
French Quarter
Arnaud's is the epitome of French Quarter fine dining, serving up the best of Creole cuisine for lunch and dinner Wednesday through Saturday alongside a lively jazz brunch on Sundays. The restaurant celebrated its 100th year in 2018, drawing loyal customers for over a century thanks to upmarket takes on Baked Oysters and Shrimp Creole. Pregame your meal at onsite bars French 75 or Richelieu, each with their own drink programs and small plate menus spanning local seafood and other delights.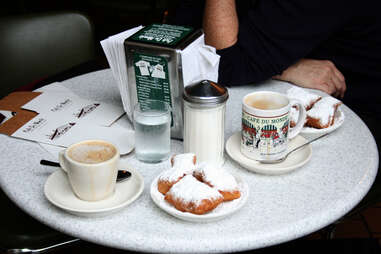 French Quarter
It might be an obvious choice, but Cafe du Monde is simply a must for anyone making their way through town. Their world-famous beignets and coffee are perfect for dessert or just a snack any time of day. The French Quarter cafe, perched directly across from Jackson Square and St. Louis Cathedral, attracts lines that could easily last more than an hour, depending on the time of day. The wait is well worth it, but if you'd rather cut your time short, pop over to the satellite outpost in City Park a few miles away. Wherever you dine, note that Chicory Coffee or Cafe Au Lait is the go-to accompaniment for your powdered sugar-dusted fried dough buddies.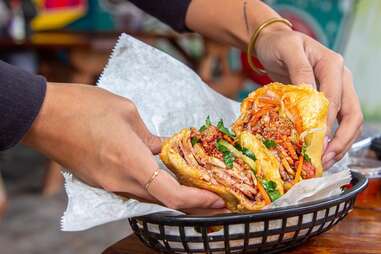 The Irish Channel
What Dat Dog did for reimagined hot dogs, Banh Mi Boys does for the irresistible Vietnamese Po-boy—aka the banh mi sandwich. BMB now mans two locations, one in Uptown and one in Metairie, and Peter Nguyen is the guy who started it all. It's the place to go for Vietnamese and Bayou culture combined into a single handheld wonder loaded with unusual fillings like head cheese, Vietnamese ham, pork belly, meatballs, pâté, grilled lemongrass Gulf shrimp, and more. Traditional New Orleans po-boys, Vietnamese spring rolls, vermicelli bowls, salads, chicken wings, and even bread pudding are also on offer, if you prefer to stick to what you know.
The French Quarter
Built between 1722 and 1723, this French Quarter lair is said to be the oldest structure still used as a bar in America. It's open until the wee hours, inviting passersby to come in and bend an elbow with the ghost of Pirate Jean Lafitte whenever the urge strikes. While you're hobnobbing with the undead, order the signature Voodoo Daiquiri cocktail, also known as the Purple Drank. The Everclear, bourbon, and grape flavoring concoction is just as refreshing—and intoxicating—as it sounds. Post up, drinks in hand, by the ancient fireplace inside or cruise out on the rustic patio—both are perfect refuges for trading ghost stories.
Leonidas
Over by the river, the Oak Street Corridor sports cool coffee spots, clubs and hangouts like an awesome bookshop, in addition to the game-changing Jacques Imo's Cafe, known for their signature Shrimp and Alligator Sausage Cheesecake. This little slice of savory, meaty, and custardy heaven runs just over $13 and comes in its own pool of special sauce. It might not sound real but, trust, it is—and you need to put it in your face, stat.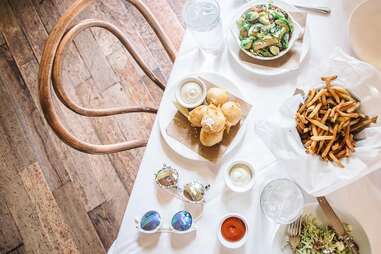 Touro
La Petite Grocery made a name for itself as hometown actor Anthony Mackie's favorite restaurant, and according to the leading man, it's all thanks to the legendary Blue Crab Beignets. You read that correctly—Blue Crab Beignets. The gooey, piping hot pastries serve as the centerpiece of this marvelous Uptown eatery helmed by chef Justin Devillier. Couple yours with some grits, then move on to the Alligator Bolognese or Shellfish Stew. Locally inspired desserts include an Abita Root Beer Float and Ponchatoula Strawberry Tart, while the Butterscotch Pudding undoubtedly holds its own.
See-and-be-seen al fresco dining at the Chloe
Uptown
The Garden District's fairytale Chloe Hotel is housed in a massive antique Victorian mansion painted a striking dark navy and emblazoned with intricate iron work. Snag a table out the porch, which overlooks the boutique lodging's ample patio stationed amid the towering palaces lining St. Charles Avenue. Imagine watching the streetcars go by as you dine—there's just nothing more picturesque—while you admire the front-facing restaurant's straight-out-of-Architectural Digest decor.
Run by celebrated chef Todd Pulsinelli, the kitchen's output is just as eye-catching as its surroundings. Highlights span Shrimp Etouffee Dumplings, Beet Salad, Mushroom Melt French Dip Sandwiches, and the Twin Stack Burger, while nothing soothes a sweet tooth like the Earl Grey Tea Panna Cotta. Regardless of your order, eating on the ornate patio of a giant estate is a veritable rite of passage around these parts.
Chelsea Brasted is a freelance writer in her hometown of New Orleans, who formerly worked for
The Times-Picayune
as an arts and entertainment reporter and city columnist. Follow her on Twitter @cabrastedto find out how actually cool she is.