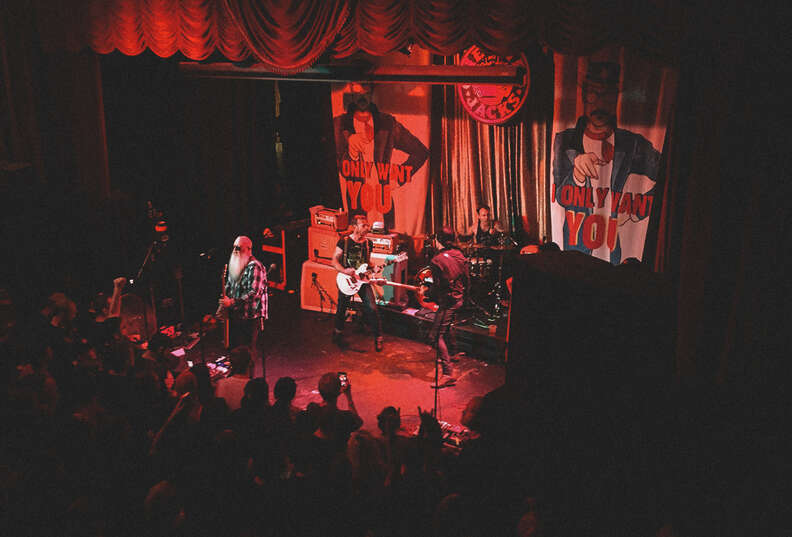 One Eyed Jacks
One Eyed Jacks
Paid Content For
New Orleans
The Bar That's Been at the Center of New Orleans Rock Music for the Last Two Decades
Paid Content For
New Orleans
One Eyed Jacks, the French Quarter's sole independent rock club, has become a bona fide local institution. Such status is not particularly easy to achieve in New Orleans -- which, not for nothing, has been an entertainment destination since the 18th century. When the club opened in April 2004, it filled a surprising void in this music-driven city: the French Quarter boasted venerable traditional-jazz spots like Preservation Hall and the Palm Court Jazz Café, but little was on offer in the historic neighborhood for fans of rock 'n' roll outside of the New Orleans outpost of the House of Blues chain.
More than a dozen years later, the Toulouse Street venue is still the premier spot in town for hip and eclectic shows from local and touring bands, including epic Halloween and New Year's Eve concerts by psychedelic organ-rockers Quintron and Miss Pussycat; after-midnight, multi-hour trips to space with jazz saxophonist Kamasi Washington; and all-night funk vinyl parties with homegrown icon, DJ Soul Sister. The years have proved that One Eyed Jacks (named for the 1961 Marlon Brando Western, not the shady Twin Peaks casino) is doing something right -- a formula that can be traced back to not one, but two immediate predecessors and spiritual siblings: the Shim Sham Club and El Matador.
"[Matador] came at an important time," says Chris Lee, a musician and Tulane University graduate who bartended at the club and opened for countless headliners with his hard-rock band, Supagroup. There were few small or medium-sized music venues in town, and fewer still near the Quarter. Lee first heard about it, he recalls, from Corrosion of Conformity guitarist Pepper Keenan, who was friends with Lee's then-girlfriend, now-wife Sean Yseult, the longtime White Zombie bassist. "Pepper told Sean, 'My buddy Rio from LA is opening a club down on Decatur, you guys gotta go,'" Lee says. "Good bands started coming through there -- a whole bunch of rock 'n' roll, which was, and still is, Rio's thing: Queens of the Stone Age, The Briefs, The White Stripes, Supersuckers, Fu Manchu."
It helped that the new club, outfitted with its signature "lucky horseshoe" bar and scarlet-colored, sparkle-vinyl booths, stood at one end of a strip of bars favored by goths and punks. Now, in a city with no last call, Decatur Street had a sort of anchor to center a long night out. And it was a random cherry on top that club owner Rio Hackford, the son of film director Taylor Hackford, had grown up in LA among actors, comics, and other creative types who were psyched to have someone to visit in New Orleans.
"Vince Vaughn was a buddy of Rio's and came down all the time, and the two of them brought in everybody in Hollywood," Lee says. "Matthew McConaughey, Natasha Lyonne, Christina Ricci, Parker Posey. Basically the cast of Dazed and Confused meets Swingers was there all the time." In the pre-social media era, in a city that continues to pride itself on ignoring celebrities, the Hollywood crew could cut loose. (One memorable night, Lee says, veteran actor Harry Dean Stanton sat quietly at the bar while a performance by Rio Hackford's band devolved into a brawl on Decatur, right outside the Matador's picture windows.) Celebrities -- recently including Uma Thurman, Leonardo DiCaprio, and Kristen Wiig -- still turn up at One Eyed Jacks (co-owned by Hackford), though with fewer fisticuffs.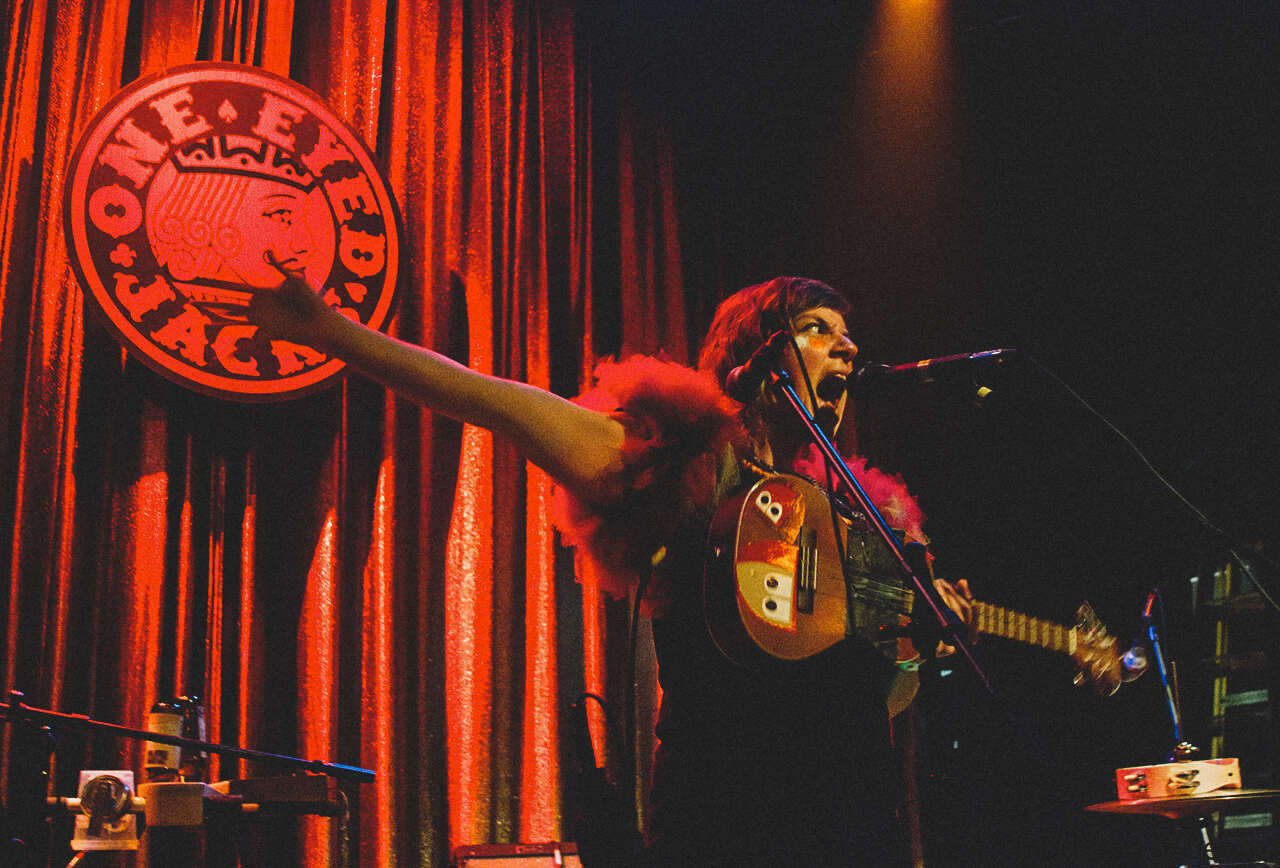 El Matador opened in the spring of 1999, just a few months after another New Orleans rock venue owned by a native Angeleno: the Shim Sham Club at 615 Toulouse Street -- the same address that is now One Eyed Jacks. The Shim Sham got its name from the 1930s-era Bourbon Street spot owned by Leon Prima, the brother of New Orleans/Las Vegas music legend Louis Prima, and owner Morgan Higby paid tribute to the club's namesake with vintage acts like the blues and boogie pianist Hadda Brooks and sax player Sam Butera, Louis Prima's longtime bandleader. The Shim Sham's famous jukebox was full of punk veterans but also 1950s-era jump blues and R&B, including an infamous disc of R-rated (and worse) blues tracks.
MV Black, a native New Orleanian, was an original partner in the Shim Sham Club. "At first it was supposed to be an American roots joint," he says. "Rockabilly, country, and swing. But we realized pretty quickly we were pigeonholing ourselves, and we couldn't only do that stuff. So then the rule was, as long as we kept it on the fringe, we could do it all." Together -- and with the help of two-woman local promoter Devil Dolls Productions -- they booked a regular roster of goth, punk, indie rock, and metal, including multiple visits by punk favorites X and The Cramps.
"I still regret that I didn't mop up every ounce of sweat Lux Interior left on that stage and bottle it," Black says.
The Shim Sham also quickly gained a reputation for an eclectic weekly schedule of DJ nights (like Monday's "Punk and Porno," which was exactly what it sounds like) and "1984," an '80s night that continues every Thursday to this day at One Eyed Jacks. (The latter of which only exists, according to Black, due to a bet Higby lost with Black's wife, Suzy. "I forget what it was [about]," he says, "but if he lost, he had to give her an '80s night. And it's still happening, every Thursday.")
"There was a willingness at the Shim Sham Club to take risks," adds one former bartender. "Metal night? Goth night? Glam rock/disco/new wave night? Sure. There was no, 'We should do things the way other places do to appeal to the same crowds,' which I thought was really cool."
One Eyed Jacks has kept that respect for experimentation. One way in which the former club broke new ground was with the Shim Shamettes, a burlesque revival troupe named for the "beauty chorus" that had performed at Leon Prima's spot. The women studied with veterans of Bourbon Street's exotic stages, accompanied by a full band playing the same 20th-century jazz as back in the day. Ryan von Hesseling, who moved to New Orleans in 1996 with his wife, Marcy, and opened the wig/makeup shop Fifi Mahony's, helped outfit the Shim Sham dancers. Now, he's co-owner of One Eyed Jacks. While over the years, the house troupes have changed -- from the Southern Jezebelles, who performed One Eyed Jacks' opening weekend, to Trixie Minx's Fleur de Tease -- the club has remained a major destination for boundary-pushing burlesque, as well as for local alternative theater, including several runs of the glam-rock tour de force Hedwig and the Angry Inch.
The building at 615 Toulouse Street is a naturally favorable venue for live music. In the early '70s, it operated as the Toulouse Theatre, part of the Walter Reade chain of movie houses. The raked floor of its rear showroom, designed for seated film audiences, offers clear sightlines to the stage during shows. The front bar, with tall, narrow French doors, looks out on the French Quarter action on the street, and a tiny, second-story lounge with a view of the main showroom, has been used alternately as a second bar and a VIP lounge. In the late '70s, the piano player James Booker, a sui generis local icon who played a wildly unique amalgam of gospel, classical, jazz, and boogie-woogie, performed regular sets here. French Quarterites remember the performances as emblematic of a fondly-missed era -- a weirder, less expensive, more bohemian time in the neighborhood's long and storied history.
When the Shim Sham Club and El Matador opened in the late '90s, von Hesseling, the One Eyed Jacks co-owner, says the Quarter still felt like that. More of his friends -- artists, musicians, bartenders, strippers -- still lived in the neighborhood or the adjacent Bywater or Marigny. "There was a neighborhood vibe, a small-town atmosphere," he says. "If there was a regular club night, a dance night, you'd know everyone there. If new people moved to town, it would be like, 'Did you meet the new people yet?'"
Both clubs, one smack in the center of the Quarter and the other on its furthest downtown edge, functioned as two poles, of sorts, for the emerging rock 'n' roll scene. "The Shim Sham was a room, the Matador was a bar," von Hesseling says. "They were close enough that you could walk between them. If, say, The Hives were playing at the Shim Sham, afterwards you'd all walk down for an after-party at the Matador." They also fed off of each other musically, providing stepping stones for touring bands like the White Stripes, who played their first New Orleans gig, in 2001, at the 100-person-capacity Matador; the next time Jack and Meg came to town, they'd graduated to the 450-capacity Shim Sham.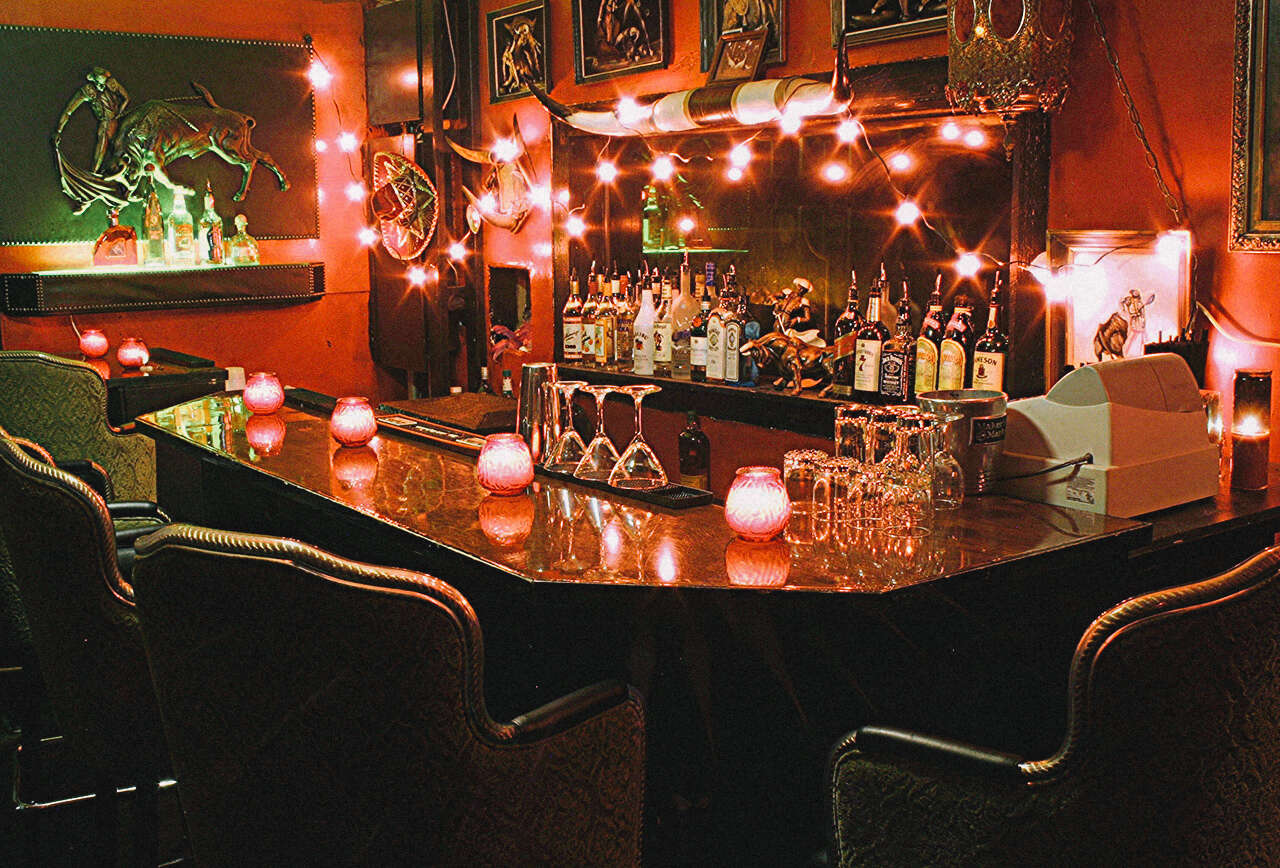 After the turn of the millennium, Higby, the Shim Sham owner, decided to close the club and move home to California. He was a new father, and, according to friends and colleagues, had already hosted most, if not all, of his personal bucket-list shows. He officially shut Shim Sham's doors on June 6, 2003, at 6am (6-6-6) after an all-night party. Coincidentally, around the same time, Hackford lost the lease on El Matador.
"Rio said, 'Why don't you and I do this thing together?'" recalls von Hesseling, who had previously helped Hackford design and build out the Matador. "The timing was perfect."
The two partners jumped in. They renovated the scrappy Shim Sham with crimson flocked wallpaper and vintage black-velvet nude paintings bought on eBay ("We love that vibe, that '70s style," he says) and moved the horseshoe-shaped bar, custom-made for the Matador from curved pecan wood, down to Toulouse Street. Burlesque came back; so did theater, the '80s night, and rock 'n' roll. As the comedy scene in New Orleans grew, One Eyed Jacks became a regular host for touring acts like Moshe Kasher and Natasha Leggero (who got engaged there), Hannibal Buress, and others. When Louisiana tax credits began to attract film and television productions to the state, the club turned up again and again in productions including NCIS: New Orleans, All The King's Men, and Preacher.
Fourteen years later, One Eyed Jacks is a mainstay of the New Orleans nightlife scene. Old friends who remember the Shim Sham and the Matador days are still regulars, joining a new generation of New Orleanians looking to catch a late-night '80s dance party, a rising indie touring band, or a veteran rocker. For his part, von Hesseling can't quite believe it's been that long. "It's funny that the Shim Sham lasted only about three years, the Matador about the same," he says. "It seems much longer in memory."
Through his spot, the clubs' swanky, funky, strange, and luxe legacy remains on Toulouse Street, in more than spirit, too: the upstairs bar, that cozy aerie for friends, family, and artists, is festooned with black-velvet bullfighter paintings and other memorabilia salvaged from its predecessors. Its nickname? El Matador Lounge.