New Orleans has never really been known for its temperance, prudence, and and overall decorum. In fact, it's pretty much the opposite, and to tell you the truth, the city takes pride in being America's fat, loud, drunk -- but ooooohhhh, so much fun! -- older uncle. Leave the temperance to Salt Lake City (even if they still have the Jazz as their basketball team, for some inexplicable reason), NOLA will keep its debauchery (and actual jazz) intact, thank you, sir. Which makes it a perfect place to break all the resolutions you just made. Here's where:
Recommended Video
This Restaurant Offers 50+ Garlic-Infused Dishes
1. R&O's Restaurant
Bucktown
What you're having: a full roast beef po-boy, dressed
In a town filled with po-boys, there is only one that reigns supreme when it comes to roast beef, and it is R&O. A full foot of seeded Leidenheimer French bread piled high with long-simmered, tender roast beef drowning in gravy, it's a must to order it "dressed" -- i.e. with lettuce, tomatoes, pickles, and plenty of "mynez." Be sure the napkin dispenser is full. Also, the Lipitor dispenser.
2. Acme Oyster House
French Quarter, Metairie, MSY Airport
What you're having: Louisiana oysters on the half-shell. ALL OF THEM.
Maybe you decided to take it easy on the living creatures this year (fresh oysters, it turns out, are alive when you eat them, though they generally have little to say about it). If that's the case, belly up to the bar at Acme and order some oysters. How many? That's the thing... they just keep shoveling them in front of you until you've had your fill. You literally have to tell them "when" and throw in the towel. Add some hot sausage jambalaya, gravy-cheese fries and plenty of cold Abita beer to the experience, and it's adios resolution/last notch on your belt!
3. Central Grocery
French Quarter
What you're having: a whole muffaletta
And in the red corner, weighing in at three cured meats (Genoa salami, mortadella, Ham), a pound of provolone, olive salad dripping with olive oil, all served on an Italian roll the size of a damn tractor tire, ladies and gentlemen, the undisputed heavyweight champion of New Orleans sandwiches, it's the Central Grocery whole muffaletta!!! To paraphrase Louis C.K.: even if you're not a man, if you kill this sandwich on your own, YOU ARE A MAN. Fair warning though, it might actually kill you.
4. Toups' Meatery
Mid-City
What you're having: the house "meat board" followed by a double-cut pork chop
Oh, so you thought you were going to be a vegetarian for a spell this year? Not once you walk in the door at Toups', you're not. Start with their "meat board", filled with a Noah's Ark of cholesterol, from Cajun fried cracklins to foie gras, fried boudin balls, deviled eggs, cured ham, fried jalapeño poppers, candied duck rillons, sausages, meatballs, and more. Top that off with a double-cut pork chop the size of a man's head, and you'll be on PETA's kill-list for sure.
5. Tropical Isle
Bourbon St
What you're having: the hand grenade
Wave bye-bye to that nice, clean liver, my friend, because at Tropical Isle it's all about the "re-tox". Touted as "New Orleans' most powerful drink," the hand grenade is most likely a mixture of grain alcohol, sugar, and something that turns it a horrifying shade of radioactive chartreuse (and it's guaranteed NOT to be actual Chartreuse).
6. Joey K's
Garden District
What you're having: all-you-can-eat fried catfish
While Joey K's has some of the best red beans in town, not to mention killer daily specials like a giant lamb shank covered in rich gravy (Tuesdays, FYI), if you're looking to pack an artery, the best thing to do is partake in what is essentially a fried catfish orgy that would make ancient Roman emperor Vitelius blush.
7. Bourbon House
French Quarter
What you're having: bourbon (duh) and seafood
Oh, bourbon. America's official spirit. Bourbon is so delicious and wonderful, New Orleans decided to name a very famous street after it (shut up, ancient French dynasty!), and on that street, you'll find Bourbon House, which sports a list of over 80 different bottles of American whiskey from Baker's all the way to Vintage rye. Top that off with a variety of baked oysters (Rockefeller, Bienville, and Fonseca), Crab Fingers Bordelaise, and NOLA-style BBQ shrimp swimming in butter sauce to complete the experience, and possibly your life.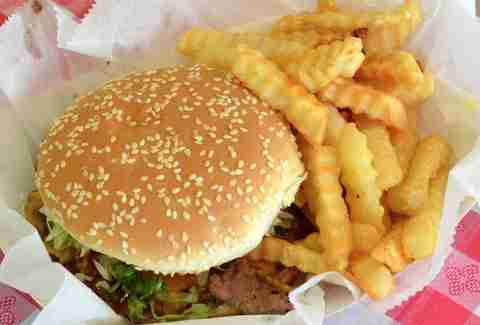 8. Ted's Frostop
Uptown and Metairie
What you're having: a double "Lot-o Burger" with chili and cheese, waffle fries, and a gigantic ice cream sundae
When you're getting ready to drop that resolution to "not eat until you get gout", and your plan is to do so with a hamburger, why go out of your way for a hoity-toity gourmet burger with things like pickled shiitakes on it? For an honest-to-god heart-stopper of a beef puck, it's difficult to beat the Double Lot-o at Frostop, most notably because they actually add rich creamery butter to the meat. Plus, their waffle fries are off the chain, and the place has enough ice cream to kill a mule. 
BONUS: Ted's Frostop (see above)
What you're having (if you're not having the Lot-o Burger, waffle fries, and a float): the "Player's Breakfast" -- four scrambled eggs, four sausages/strips of bacon, two pancakes, extra cheesy grits, and your choice of drink
Why is Frostop on this list twice? BECAUSE PLAYER'S BREAKFAST.