Get out your stretchy pants; it's time to chow down on New Orleans' best po-boys. The delectable staple of true New Orleanians (alongside daiquiris and crawfish) is back on display Oct 23rd for the 10th Annual Oak Street Po-Boy Festival. Whether your jam is alligator, shrimp, brisket, or mac & cheese, this year brings back old favorites and introduces new creations. Check out these highlights and contenders for this year's festival honors.
Recommended Video
You Can Now Get Artisanal Twinkies Delivered to Your Door in NYC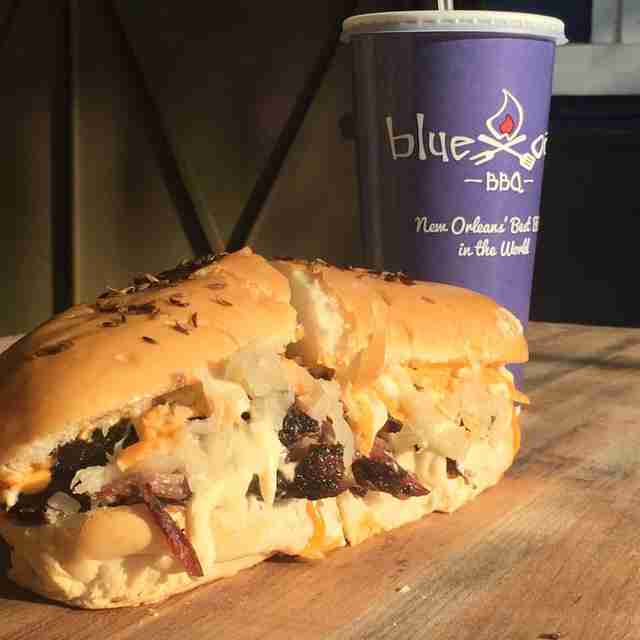 Prime brisket pastrami po-boy
Blue Oak BBQ
The Oak Street restaurant teased this festival-only creation on Instagram with a picture of the melty, meaty goodness that will be served for $7. Blue Oak BBQ will also be offering its roasted garlic mac & cheese as a side, but keeping the origins of its menu favorite a secret. Bar manager Patrick Smith said the mac will be cheddar-based and added, "That's all I'm going to give away."
Soft-shell crab po-boy
Ajun Cajun
Last year's Best Crab po-boy winner is back. This time, it'll serve up crab fried with homemade seasoned tempura batter, and dressed with lettuce, tomato, and pink sauce (otherwise known as Japanese seasoned mayonnaise.) All of the Ajun Cajun po-boys will be served on toasted Dong Phuong bread for $11.
Drunk Pig po-boy
Bratz Y'all
This repeat favorite previously won the Best Pork award and is one of Bratz Y'all's most popular Po-Boy Fest menu items. Created by chef Sven Vorkauf -- a transplant to New Orleans from Berlin, Germany -- the Drunk Pig is stuffed with slow-roasted pork that's been marinated in dark beer and topped with mustard, sauerkraut, and caramelized onions for $9. This one just begs for a beer, German obviously, to go with it.
Alligator sausage po-boy
Miss Linda, The Ya-Ka-Mein Lady
It's not a New Orleans festival unless there's alligator on a plate. This $9 po-boy comes courtesy of Miss Linda, who blends Asian fusion and Cajun home cooking. She will also be cooking up a beef ya-ka-mein for $7, and a shrimp & beef ya-ka-mein for $8.
Chef Guevara Cuban po-boy
Silence of Da Hams
This will be the second year for the Chef Guevara Cuban -- Cuba Libré-marinated pork shoulder, shaved Chisesi's ham tossed in rum molasses vinegar, pickled mirlitons, Swiss cheese, and NOLA Hopitoulas mustard served on Leidenheimer's bread. The po-boy is the brainchild of chefs Tory McPhail of Commander's Palace, Jared Ralls of La Boca and Primitivo, Chris Montero of Napoleon House, and Mike Brewer of Elements, who united to create Silence of Da Hams for Hogs for the Cause, a BBQ fest that raises money for pediatric brain cancer. At $8 a pop, order a few for a substantial donation (and taste to boot).
Smoked fried chicken thigh po-boy
Simone's Market
Owner Simone Reggie admits to being excited and "a little nervous" ahead of her Po-Boy Festival debut. The fest will also be the city's first taste of Simone's Market, which is due to open on Oak St this fall. The chicken thighs will first be smoked, then fried and served with homemade slaw and pickled peppers for $8.
"This is a way for customers to get a sneak peek at what we will be offering," Reggie said. "We are very excited for our executive chef, Ashley Roussel, to give the community a little taste of what's to come."
Shrimp and pimento cheese melt po-boy
Red Fish Grill
This cheesy deliciousness is another new entry at this year's fest. Crab spiced and boiled Gulf shrimp will be mixed with creole cream cheese, grated cheddar cheese, and roasted jalapeño aioli, then served between two pieces of pressed Leidenheimer's bread for $8.
Fried lobster po-boy
GW Fins
This lobster po-boy -– we should say "lob-stah" since it's sourced from Maine -- has been a fan favorite since the first Po-Boy Festival. Served with Crystal Hot Sauce, this $11 po-boy has been named a Best in Show winner, and its creators hope to reclaim its title.
Sign up here for our daily New Orleans email and be the first to get all the food/drink/fun in the Big Easy.
Previous Venue
Next Venue
Venue Description
1. Blue Oak BBQ
2828 Canal St, New Orleans, LA 70119
Cofounded by two NOLA natives and life-long friends, Blue Oak serves authentic Texas/Alabama style BBQ. The meat is smoked over oak wood, which is how the name came along. In addition to the classic BBQ options, the menu has chicken, homemade smoked sausage, sandwiches, fish tacos and shrimp grilled cheese. Try the Dobbin Lubin, a chopped brisket, house smoked sausage, slaw, picked and BBQ on Brioche.Plus, Chickie Wah Wah has live music almost every night.
Previous Venue
Next Venue
Venue Description
2. Red Fish Grill
115 Bourbon St, New Orleans, LA 70130
Part of the Ralph Brennan empire, this upscale seafood spot in the French Quarter offers terrific happy hour deals on both drinks and oysters, as well as a full, regularly priced menu featuring seafood and Creole favorites.
Previous Venue
Next Venue
Venue Description
3. GW Fins
808 Bienville St, New Orleans, LA 70112
Dramatic iron sculptures of underwater scenes and dining room curtains that nod to fish nets prepare diners for a culinary seafood experience at GW Fins, where a knowledgeable staff runs a tight, elegant ship (no tanks or shorts are allowed). Chef Michael Nelson crafts eccentric dishes like tacos whose shells are made entirely out of fish skin, but before you dive into your fish fin-ornamented main dish, start with an order of biscuits.