New Orleans' Hottest New Restaurants Opened This Fall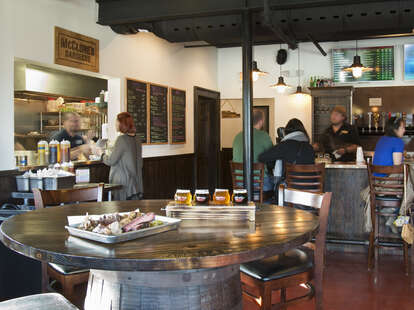 <strong>McClure's |&nbsp;</strong>Patrick Lorenz
To everything there is a season, as the saying goes, and fall tends to be when new restaurants in New Orleans like to rear their delicious, delicious heads. Here are the very best spots to cut the ribbon recently:
Irish Channel
Pitmaster Neil McClure clearly realized that two great things go great together -- beer and BBQ -- and decided to team up with one of the city's finest local craft breweries to make that pairing a reality. Order up a NOLA Blonde with some Alabama-style chicken (white sauce, Big Bob Gibson style) for a truly special combo.
Lower Garden District
Anything that comes at the hands of NOLA power-couple chefs Kristen Essig and Michael Stoltzfus is going to be a wonderful surprise, as they've demonstrated in the past with their wonder-twins talent. That their newest venture is a fried chicken pop-up in a bourbon bar might be a noodle-scratcher, but don't be fooled: the food is seriously good, particularly the cold fried chicken sandwich -- just trust us on this one.
Central City/Garden District
Central City has its fair share of corner bars, so we weren't worried when this one up and turned into a temple of smoked swine from the pop-up experts at Black Label BBQ. Possibly even better than the low-and-slow meat is "Metal Monday" featuring local bands with all your headbanging needs at the ready.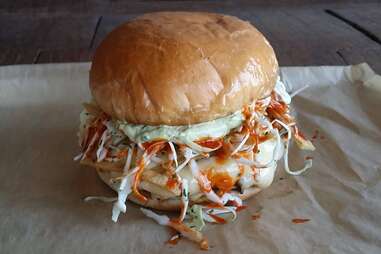 CBD
The only thing that could have possibly made The Company Burger any better was, naturally, if there were more than one. Well, friends, today that dream is now a reality, with the opening of Adam Biderman's fresh take on fast food (and oh man, those tots!) in full play Downtown in the Paramount building. Get the namesake burger, then find a sunny spot in Lafayette Square for a nap. Genius.
Irish Channel
From the venerable folks behind The Rum House, the Red Dog serves "fine comfort food, made from scratch," a promise it delivers on. You'll find nourishing eats like Parmesan-crusted half chicken, as well as eight wines on tap, and yes, an actual red dog (his name's Rocco, and he belongs to the owner).
French Quarter
If there's one thing New Orleans could always use more of, it's Cuban restaurants. What, do you think we're going to wait all year for the Cubano from Canseco's at Jazz Fest? Thankfully, we now how El Libre, which is snapping spicy new life into the Downtown dining scene. Also, this spot tends to give out free shots with every Saints score if you happen to watch the game there, which might just make you a fan of our boys in black and gold (if you weren't already).
CBD
Decked out as a Munich-style beer garden with a huge outdoor space littered with communal tables, the TBG has both the beer and the food to match. You'll find German classics like brats and roast pork belly alongside more local numbers like debris fries. To wash it down, there are half a dozen taps pouring a rotating selection of mostly Teutonic-style beers.
West Riverside
Named for the founder of Maysville, KY (an early bourbon hub), Kenton's focuses much of its energy on its vast collection of American whiskey, with 150+ bottles -- including its own label -- lining the shelves ready to pair with the various menu items. Expect oysters of every sort, crispy grits, smoked steaks, and red snapper.
Sign up here for our daily New Orleans email and be the first to get all the food/drink/fun in the Big Easy.
Scott Gold is a sucker for a cold fried chicken sandwich. Feel free to disagree with him on Twitter at @scottgold and Instagram at @strangedish.