It shouldn't come as much of a surprise that we love to eat down here in Louisiana, so much so that it shocks us we're only the fourth fattest state in the Union (we're coming for you with forks and knives, Arkansas, Mississippi, and West Virginia! Wait... WV, WTF?). So how are the denizens of our fine city striving to put the "big" back into The Big Easy? Well, for starters (and likely entrees too), with these belly-busting dishes...
Recommended Video
This Pizza Has a Plantain Crust
1) The whole muffaletta at the Central Grocery.
Nothing says NOLA like one of the best sandwiches ever invented (see our roundup here), and you're not going to stay hungry for long if you visit the Central Grocery for the original muff. Order a "whole", and receive an entire loaf of Sicilian bread filled with savory cured meats, cheeses, and olive salad.
2) The "Giant Seafood Platter" at Deanie's.
One of the finest and most beloved seafood shacks out on Lake Pontchartrain (avoid the downtown location for the original, on Lake Ave in Metairie), Deanie's is always a great bet for BBQ shrimp loaded with spicy butter, boiled crawfish, and more. But if you want to pull a "Homer Simpson at the Frying Dutchman", order the giant seafood platter, a herculean-sized tray stacked to heaven with deep-fried catfish, shrimp, crabs, and "crawfish dressing balls". Mmmm!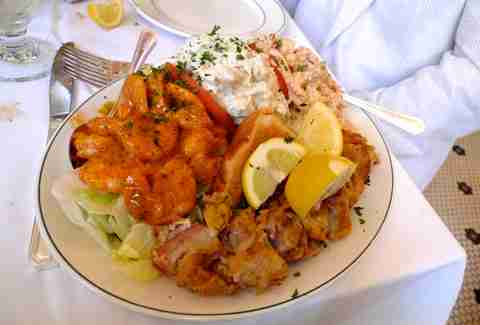 3) The "Galatoire Goute".
For a true New Orleans dining experience, it's hard to beat Galatoire's for the history, service, and of course, the cuisine. The Oysters Rockefeller and souffle pots aren't to be missed, but if you want a slightly more giant-sized plate of deliciousness, order the "Galatoire Goute": a combo featuring many of the restaurant's favorite apps, including shrimp remoulade, crabmeat maison, crawfish ravigote, oysters en brochette (deep fried oysters wrapped in bacon), and, for good measure, toast.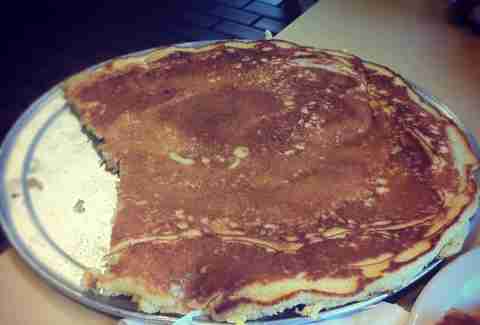 4) The pancake at City Diner.
Wait... don't you mean "pancakes", plural? Nope. When your pancake rivals the size of a large pizza (with an area of 153.94sq inches, to be exact), ordering more than one might be overambitious. Best part? It's only $2.99, though we advise spending the extra $.99 to load this mother up with blueberries, strawberries, bananas, or chocolate chips.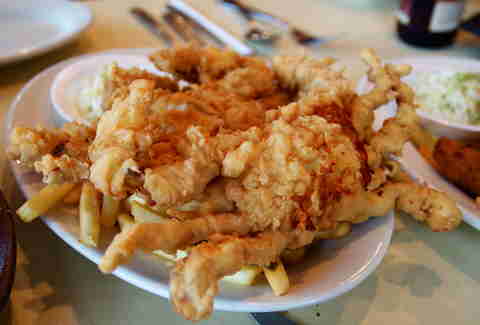 5) A tie: The softshell crab platter at Middendorf's and "Godzilla Meets Fried Green Tomatoes" at Jacques-Imo's.
When soft-shells are in season, get 'em while the getting's good and head to either of these joints; they both do the fried crustacean true justice. Middendorf's version tends to be larger than a human head, served with plenty of french fries (of course), while Jacques' variation is piled atop fried green 'maters, held aloft in its giant tower only by the steak knife that's skewering it.
6) The Port of Call burger/baked potato combo.
Serving gut-busting fare since 1963, everybody in NOLA knows two things about Port of Call. Firstly, the burger is obscenely huge and piled high with shredded cheddar (and 'shrooms, if you're feeling frisky), and secondly, it's served with a gargantuan baked 'tater, fully-loaded and exploding with sour cream, chives, and bacon.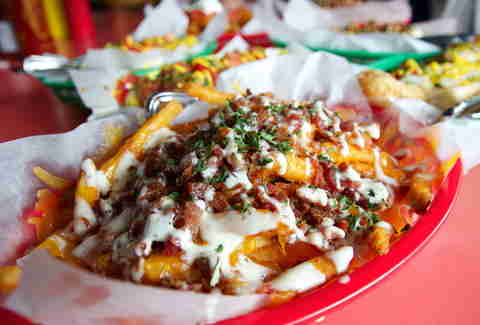 7) The fries at Dat Dog.
The beauty of this hot dog joint (which has now become a tube-steak empire) isn't just the quality and variety of the food, but the fact that their fries are essentially a meal unto themselves, loaded with toppings like the cheddar/bacon/ranch combo.