Where to Find the Best Boiled Crawfish in New Orleans
"To everything there is a season," the proverb goes, and thank goodness that it is now the season for crawfish in New Orleans. Yes, there are plenty of ways to incorporate the delectable critters into dishes both novel and classic, but if you want to be a purist, getting elbow-deep into some spicy, boiled crawfish is definitely the way to go (and remember, it's never "crayfish" or "crawdads." It's mudbugs.). Should that be the case, here are some of the finest spots in New Orleans boiling up some of the best crawfish in town.
Harahan
Though Seither's is also known for its po-boys, as well as plenty of fried and blackened seafood, it's worth a trip out to Harahan for its boiled craws. But if you're not up for driving, you can find its crawfish at the Maple Leaf Bar on Sunday nights.
Mid-City
Formerly known as KJean's, the Bros will hook you up in Mid-City once mudbug season rolls around, and it's very conveniently located near awesome places to enjoy those mudbugs al fresco, like Bayou St. John or City Park.

Harahan
Beloved spot Charlie's Seafood closed a while back, but was gloriously re-opened (courtesy of legendary local chef Frank Brigtsen) as Charles Seafood. It has a killer seafood menu, but don't overlook the Belle River boiled crawfish if you're looking to suck some heads and pinch some tails.

Metairie/Bucktown
This isn't the place you'll hear about in the travel brochures, and locals are happy to keep it that way. Schaefer's (aka "Schaefer & Rusich Seafood") is the place to go to carry out a sack of truly perfect boiled crawfish, with all the fixins like corn, mushrooms, potatoes, and sausage. It also has "Hot" boudin available as well, though the quotes on that are certainly mysterious.
Uptown
Another local favorite recently reopened and lovingly renovated from the once-sketchy shack it used to be, Frankie & Johnny's is a great spot to get your crawfish on. It has a cool raw bar now, as well, and it's very kid-friendly.

Marrero
No gourmet touches here: what you'll find at Sal's are picnic tables and paper plates, but really, what more do you need when you have piles of boiled crawfish and maybe a few oysters thrown in for good measure?

Kenner
You'll have to make your way out to Kenner (a suburb of a suburb) for the hot boiled action at FIsherman's Cove, but 30 years of steady business say that it's worth it. It's close to the airport, which is convenient if you need crawfish on your way in or out of town. And unlike more rustic crawfish joints in NOLA, you can actually order online now, which is pretty sweet.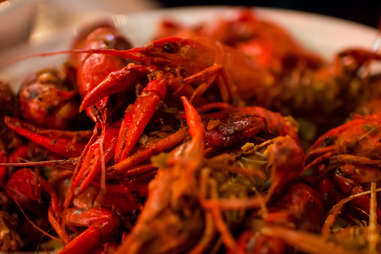 Uptown
There aren't tons of reliable spots for huge orders of boiled seafood to go (note, BF is only a market, not a restaurant), but this place has lines out the door once boiling time comes around. If you can't wait to get them home, you can eat your crawfish in the little park nearby behind Breaux Mart... just don't park in Breaux's lot, or you'll get the boot in no time.

Metairie/Bucktown and French Quarter
A longtime favorite for BBQ shrimp and boiled seafood, Deanie's has a serious reputation when it comes to crawfish served by the sack. While it has a French Quarter location these days, you can also opt instead for the Bucktown location, where you can get your sacks to-go in its adjacent market and eat them picnic style right on the levee overlooking Lake Pontchartrain.

Metairie
This "Metry" newcomer is getting all kinds of raves from locals when it comes to its chef-inspired seafood menu. Like other spots in town, it's a combo seafood market, restaurant, and caterer, giving you three ways to enjoy its amazing mudbugs.
Uptown
Conveniently located right on "The Avenue," getting to Superior is a cinch on the streetcar, if you happen to be staying Downtown. It's a nice place for a seafood lunch or dinner, but don't overlook its crawfish, which it also offers catering-style ("We'll bring the boil to you!") if you're looking to have a party.

Gretna/West Bank
If you're on the other side of the river, head to J & J's for some super-juicy craws, not to mention pigs feet, boudin, turkey necks, and other fare. Just know that it's take-out only, so you'd better have a place in mind to enjoy them before you head its way.
Kenner
Eat-in boiled crawfish in restaurants aren't as easy to find in NOLA as takeout, but Harbor is there for you if you don't want to get your car/yard/hotel room covered with mudbug guts. Old school, with wood-paneled walls, neon beer signs, and TVs at the bar, it's a seafood "jernt" in all the best ways.

Harvey
It's got "Boiling Pot" right there in the name, so you know Perino's is going to offer some serious mudbug action. The fried seafood baskets are also a great bet, if you or any member of your party is craw-ed out.

Old Jefferson
Located on River Rd right on the Mighty Mississippi, Rivershack is, you guessed it... a seafood shack on the river. If you like live music and plenty of drinkin' with your mudbugs, as well as pool, darts, or video poker, this is the spot for you.
Metairie
The po-boys at Zimmer's are some of the finest in town, but it also has its crawfish game on point, too. And if you want crawfish bread with your crawfish (craw-ception!), you can make that happen, too.

French Quarter
Seafood-loving visitors will love the fact that Somethin' Else is very handily located right in the heart of the French Quarter. Almost as much as they'll love the crawfish. There's also the "Piggy Strips," an alligator corn dog, and the cochon de lait to keep in mind.

Belle Chase
Is it really worth the trek out to Belle Chase (on the West Bank) for boiled seafood? The answer, when it comes to Zydeco's, is a resounding "yeah you right!" Bring friends, because the long picnic tables make sharing fun and easy. In addition to crawfish, it also offers boiled blue crabs, dungeness crabs, snow crabs, and Gulf shrimp if you really want to go to town.
Sign up here for our daily New Orleans email and be the first to get all the food/drink/fun in the Big Easy.