When it comes to the most important meal of the day, New Orleans is better known for its jazz brunches than its traditional breakfasts. But oh has that changed, dear friends. In recent years, a number of restaurants have seriously upped the fast-breaking game in the Big Easy, and here are 13 platefuls of proof...
Uptown/Carrollton
What you're getting: A three egg omelette
If you're looking to start the day with a hearty, lumberjack-style breakfast, Panola St. is the place you should be headed. Overstuffed triple egg omelettes, huge stacks of pancakes, Belgian waffles, and generous Benedicts are the hallmark here. And hey, if you want liver and onions, you can get that, too.
Uptown/Carrollton
What you're getting: The Breakfast Cheeseburger
In a notable food city with few actual diner-style restaurants, The Camellia Grill is the one to beat. Whether you want a chili-cheese omelette or a flat top griddled breakfast cheeseburger, it's all served with a smile. Note: do not confuse this with "The Grill" in the French Quarter (there were some legal issues surrounding that recently).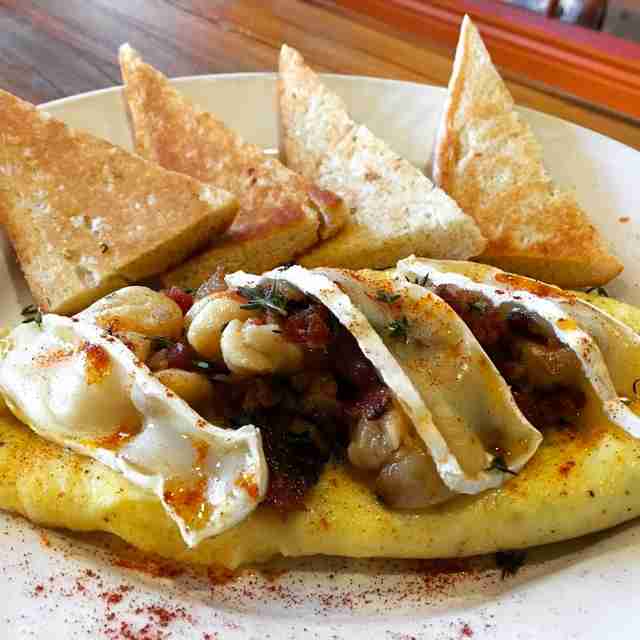 Mid-City
What you're getting: The cheddar sliders w/ eggs & bacon
For some reason, Mid-City recently became *the* go-to place for breakfast in New Orleans, and Wakin' Bakin' was one of the first spots to contribute to this wonderful phenomenon. The cheddar sliders with eggs and bacon are amazing, as are the "Pancrepes and Pork." That's right: Pancrepes!
Mid-City
What you're getting: BBB 12 hour NOLA Brisket on Biscuit
Adding to the breakfast arms race on Banks St is Biscuits and Buns, which, you might have guessed, serves both biscuits AND buns. Truth be told, those biscuits are pretty fantastic (especially when packed with slow-cooked brisket), but don't overlook the chicken & waffles, as well as more refined fare like shrimp étouffée over creamy grits.
Uptown
What you're getting: One of its crepes
For a fancier breakfast option in the Big Easy, there's the relatively new Toast, which offers everything from steak and Lyonnaise potatoes with your eggs, to fluffy quiches and crepes. It's excellent for an upscale breakfast meeting or if you want to impress on the "morning after" without messing up your kitchen.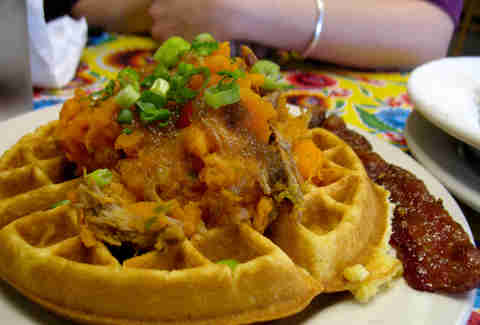 Bywater
What you're getting: A Breakfast Po Boy
When you think "breakfast" (not brunch) in New Orleans, it's hard not to think of Elizabeth's. Mostly because it makes Praline Bacon -- which you really, really don't want to miss -- but also for the colorful decor and friendly service. Also to be noted, the "Breakfast Po Boys," which are exactly what you think they would be: bacon, eggs, and cheese dressed on French.
Uptown/Irish Channel
What you're getting: The Creole Slammer
If you haven't had the Creole Slammer at Slim's, you have yet to fully live. What could be better than a plate of hash browns and eggs... than a plate of hash browns and eggs overgenerously topped with crawfish étouffée and a buttermilk biscuit? Fair warning: there's a sizable wait on weekends if you don't get there early enough.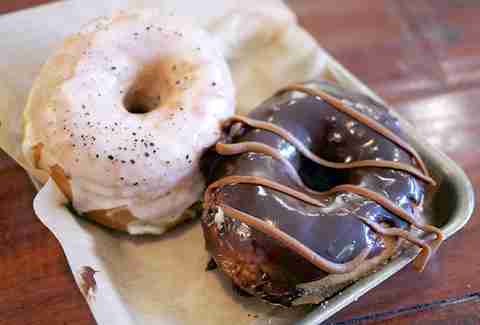 Lower Garden District
What you're getting: A couple of its donuts
Donuts made from scratch -- right down to the sprinkles -- and nitro-brewed iced coffee? District says yes to both. The sliders are impressive, too, if you're more of a burger-for-breakfast kind of person, though it's hard to pass up those beautiful donuts, especially with flavors like "Maple Sriracha with Candied Thyme."

Lower Garden District
What you're getting: Bagel w/ lox & cream cheese
You can't get absolutely everything you want in New Orleans, sadly, but at least there's one place where you can find an excellent bagel with lox and cream cheese (with capers and red onion, of course). It's not exactly Russ & Daughters, but it's what we've got, and thank goodness for that. And also for the Instagrams of owner Dan Stein asleep in various locations in the restaurant.
Gert Town
What you're getting: A Pretzel Croissant
Pastries, pastries, and more pastries is what you'll find at Gracious, as well as a load of sandwiches and elegant desserts. Bonus points for its creative approach to baking, which brings with it the Hazelnut "Kermit" Cruffin, as well as Pretzel Croissants.
Uptown
What you're getting: The Do'sant
You have to give it to Manhattanjack for being the first in town to mimic the Cronut (™) with its "Do'sant," which is likely just as good as the one your cousin is waiting four hours in line for in New York. You also have to give it up for its excellent coffee and breakfast sandwiches.
Marigny
What you're getting: Boudin and eggs
Cupcakes for breakfast? Why the hell not!? This cozy Marigny joint doesn't just do cakes, however, despite the name. The savory options, including crab or salmon omelets or boudin and eggs, should not be missed. So, go ahead and have both. What could possibly go wrong?
French Quarter
What you're getting: Bananas Foster French Toast
Chef Scott Boswell may have sadly shuttered the wonderful Stella!, but thankfully he's still helming the equally tasty Stanley, where you can get its elegant, signature breakfast items all day. Ever crave Bananas Foster French Toast? A Benedict topped with fried oysters ("Eggs Stanley")? Or even an Eggs Benedict Poor Boy? If yes -- and really, it should be a sincere yes -- run, don't walk, to Stanley.
Sign up here for our daily New Orleans email and be the first to get all the food/drink/fun in the Big Easy.