Where to Get the 10 Best Burgers in Louisiana
Louisiana is obsessed with good food (also: water is wet, the sun rises in the East), but if anything, that just makes the task of narrowing down the state's finest belly-fillers all the more difficult -- especially when it comes to burgers. But being the brave souls that we are, we certainly tried, and these are the delicious results. (If we somehow missed any can't-miss spots, let us know in comments!)
New Orleans
What you're having: The Company Burger
Since The Company Burger opened in 2011, its eponymous burger with two patties, American cheese, house-made pickles, and grilled red onions has scooped up accolade after accolade, both local and national. The patties are seasoned perfectly and grilled on a flat top, the pickles and onion provide crunch and flavor, and the American cheese provides memories of childhood cheeseburger bliss and melty texture.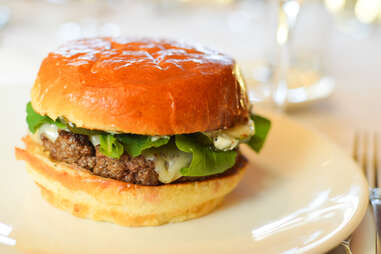 New Orleans
What you're having: LPG Burger
Only available for lunch, this hearty burger drips beef fat along with oozing aioli, mustard, and onion marmalade, which can be mopped up with the white cloth napkins provided. Gruyere and arugula give the burger a high falutin' air, but just because it's fancy doesn't mean it ain't delicious.
Shreveport
What you're having: The cheeseburger
This roadside farm stand and bake shop has been doing farm-to-table for much longer than that's been a thing -- for the past 30+ years, the tomato, lettuce, and onions that sit atop its platonic cheeseburger has come from a couple dozen yards away. It's hard to describe just how perfect this cheeseburger is -- there's nothing fancy or gimmicky about it -- but rest assured, perfection is attained.
Baton Rouge
What you're having: Cajun Shrimp Burger
Food Network Magazine rated this burger as the best in the state a while back, and though those might be fightin' words to some, it's hard to deny that this perfectly cooked burger stuffed with jalapeños and covered with cheese and sautéed shrimp has a little bit of something for everyone. Except vegetarians and those who keep kosher, maybe. MAYBE.
Lafayette
What you're having: The cheeseburger
Judice Inn has been serving burgers to hungry University of Louisiana students for almost 70 years and it seems like the pricing hasn't kept up with the times. You can get a cheeseburger for $3.75, dontcha know, and you can get it at 10am when you roll out of bed craving a burger for whatever reason (we're not judging).
Lafayette
What you're having: The Juicy Lucy
This off-menu item has almost a cult following. It's the Thursday sandwich special every week, and quite popular in the after hours on Saturday late night. The hand-ground beef burger is perfectly seasoned and flavored, and stuffed full of cheese, served on a brioche bun that's so tender that it should fall apart, but never does, with tomato, lettuce, and a caramelized onion mayo. There's a rumor of Lucy's evil twin, the Ethel, which brings pecan butter, pepper jelly, and a fried egg to the late-night eats party, but the management would neither confirm nor deny. But they winked a lot.
Hammond
What you're having: The Hangover Burger
This off-menu item has proven to be so popular with the staff that it will be included in the restaurant's next menu update. Pepper jack cheese, bacon, avocado, and a fried egg top the burger served on a pretzel bun. It cures all that ails you, not just hangovers. Plus, the avocado means that it's healthy. And the egg. And the... tomato? Sure.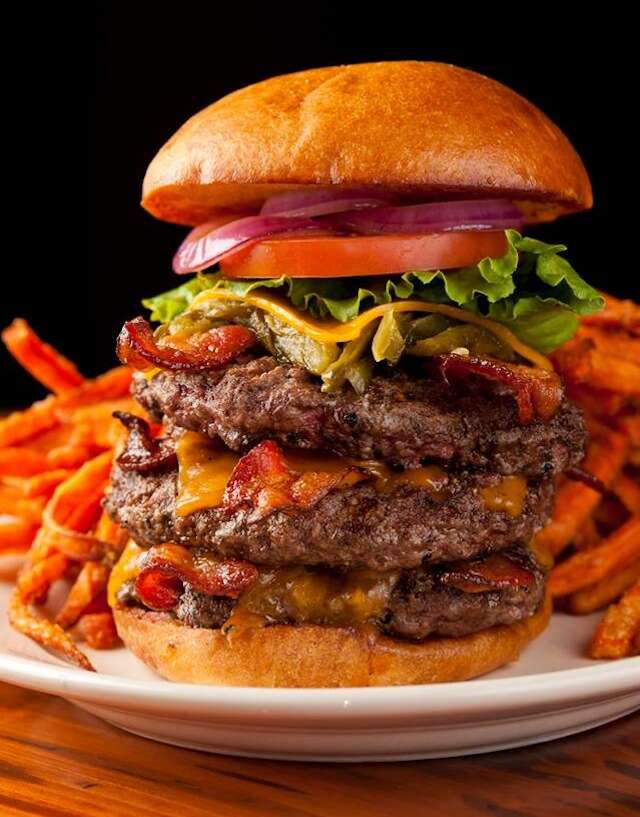 Thibodaux
What you're having: The Triple Threat Burger
Sometimes, you just gotta throw caution to the wind and eat the biggest, baddest-ass burger in the whole state. That, my friends, is the Triple Threat Burger at Grady V's. Grady V's sees gluttony as something to be celebrated heartily (there's also a burger available that's served between two grilled cheese sandwiches). And as the popularity of this burger -- with three half-pound patties, topped with bacon, cheddar, jalapeños, tomato, lettuce, and caramelized onions -- seems to attest to, this attitude of beefy joie de vivre is shared by the community it serves.
Metairie, New Orleans, Harahan
What you're having: Whatever you love
Phil's claim to fame is that you can order your burger however you like and provides enough options for a seemingly infinite number of combinations. You can get a half-pound of beef, veggie, turkey, bison, and gator served on a variety of different rolls or atop a salad, with your choice of 20 different sauces (including options like Creole aioli, avocado ranch, chimichurri, and grilled pineapple ketchup) topped with pretty much anything you can imagine. Go nuts.
Alexandria
What you're getting: Knob Creek Smoked Maple BBQ Burger
Anything that combines the power of a hamburger with a bourbon and maple BBQ sauce is a force to be reckoned with. And name brand bourbon, too! This macho man burger also comes loaded with jalapeños, fried onion strings, and chipotle mayo. Accompany your burger with a beer, a shot of whiskey, or the blood of your enemies.
Sign up here for our daily New Orleans email and be the first to get all the food/drink/fun in the Big Easy.