New Orleans may be America's hottest food city, but in the city where the po-boy is king, the Big Easy isn't exactly the first city that comes to mind when you think of hamburgers. That being said, there is no shortage of places to go to get a delicious rendition of the American classic. But rather than just tell you, we asked six renowned local chefs about their favorite burgers and where to find them.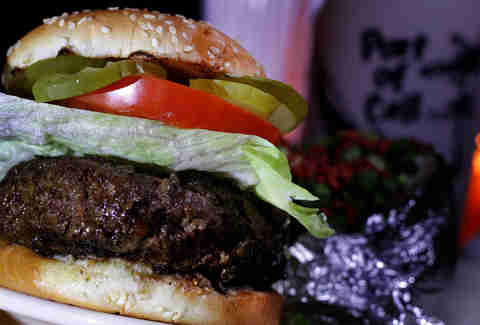 The burger: The hamburger at Port of Call
Recommended by: Tory McPhail, named the "Best Southern Chef of 2013" by the James Beard Foundation, and executive chef at Commander's Palace.
The reason: Chef McPhail has fond memories of eating the "classic New Orleans burger" cooked medium-rare w/ a fully loaded baked potato on the side and one of Port of Call's signature Monsoon cocktails to wash it all down. "It's great for before going out for a night in the quarter or to settle your stomach afterwards."
The burger: The Lüke Burger at Lüke New Orleans
Recommended by: Alon Chaya, Eater New Orleans' "2011 Chef of the Year", James Beard Award finalist, and executive chef at Domenica.
The reason: According to Chef Shaya, Lüke's combination of chuck and brisket "make for a super juicy burger" and it's topped off with bacon and seasoned heirloom toms. Shaya says he's also a fan of the buttered brioche bun, and that the burger is served with ketchup and mayo, "my favorite way to eat it"! Ours too, Shaya. Ours too.
The burger: The Company Burger at Company Burger
Recommended by: Todd Pulsinelli, named a "Chef to Watch" by Louisiana Cookin' and executive chef at August.
The reason: Pulsinelli is a big fan of the Company Burger's bun and "the care they put into it". He said that both of the Company Burger's signature patties are "just thick, juicy, and cooked perfect every time". Also, it looks just plain sexy.
The burger: Any specialty burger at Truburger
Recommended by: Michael Friedman, chef/owner of Pizza Delicious, named "The Place for New York Style Pizza" by New Orleans' Gambit Weekly.
The reason: Chef Friedman loves the griddled patty at Truburger for being "just a nice classic burger", which reminds him of Shake Shack. "Nice meat, well composed," he said. "And they do good specials too." (Also, NOLA doesn't have a Shake Shack, so there's that too).
The burger: The LPG Cheeseburger at La Petite Grocery
Recommended by: Nathanial Zimet, Chopped champion, 2012 "Rising Star Chef", and chef/owner of Boucherie.
The reason: While the LPG Cheeseburger's onion marmalade and aioli sauce give it its distinctive taste, Chef Zimet recommends this burger because it gets the basics right; "A burger is all about the ratio," Zimet said. "Meat to bread to toppings and they got it going on!"
The burger: The Single at Company Burger
Recommended by: Dan Esses, chef/owner of The Three Muses, one of New Orleans Magazine's Best Bars, and their feta fries were listed as one of the best dishes of 2011 by the Times-Picayune.
The reason: A burger so nice it was named twice. But unlike Chef Pulsinelli, Chef Esses goes to Company Burger not for their signature beefwich, but for their single with special sauce. "I like a burger that's easy to eat and not too big," Chef Esses said. "The buns are nice, thin, and fluffy and it's not too foo-foo." (which has been known to just ruin many a sandwich).