Where to find the best Cajun food in New Orleans
New Orleans' cuisine is inextricably linked to the words "Cajun" and "Creole", however there is a distinctive difference between the two. Where Creole food is derived from the complex sauces and white-clothed tables of the European aristocracy, Cajun fare was born in the country, out in the bayous South of the city. Think about the difference between a French salon and a hunting camp. Well, we're here for the hunting camp. Here's where to find some the best Cajun eats in the Big Easy...
CBD
Any restaurant that bills itself as "The Original Cajun Restaurant", better walk the walk if it's going to live up to its name in NOLA, and Mulate's does just that. Sure, there's plenty of fried gator, stuffed fish, jambalaya, and roux-based gumbo on the menu, but the fact that the place is also a zydeco dance hall really sells Mulate's as a solid taste of Cajun country.
What you're getting: The Fried Alligator Platter
West Bank
Sometimes you need to go a little far afield to satisfy your Cajun jones, and Zydeco's is worth a trip across the river. Their fried fare is great, but make sure not to overlook the seasonal boiled seafood platters, especially when crawfish are in season (think late spring).
What you're getting: A boiled seafood platter
Mid-City
What happens when you pluck a good ol' boy from the bayou, give him a decade or so of fine dining kitchen experience, then let him open up his dream restaurant? Toups' Meatery, that's what. Isaac Toups, along with his wife Amanda, play the old Cajun favorites like a fiddle (boudin and cracklins, of course, and a meat board that will stop your heart), while also serving up more refined modern fare, like a brilliant lamb's neck paired with black-eyed peas. And if you've ever wanted to drink whiskey out of a marrow bone, you can have that, too.
What you're getting: Boudin and cracklins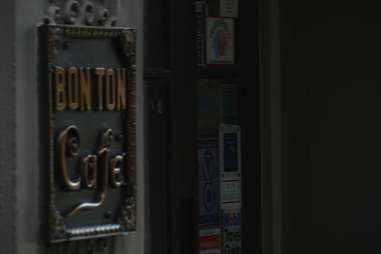 CBD
Born in the early 1900s, Bon Ton was reinvented in the mid '50s by a couple who brought their family recipes from the Lafourche and Terrebonne parishes. Pay particular attention to the crawfish bisque; it's the best in town.
What you're getting: The Crawfish Bisque
CBD
Butcher may have opened as a humble sandwich shop (and literally as a butcher, of course), but its popularity has since expanded enough to warrant a physical expansion of the place as well. There are plenty of NOLA favorites on the menu -- especially its amazing muffaletta -- but you'll also find tons of house-cured meats and sausages, like andouille, boudin, and tasso, not to mention a Jambalaya Stuffed Whole Chicken.
What you're getting: That Jambalaya Stuffed Whole Chicken...
French Quarter
You can't think Cajun food in New Orleans without thinking of Chef Paul Prudhomme, the man who brought the rustic fare of Acadiana to the attention of the country, and then the world. Chef Prudhomme invented blackened redfish, one of the most popular dishes in town, so it's safe to say that if you're going to get blackened fish anywhere, you should get it at K-Paul's.
What you're getting: Um, the blackened redfish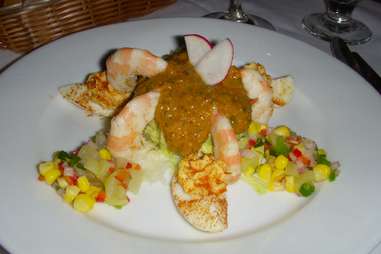 Uptown
Chef Frank Brigtsen and his eponymous, enchanting Riverbend restaurant have been beloved in the Big Easy for decades. It's no surprise, then, when you realize that Brigtsen worked for years under Paul Prudhomme himself (see above), which is clearly evident when you experience his elegant, Cajun-inflected menu. Get the rabbit. You will not be disappointed.
What you're getting: Panéed Rabbit
French Quarter
Along with Frank Brigtsen, Chef Greg Sonnier also cut his teeth in Prudhomme's kitchen, serving as the chef's "blackened redfish boner" (heh), often deboning more than 250 fish on a busy night. Sonnier's much adored restaurant Gabrielle was sadly closed after Hurricane Katrina damage and subsequent rebuilding issues, but you'll now find the chef at home and cooking some of the most exciting food of his career at Kingfish, particularly the Rotisserie Chicken Pot Pie, or Cochon de Lait Pot Pie.
What you're getting: Cochon de Lait Pot Pie
Uptown
Nathanial Zimet may have started Boucherie as a "K&B purple" food truck, but it quickly outgrew its mobile beginnings into a brick-and-mortar shop that's been a local favorite ever since. Expect refined, contemporary takes on South Louisiana cuisine (Pulled Pork Cake, for instance), and, true to its name, plenty of house-aged, smoked and cured meats.
What you're getting: Pulled Pork Cake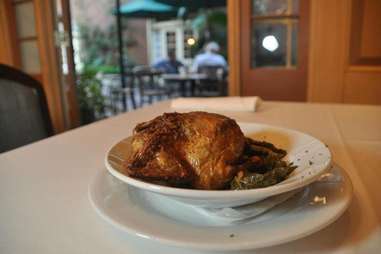 French Quarter
Like Boucherie, Vacherie gets its name from the Cajun practice of butchering and cooking an entire animal in a single day, in this case a cow instead of a pig. But you'll find both on Vacherie's menu, especially the gritcake and collards: "pan-fried pimento cheese gritcake over fresh collard greens smothered with smoked pork belly". Yes, please.
What you're getting: Gritcake and collards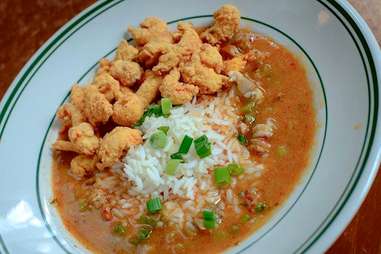 French Quarter
The building housing Maspero's is impressive, dating back to 1788 and once served as a coffee house for pirates and people like Andrew Jackson (no kidding). Pay particular attention here to the Natchitoches Meat Pies, as well as the Seafood Pistolettes -- French rolls filled with a creamy cheese sauce with Gulf shrimp, bell peppers, and onions -- which are messy as hell and well worth it.
What you're getting: Crawfish Etouffee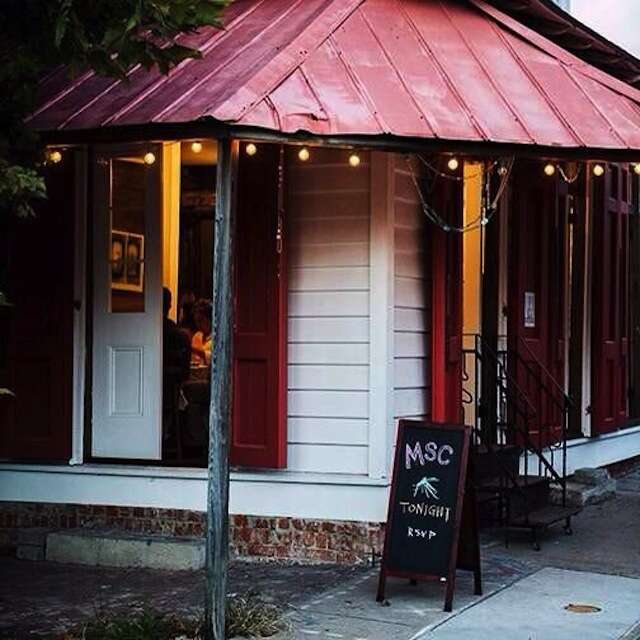 Bywater
Okay, if you're really looking for authenticity in your Cajun food and you don't feel like trekking out to Eunice or Opelousas, check out this pop-up restaurant at the Tigermens Den on Royal St, which looks to give you the feeling of a true Acadian meal the way it is out on the bayou. Get your reservations online in advance, because they go quickly, even at $100 a seat.
What you're getting: Whatever they're cooking that night
Sign up here for our daily New Orleans email and be the first to get all the food/drink/fun in the Big Easy.