When we turned our attention to New Orleans' burgeoning coffee scene last year, the so-called "third wave" of coffee had just begun. Sixteen months later, there's been a phenomenal amount of change: the city is now full of cool, funky places to relax while getting a pour-over, cortado, or Oji-brewed, single-bean cup of joe. Sure, chicory and café au lait are still around (and we truly are grateful for that), but now we've got new players passionate about the java game who are determined to shake up the coffee status quo.
Warehouse District
Sidle up to the coffee bar and enjoy creations made from this Birmingham-based coffee roaster, which has locations all over the South. Also available are kombucha, baked goods from Gracious Bakery, and creative coffee drinks like The Weekender, made with tangerine juice, half & half, sparkling water, and a dash of vanilla, and topped with a shot of espresso. Check out the Friday happy hours, with free espressos available from noon-1pm.
LGD (& Freret)
Practically ancient in comparison to all the coffee shops that have opened in the last year or so, Mojo just celebrated its 10th birthday by announcing they haven't run out of tricks yet. Its new small-batch, in-house coffee roasting program started this year, plus it partnered with local brewery Gnarly Barley for an experimental coffee-beer, and it'll be expanding its hugely popular Magazine Street location. Co-owner Demian Estevez prefers to think of the "third wave" coffee trend as the new "NOLA wave," and he's glad to still be riding it.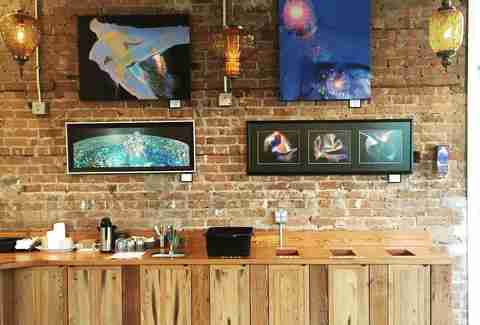 Uptown
After a pop-up stint in New Orleans' hippest delicatessen/beer store, Stein's Market & Deli, power barista Lauren Fink has set up shop on her own Uptown corner. (The Stein's pop-up is still in business as well.) She's committed to using coffee from micro roasters like Heart Roasters, Quills Coffee, Roseline Coffee, and Ruby. The shop offers cuppings to the public twice a month, where the passionate staff walks customers through the sensory experience of tasting coffee.
Warehouse District
New Orleans has hit the big time now, with an Ace Hotel and attached Stumptown coffee shop. And just because Stumptown doesn't hail from New Orleans originally doesn't mean it has discarded the historic coffee culture here. As Stumptown's first Southern outpost, this shop is focusing on cold brew coffee (you know, 'cuz it's hot here), including refreshing coffee drinks like the "Endless Summer," a coffee variation on the mint julep. (Don't worry, it still has all the awesome hot-brewing techniques in play.)
CBD
This bakery/coffeehouse/restaurant serves Intelligentsia Coffee, the company that chef and co-founder Kelly Fields collaborated with in order to create the perfect custom roast for her restaurant. Willa Jean not only has the solutions to all your regular coffee needs (i.e. waking up; staying awake), but also has integrated coffee and tea into a special, wide-ranging cocktail menu. Also, the oft-overlooked second chord of coffee making, the milk, is sourced locally from Mauthe's Progress Milk Barn, so you know it's fresh and amazing.
Warehouse District
Jonathan and Darlene Riethmaier moved to New Orleans from Washington, DC to open their dream: Mammoth Espresso's sleek, retro-modern, family-friendly, high-quality coffee bar. With beans from Madcap Coffee, pastries from Scout Bakery, and Jonathan's excellent technique, this is a place you'll be going back to. They want to bring their love and appreciation of coffee to their customers as well, as demonstrated by the One & One double espresso -- one with steamed milk and one without -- that is ideal for understanding the nuances of the coffee and espresso process.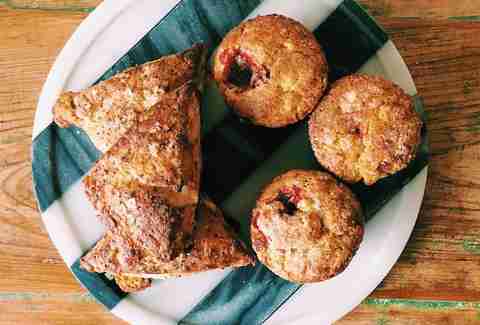 French Quarter
Much more than a kick-ass coffee shop, Arrow hosts Thai food pop-ups for lunch, sells bouquets of flowers from Pistil & Stamen, features pastries by Port City Pantry, and in general provides a laid-back space perfect for eating, drinking, and reading the coolest magazines published. The dedicated staff pull delicious espresso drinks with Four Barrel coffee.
French Quarter
You can't get more old-school New Orleans than this for caffeine. It has one type of coffee drink: café au lait (although you do have the choice to get it hot or iced), and it's become a quintessential part of NOLA culture. And the thing about a place that only does one drink? It does it well.
Ninth Ward
Sólo serves delicious, reasonably priced coffee, and is always featuring local food pop-ups. In the past, it's offered a croissant pop-up, a plant-based breakfast pop-up, a biscuit & ice cream pop-up, a brunch pop-up... this place offers a great way to support the entire culinary and beverage community, all in one place.
French Quarter
Using language to suggest that the caffeine addiction served here is an illicit one (referencing "dealers," "addicts," and "fixes"), Addiction wants you to know that it "gets" you. The logo is a picture of literal coffeeheads -- the generic man & woman outline with coffee cups for heads. Try the Miss Tracy's Addiction Special, which is an espresso blended with coconut milk, honey, cinnamon, and cayenne pepper (also available iced). It's definitely willing to enable you in cultivating your coffee habit.
French Quarter
This teeny-tiny (seriously, itsy-bitsy) shop tucked away in the French Quarter has brought the new wave of coffee (i.e. non-chicory) to Downtown residents and visitors for over three years. Using beans from CREMA, Extracto, and BeanFruit Coffee Company, Spitfire turns out consistently excellent brews in a high-traffic neighborhood. It's also partnered up with local bakery Scout to provide high-quality treats to go with its high-quality java.
Uptown
This funky coffee shop has turned its small coffee roaster into a powerhouse, having transitioned from roasting for its shop only to selling its product all over town. Recently, it also branched out into how coffee can be consumed, partnering with NOLA Brewing and Left Hand Brewing to create a coffee saison. Yum.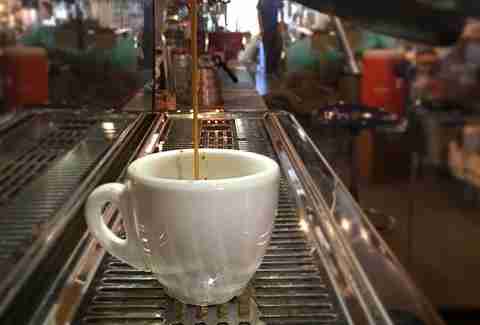 Uptown
The little yellow truck turned into a little yellow coffee shop on Magazine, and is now a grown-up cafe that serves breakfast, lunch, beer, wine, and evening snacks, in addition to coffee of all kinds. The new French Truck Cafe sources all its beans directly from farmers, which means staff take off for coffee-growing regions like Costa Rica from time to time. French Truck's coffee beans are sold all over town in grocery stores, restaurants, and other coffee shops -- but it's worth trying out the wares at the original source.
LGD (& Uptown)
HiVolt's funky LGD location serves up Counter Culture coffee and kick-ass vegetarian, vegan, and gluten-free options. Recently, it expanded to a location up Magazine Street a stretch, with an in-house baking facility which now supplies both locations. Try the Shockproof coffee, blended with butter and MCT oil, and the Ozzy: two poached eggs over sauteed greens, avocado, cherry tomato, and quinoa, and drizzled with kefir herb dressing. May sound nutty, but both are fire.
Sign up here for our daily New Orleans email and be the first to get all the food/drink/fun in the Big Easy.