The Most Amazing Food and Drink Road Trips From New Orleans
Strap on an American flag motorcycle helmet a la Easy Rider and embark on a food-driven road trip through the highways and byways -- and swamps and bayous -- of Louisiana. There's so much more to see and do (and eat) in this state than what we hold close to the vest in New Orleans, so get out there and explore this state with abandon. More often than not, you'll find that the people are friendly, the scenery is resplendent, the hospitality is off the charts, and the cuisine... well, Louisiana food really speaks for itself, doesn't it? If you have a few hours and a full tank of gas, here's where you need to be headed for the full-on Pelican State experience.

Cajun Boudin Trail
Kentucky might have its trail of bourbon distillers, and California its fine vintages, but here in the Pelican State, we have a trail dedicated to sausage! Not just any sausage, either -- we're talking Cajun boudin, that incomparable mixture of pork, rice, and spices (in a natural casing, always) beloved by locals, and folks around the world who have discovered how great this stuff is. When the weather is good and you're looking to try the best our state has to offer, this is a worthy weekend road trip for carnivores. And don't rule out gas stations; everyone who's anyone round here knows that these spots purvey some of the finest boudin blanc on the planet.
Avery Island
One of the best road trips you can make around New Orleans, the trek to Avery Island is the ultimate hot sauce hajj. Right near New Iberia, that wonderful place where one of the most popular pepper sauces ever to have been created is, well... created, Avery Island is the place to taste the sauce, then go exploring. The McIlhenny family built this spot on a literal mountain of salt (which is very good for making hot sauce, it turns out), and the sprawling grounds today are home to all kinds of artistic and natural treasures, including a nearly 100-year-old stone Buddha and a bird sanctuary for white egrets. Just make sure to mind the gators.

Lacombe
Just in case you haven't gotten your fair share of chef John Besh on TV -- or at the helm of his restaurant empire in NOLA -- Besh's La Provence in Lacombe is a worthy destination eatery, if ever there was one. Besh gets to trot out some real European style and charm with this stunner, which features extensive grounds and gardens (kind of handy when you're running a restaurant -- those vegetables are fresh, seasonal, and local, ya heard?). As the name of the joint suggests, it's a beautiful little slice of Provence right in the heart of the Pelican State.
Ponchatoula
When the weather starts to turn even the slightest bit chilly -- at least for Louisiana -- we know that we can soon expect some of the finest strawberries in the world, courtesy of the good folks up in Ponchatoula. Seriously, you have never in your life had strawberry pie this good. Don't believe us? Hit the annual Strawberry Festival and find out for yourself. You'll be happy you did.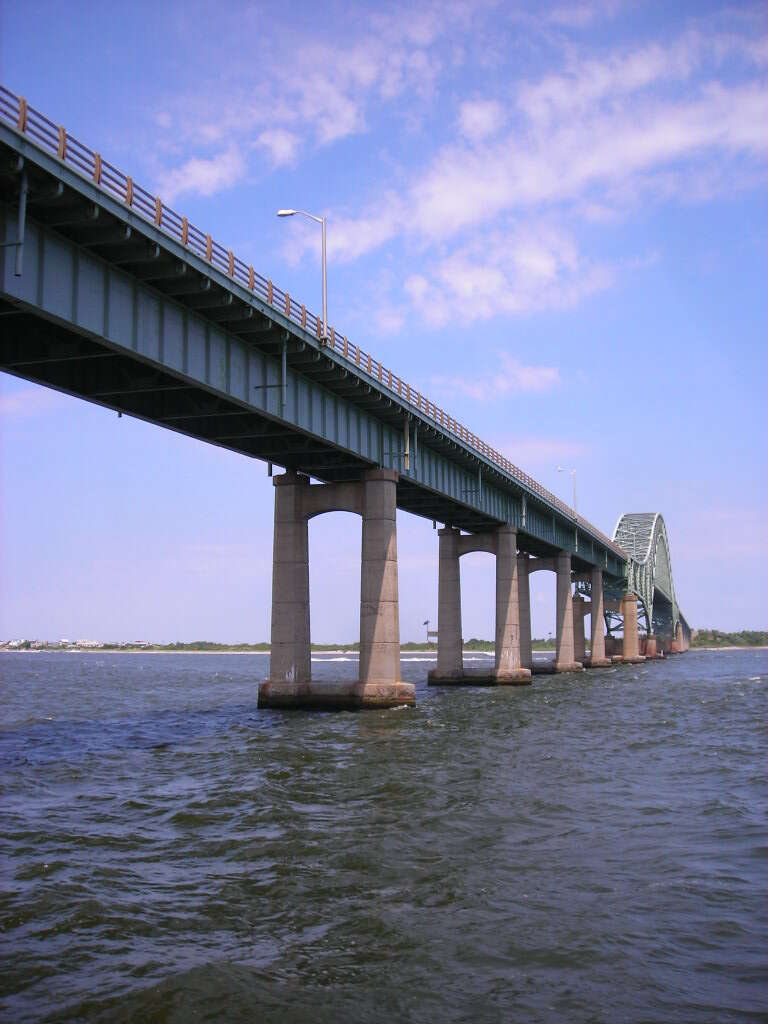 Mandeville and Covington
Is it really worth making the sometimes harrowing drive across the Causeway Bridge, considered for decades as "the longest contiguous bridge in the world over water" (and famously usurped by China's Jiaozhou Bay Bridge in 2011 -- go suck a lemon, Jiaozhou!) when there are so many fantastic eateries right here in New Orleans? That's a hardy YES, especially when you consider spots like Oxlot 9, Cafe Lynn, Lola (awesomely located in an old train depot), and Trey Yuen, which is one of the best -- if not the best -- Chinese restaurant anywhere near NOLA. Totally worth the bridge... just be careful out there.

Baton Rouge
The state capital might have plenty of chain restaurants and college bars, but that doesn't mean you should skip it on a gastronomic road trip. What's really neat in the Red Stick right now is the food truck scene: follow the Twitter feed or Facebook page for news of what the city's trucks are dishing up, from pulled pork to classic Cajun fare. While you're there, don't miss out on Juban's, Sushi Yama, City Pork (duh), and Rama for Thai. Also-also: if you really want to plan a food adventure, grab your favorite grill and head to Death Valley for tailgating at a LSU Tigers football game.
Breaux Bridge
We have to confess our love for the Crawfish Capital of the World. Each spring, Breaux Bridge celebrates that distinction with a big festival, which dates back to 1960, and offers more mudbugs and dancing than you can shake a stick at. Of course, there's a cook-off and crawfish races, too. Naturally.
Natchitoches
The Natchitoches (not to be confused with Nacogdoches, TX) meat pie is the official meat pie of the great state of Louisiana, and it's celebrated each year with a grand festival. If you've never had one, imagine a traditional Spanish empanada with some Cajun spices (plus pork, as well as beef) mixed in for good measure. Here you'll find a meat pie cook-off, and plenty of music and other entertainment... perfect if you're on the hunt for a family-friendly food fest.

New Orleans East
If you're headed to The East -- or, as it's known stubbornly to some, "Eastern New Orleans" -- for eats (see what we did there?), there's a fair chance that you're headed in that direction for one reason: Vietnamese food. And despite the oft-brutal traffic, let me tell you, this is a trip worth taking, if only for the best "Vietnamese" po-boy in town, at the hands of the magicians behind the ovens at Dong Phuong Bakery. When you can impress New Orleanians -- famously fickle when it comes to the quality of their bread -- with your wares, you know you have something special going on.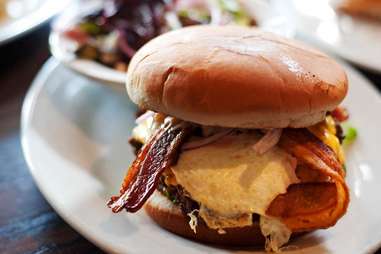 Lafayette
The dining scene in Lafayette has more going on these days than you might imagine. Yes, you'll find that incomparable duck & andouille gumbo at Prejean's, as always, not to mention the giant stuffed alligator greeting you as you walk in ("Sup, Big Al!"). The Olde Tyme Grocery will is also great for a po-boy that would satiate even the most persnickety New Orleans lifer. But expect more refined Cajun fare here as well. Make a trip to The French Press for either its killer brunch offerings or a refined Cajun dinner at the hands of a James Beard-nominated chef.

Houma
Let's get past the pronunciation bit: this spot is known as "HOME-uh," and, as in all things Louisiana-related, you know that if a pronunciation lesson is involved, you're headed in the right direction. Check out Cristiano for truly wondrous Northern Italian fare you might not expect in the land of boudin, boots, and cracklins. Or try out the places that lifelong locals are extra proud of: 1921 Seafood, Nancy's Seafood Shack, Mr. Ronnie's Famous Hot Donuts, Bayou Blue Po-Boys, Daisy Dukes, Gourmet House for great Chinese, and White Bowl, if you happen to be in the mood for Vietnamese.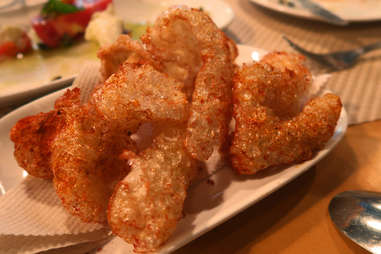 Port Barre
All you really need to know about the humble Louisiana town of Port Barre (other than how to pronounce it: "port BARRY"), is that it's famous for its cracklins -- salty, fatty, deep-fried pork fat & skin known in some cultures as chicharones… although Cajun-style cracklins tend to be slightly on the chewier side versus their Spanish cousins. If you need to experience this phenomenon in person, we suggest you head to the Port Barre Cracklin Festival in the fall. They even have a beauty pageant. It's fantastic. Who wouldn't want to marry, sight unseen, a "Miss Cracklin Festival?"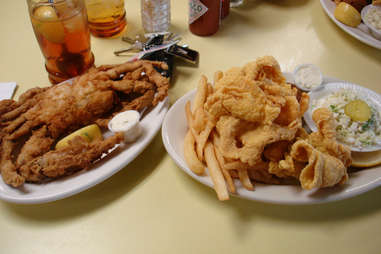 Middendorf's
Oh my friends, my friends! If you have never in your life experienced the divine glory that is the catfish at Middendorf's, near Pass Manchac, you have not lived your lives to the fullest. OK, hyperbole only slightly aside, if you're in NOLA and have access to a vehicle, do yourself a favor, stop whatever it is you're doing, and drive a mere 45 minutes up into the bayous near where 1-10 and 1-55 split. You can also boat up, if you want (not kidding). This place serves catfish fillets so thin, so tender, yet so flaky (and never greasy), that they can only be crafted here, and very truly need to be eaten to be believed. Order extra. They'll keep.
Sign up here for our daily New Orleans email and be the first to get all the food/drink/fun in the Big Easy.
Scott Gold is a writer in New Orleans who will -- MARK HIS WORDS -- accomplish the Cajun Boudin Trail before he dies... preferably by RV and/or motorcycle. Follow him on Twitter @scottgold.