If there's any city where an oyster happy hour makes sense, it's New Orleans (or maybe that city the Little Mermaid lives in). Nowhere else has this city's bar culture, and nowhere else can you find the plump, salty, Gulf oysters that our restaurants thrive on -- and as fall approaches, the cooler water will produce even more local pearl factories of superb quality, so naturally, it's imperative to know where to find them thrown into a bar's happy hour...
Central Business District
On Tuesdays, buy a pitcher of beer or a bottle of wine and enjoy 60-cent oysters all day long. They have various drink specials throughout the week, and every weekday from 4-7pm, enjoy two-for-one well drinks and half-off draft beer.

Central Business District
This is the place that is at the top of everyone's list, and rightfully so. It's centrally located, in a beautiful space, and is part of the John Besh empire. Happy hour is every day from 3-6pm, with 75 cent oysters, plus half-price wines by the glass, house brand liquors and draft beers. It's a great way to pass an afternoon at a spot that is well known to locals and tourists alike, so get there early to stake your spot. And don't forget the umlaut.
Garden District
Happy hour lives here every damn day of the year, including Christmas, New Year's, Mardi Gras, or the Superbowl. It's from 4-8pm, and the deal is good as long as you get a drink per every dozen. For raw oysters, a half dozen will set you back $3, and a full dozen is $6. Chargrilled oysters are also available for happy hour (which is highly unusual) with the same drink-per-dozen caveat -- $5 for six and $7.50 for 12. Located right off the streetcar on St. Charles, the Blind Pelican also has a large outdoor patio to take in the sights and sounds of the city.
French Quarter
The Bourbon House has a more highfalutin happy hour with dollar oysters on the half shell. But it's right there in the Quarter and it's a bargain for the area. Along with oysters, enjoy $3 Abita drafts, $4 glasses of house wine, and $5 small plates of items like truffled Romano potato chips or red bean hummus. Pro tip: even though you're on Bourbon Street, try not to bring your Hand Grenade in with you. It's frowned upon.

French Quarter
An upscale seafood resto, part of the Ralph Brennan empire, Red Fish Grill offers 50-cent oysters, two-for-one draft beer, and two-for-one glasses of house wine, Monday through Thursday from 3-6pm.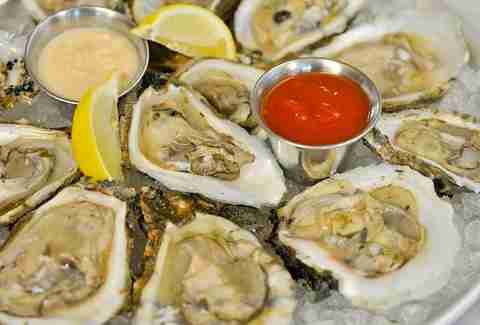 Uptown
Up St. Charles at Napoleon, sit back every afternoon between 4-6:30pm and suck down 50-cent raw oysters, two-for-one frozen mojitos, half-price bottles of wine, $3 draft beer, and/or $3 glasses of house wine. Even the people who work there will stick around after their shift to get in on this deal. A dozen oysters and a drink for under $10? Um, yes please.

Uptown
On Monday through Friday from 2-6pm, take 25% off raw oysters and ALL BOOZE. Yes, that includes beer, wine, and the hard stuff. While up at the bar, order some oyster nachos, so you can say you did it.
Uptown
This 100-year-old Uptown institution has a splendid, gleaming oyster bar adjacent to the regular booze bar. And on Monday through Friday, you can get half-price oysters, all bottled beer, glasses of house wine, and select cocktails while sitting in the manly mahogany embrace of this old-school, dark-wood bar.

Uptown
For 29 years, Le Bon Temps Roulé has been serving free raw oysters on Friday evening, starting at 7pm until they run out, which is usually around 9pm or so. Enjoy live New Orleans-style piano music while enjoying the free fruit of the sea, and note that regular booze happy hour here runs from 11am-8pm, with various discounts and specials on various types of hooch. Even though the ersters are free, though, don't forget to tip your shucker.

Uptown
On Monday nights, reward yourself for strolling up and down Magazine St by stopping in at Basin Seafood to enjoy 50-cent oysters from 5-10pm.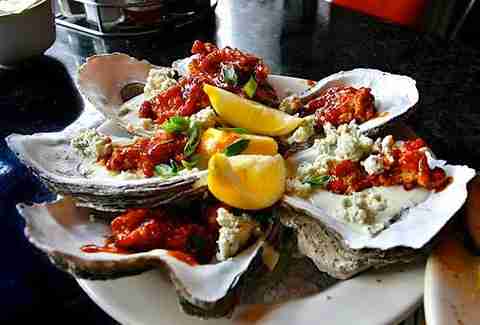 Bayou St. John
What's better than cheap? FREE. This new seafood joint in the Mid-City neighborhood of Bayou St. John offers a half dozen free oysters on the half shell and a comp glass of wine on Monday and Wednesday evenings from 5-7pm, when you buy a dozen raw oysters. But you were gonna do that anyway, right?
Sign up here for our daily New Orleans email and be the first to get all the food/drink/fun in the Big Easy.