If there is any city where an oyster happy hour makes sense, it's New Orleans, where fresh, salty Gulf oysters make our restaurants thrive. Alcohol and bivalves make for a great combination, no matter which neighborhood you're in. So go ahead, explore Crescent City one half-shell happy hour at a time -- and sip and slurp to your heart's content. 
Bucktown
Station 6
When: Tuesday-Thursday from 3-6pm
The deal: This bar right near Lake Pontchartrain goes above and beyond with its happy hour deal. Get a half-dozen oysters on the half shell, cajun caviar, and a glass of Lallier Grand Reserve Brut for $15. It's the perfect way to wind down following an afternoon on the water.
Central Business District
Balise Tavern
When: Monday-Friday from 4:30-7pm
The deal: This 2016 James Beard Award-winning spot hosts raw oysters for a dollar or roasted for $2.50, and pairs them with $5 Sazeracs, Brandy Punch, Boilermakers, and wines by the glass. While somewhat pricier than other options, its happy hour menu also features sliders, chicken liver mousse, pickled quail eggs, and hand cut fries -- so it more than makes up for it.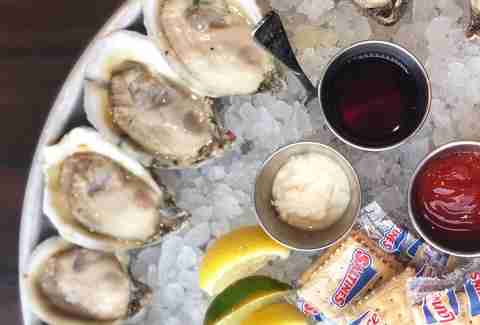 Luke Restaurant
When: Daily from 3-6pm
The deal: If you ask in-the-know oyster lovers where to go, this beautiful spot under chef Erick Loos IV's direction will rightfully be near the top of their list. With 75-cent P&J oysters on the half shell, $1.25 fried oysters, and half-price beers, cocktails, and wines by the glass, it's popular among locals and tourists alike, so get there early to stake your spot.
Trenasse
When: Daily from 3-6pm
The deal: Enjoy 75-cent raw oysters at this hotel restaurant that has some of the best seafood in the city. The regular menu offers over a dozen styles, including chargrilled with Champagne and broiled with smoked Gruyère and pancetta, so after a few rounds of discounted wine or beer, you might be tempted to splurge on another platter.
French Quarter
Bourbon House
When: Monday-Friday from 4-6pm
The deal: The Bourbon House has a more highfalutin happy hour with dollar oysters on the half shell, but that's still a bargain considering its location within the Quarter. Along with oysters, enjoy $3 Abita drafts and half-off house wine. Keep this in mind: Even though you're on Bourbon Street, don't bring your Hand Grenade in with you.
Red Fish Grill
When: Monday-Thursday from 2-5pm
The deal: Sometimes the need for booze and oysters comes earlier in the day than anticipated (no judgment here), and that's where Red Fish Grill comes to the rescue. The mid-afternoon happy hour features 75-cent raw oysters, $3 local draft beers, and $5 hand-shaken daiquiris with flavors like Blueberry Hill, Mango Tango, and "Gator Bite." The daring among us are recommended to start there, then make our way to one of the later happy hours to keep it going.
Garden District
Samuel's Blind Pelican
When: Daily from 4-8pm
The deal: Happy hour is held here every damn day of the year, including Christmas, New Year's, Mardi Gras, and the Super Bowl. When you buy one alcoholic drink (including 2-for-1 well mixed drinks), you can also get a dozen raw oysters for just $3. Chargrilled oysters are also available with the same drink-per-dozen caveat, except that'll run you $10. Located right off the streetcar on St. Charles, the Blind Pelican also has a large outdoor patio to take in the sights and sounds of the city.
Irish Channel
Basin Seafood and Spirits
When: Oyster happy hour Monday from 3-10pm, happy hour Monday-Friday from 3-7pm and Saturday-Sunday from 11:30am-2pm
The deal: It's hard to arrive at Basin Seafood when there isn't some food or drink special happening, but folks looking in particular for oysters should swing can enjoy 50-cent raw oysters on Monday. If you get there by 7pm, you can combine that with $3 local drafts, $5 wines by the glass, or the cocktail of the day alongside. Bonus: additional small plates are just $4.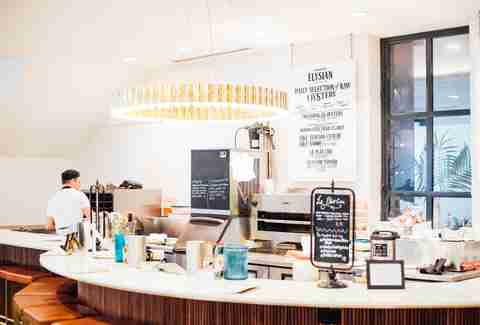 Marigny
Elysian Seafood at St. Roch Market
When: Monday-Friday from 4-6pm, and nightly from 9pm-close
The deal: Located in the massively popular St. Roch Market, Elysian Seafood's happy hour features $1 raw oysters. Since the market also includes a nearby cocktail bar with its own daily specials, visitors would be wise to grab a cocktail there first before setting up shop at Elysian. Also worth noting: A second location recently opened downtown and features its own daily deal of $7 charred oysters from 4-7pm.
Uptown
Le Bon Temps Roule 
When: Monday-Friday from 11am-8pm, free oysters every Friday from 7pm-they run out
The deal: Leave it to a 24-hour bar to have one of the most expansive happy hours in town. Le Bon Temps Roule has long been a staple for booze, food, and live music -- and they've got deals. Happy hour prices last pretty much all day, and on Fridays visitors can get free (that's right, free) oysters starting at 7pm until they run out, all while listening to some great live piano.
Pascale's Manale Restaurant
When: Monday-Friday from 3-6pm
The deal: Pascale's raw bar has been in operation since 1913, so it's safe to say they know what they're doing. Weekdays feature half-off oysters, select cocktails, beer, and wine by the glass. A dozen raw oysters for under $10 is a deal that'll be hard to beat in this town.
Superior Seafood and Oyster Bar
When: Daily from 4-6:30pm
Superior Seafood has long been an Uptown staple for oyster cravings. Pair that with its daily drink specials that extend well into the evening, and you've got a great spot to hunker down over some half-shells and enjoy a decadent and surprisingly affordable night. Afternoons see 50-cent raw oysters daily, along with 2-for-1 frozen mojitos, half-off house wine bottles, and $3 draft beers. Plus, those drink specials kick back in on Friday and Saturday nights.
Warehouse District
Grand Isle Restaurant
When: Monday-Friday from 4-6pm
The deal: Check out this casino- and riverfront-adjacent seafood restaurant for 75-cent oysters on the half shell and a half-pound of jumbo boiled shrimp for $7 -- with cocktails, draught beers, and wines by the glass at half-price to wash it all down.
Seaworthy
When: Monday-Friday from 4-6pm, Saturday-Sunday from 2-6pm
This narrow seafood joint adjacent to the Ace Hotel expanded their killer oyster happy hour not too long ago, which now can be enjoyed any day of the week. Half-off both raw oysters and glasses of wine plus $2 off all beers means you can get there early, set up shop, and comfortably eat your way through the afternoon and/or early evenings.
Sign up here for our daily New Orleans email and be the first to get all the food/drink/fun in the Big Easy.