Slurp Fresh Oysters From These New Orleans Spots
It's more important than ever to support your local oyster bars.
In a pre-COVID-19 world, some oyster lovers in New Orleans could be found sitting at a bar or inside a restaurant slurping their favorite delicacy right out of its shell. Others might prefer to eat it fried, sandwiched between two pieces of French bread dressed with lettuce, tomatoes, and mayonnaise.
Sure, people can get oysters from other states and countries. But there's something about Louisiana oysters that keeps them coming back. "It's the flavor," says Jules Melancon, a local oysterman and owner of Caminada Bay Oyster Farm. "Other states might be a little saltier, but Louisiana oysters have more of a sweet and salty flavor."
Melancon, who harvests off-bottom caged oysters near Grand Isle, typically sells oysters to about four or five different restaurants in New Orleans. Since COVID-19 forced restaurants to shut down a couple months ago, only one of those restaurants has since reopened. He went from making $5,000 a week to $1,000 a week.
"It's not good. I got two restaurants in Houston, so I gotta ship some [oysters] to Houston to make enough for me to have a week's worth of work," Melancon said.
He's expanded his shipments to other cities like Dallas and Seattle, but business is still slow. The Louisiana oysterman is hopeful that restaurants will fully reopen once it is safe enough, and that oysters will once again be in demand.
All that is to say it's more important than ever to support your local oyster bars that are open, to help keep the industry afloat. Get your oysters on the half shell at any one of these New Orleans restaurants. And, remember, to please bring a mask!
French Quarter
The oyster bar at this French Quarter restaurant serves oysters raw, chargrilled, broiled, and fried. It also has an oyster Happy Hour featuring ice cold raw oysters served with lemon and spicy cocktail sauce. Happy hour oysters are available at the oyster bar only.
Lakefront
While the French Quarter location is closed until further notice, the Lakefront location is still serving up locally harvested oysters. With oyster du jour specials ranging from charbroiled to raw, there's something for everyone. It is currently open for dine-in and takeout.
Lakefront
At this Lakefront restaurant, you can enjoy chargrilled or raw oysters with a view overlooking Lake Pontchartrain. It is currently open for takeout orders and dine-in, with limited seating in the downstairs breezeway. Be sure to call ahead to make reservations.
Garden District
Before the pandemic, you could eat your oysters charbroiled, fried, or raw at this St. Charles Avenue restaurant, and then stick around for some impromptu singing in one of Poseidon's karaoke rooms. For now, you'll have to settle for oysters to-go and karaoke at your house.
Uptown
Known for its Viet-Cajun boiled seafood, this Uptown seafood house also serves raw oysters on the half shell and chargrilled oysters saturated in an herb butter sauce topped with a special blend of cheese. You can order food to-go or reserve a spot to dine in the restaurant's outdoor seating.
Garden District
The French Quarter location is temporarily closed due to COVID-19, but the Garden District location is still serving up your favorite seafood including raw, charbroiled, and barbeque oysters. You can get your food to-go or dine in as the restaurant offers outdoor seating.
Seventh Ward
Situated along Bayou Road, the oldest road in New Orleans, The Half Shell on the Bayou serves up Cajun and Creole cuisine along with oysters on the half shell. It also offers an oyster happy hour on Thursdays from 2-6pm. Currently, you can only place to-go orders or dine in by reservation only.
French Quarter
Situated right next to Jackson Square, this French Quarter restaurant is known for its chargrilled oysters on the half shell, topped with parmesan and seasoned garlic butter. For the adventurous seafood lovers, try the drunken oyster shooter. It's a fresh Gulf oyster submerged in the restaurant's homemade Bloody Mary.
Uptown
While many restaurant dining rooms remain closed, this Uptown staple is open for table service at 50% occupancy. Its popular happy hour (daily from 4-6:30pm) has also returned with 75-cent raw oysters and 2-for-1 specials on some drinks including the frosé and frozen pomegranate mojito. If you're not eating out, you can order to-go as the restaurant is offering curbside pickup.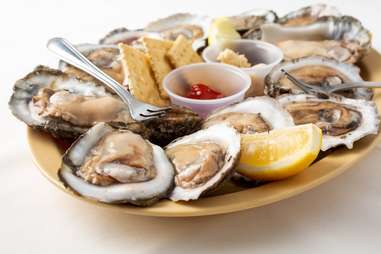 Uptown
For 100 years, this Uptown staple has specialized in seafood, traditional Italian dishes, and steak. It is also known for its popular oyster bar, which features Oysters Rockefeller and Oysters Bienville on the half shell. Pascal's is currently accepting curbside to-go orders and accepting dine-in reservations.
Sign up here for our daily New Orleans email and be the first to get all the food/drink/fun in the Big Easy.
Kevinisha Walker is a content creator and social media strategist from New Orleans with a passion for telling stories about people in underserved communities. Most recently, she worked at the University of Southern California's Annenberg Media Center as a Leadership Initiative Fellow.