The Crescent City might have a stronger rep for top-notch gumbo and chef-approved po-boys than for neighborhood slices. But we do have a strong Italian immigrant presence in New Orleans' cultural heritage... and thus, know a thing or two about everything from neighborhood slices to classic Neapolitans (not to mention Italian sandwiches... muffaletta, holla!).
Uptown
We may be biased, but perhaps the best thing about Slice is the fact that it named one of its signature pies (a white pizza with spinach, sun-dried tomato, caramelized onion, and roasted garlic) after a Stone Temple Pilots tune. You know you want the "Wicked Garden." We know we do.
Metairie
If you know it, you love it. If you don't love it, you've never been there. Such is the ethos of Tower of Pizza, a time warp of a slice joint on Vets in Metry. It never skimps on cheese or toppings, but the crust always seems to hold up to the stress. It is vintage. It is grand. Go there.
Uptown
If you want Chicago-style deep dish in NOLA, this is the place to find it. The pies, piled fathoms-deep into buttery rich crusts, are essentially pizza-flavored cake, but... in our heart of hearts, who doesn't want pizza-flavored cake?
Harahan
Yeah, it's kind of a schlep, but it's a schlep worth taking, even to Harahan. The classic Italian specialties at this newish spot always satisfy, but don't overlook its fresh, hot pies, made with ingredients sourced from local family farms. It even makes its own mozz from scratch... which is just outstanding.
Bywater
The single best "New York-style" slice that you will find in New Orleans, hands down, Pizza D is simple, elemental, and genuinely perfect, when you want that quintessential "foldable" slice. Also, its pasta dishes are among the best deals in town.
Bywater
It's way too easy to make the "Bywater hipster pizza" joke when it comes to this joint, so we will take the high ground here... if only to note that if you're in that hood, it's worth seeking out. Great pizza, and the burgers are also spot-on.
CBD/Uptown
While Alon Shaya might be raking up ALL of the accolades for his eponymous modern Israeli outpost, we mustn't forget that before he made pita, he made pizza. The pies at both Dominica and its sister slice joint PIZZA Domenica are still knocking it out of the park, thanks to that perfectly thin (but not too thin!), bubbly, crackly crust, its outstanding cured meats, and hand-pulled mozzarella.
The Marigny
This new kid on the block -- in the NOLA pizza sense -- ain't taking no guff. The joint came here to win, and the winning is plainly evident in its beloved and inventive pies, including one featuring house-made lamb sausage, garlic confit, pine nuts, tzatziki, and roasted red peppers. Yeah, it's worth trying.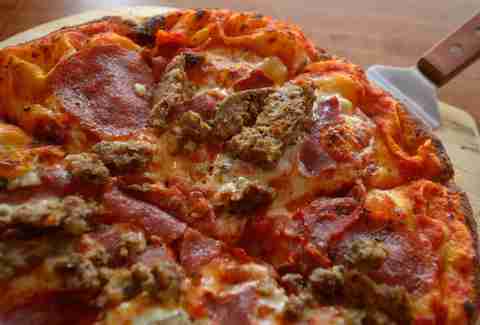 Uptown
This spot on Magazine Street in the Irish Channel doesn't get as much pizza love as it deserves, which is a shame, because this place definitely deserves it. It's not reinventing the wheel... just making a really, really great wheel. The dough is excellent, the cheese is plentiful, and it uses a genuine coal-fired oven shipped from Italy.
Sign up here for our daily New Orleans email and be the first to get all the food/drink/fun in the Big Easy.
Scott Gold is a writer in New Orleans who spent an inappropriate amount of time at Tower of Pizza as a teenager. Follow him on Twitter @scottgold.