15 things you didn't know about po' boys
Ah, the noble po' boy, ironically making everyone that tries it feel just a little bit richer. But there's a whole lot more to them than just a cool name -- here are 15 things you probably didn't know about NOLA's most beloved sandwich...
1. It was invented in 1929, by a pair of extremely generous brothers
The streetcar workers strike of that year was pretty brutal. Street cars were burned, strikebreakers called in, and there were injuries on both sides. Witnessing the chaos, restauranteur brothers Bennie and Clovis Martin (both former streetcar conductors themselves) wrote a letter to the strikers, telling them "We are with you till h--l freezes, and when it does, we will furnish blankets to keep you warm." In it, they also gave the more tangible offer of a free sandwich. Needing to create a cheap meal for when one of those "poor boys" came along, history was made.
2. It probably wouldn't exist if not for the Great Depression
On October 29th of that year, the market crashed, and there were suddenly a whole lot more poor boys around. Suddenly the cheap, hearty sandwich became popular with pretty much everyone.
3. They literally cut corners when making it
When the Martins noticed that the tapered ends of a traditional French baguette would result in wasted bread, they partnered with baker John Gendusa to create a more even, square-shaped loaf as we know it today!
4. A 15in po' boy used to cost you all of 10 cents
The 20in version was a whopping 15 cents. If all you wanted on your loaf was lettuce and tomato, it was free.
5. They cost A LOT more nowadays
Today, a po' boy filled with fresh gulf shrimp, oysters, or soft-shell crab can set you back up to $17 or more here in the Crescent. Going abroad in London, you can get a lobster po' for a whopping $34. Not really "poor" these days!
6. It's all about the bread
When put next to a hoagie, sub, or hero, it can be difficult to tell the difference, especially with the wide variety of fillings available -- but the truth lies in the bread. It's got to be crackly, not crusty, and with a doughy center. Third generation baker John Gendusa claims it needs a uniquely delicate, flaky exterior and a fluffy, chewy inside that makes it perfect to stand up to (and soak up) whatever fillings you pile on.
7. They actually LIKE the humidity
Because New Orleans lies slightly below sea level, it creates a uniquely humid atmosphere that affects the yeast and prevents the loaves from forming too hard a crust -- combined with the local water, the bread baked here is unique.
8. People have earnestly tried making it elsewhere... and failed
A few master bakers from Gendusa's Bakery tried a number of experiments to painstakingly re-create New Orleans French bread in Baton Rouge, only an hour West of New Orleans, and couldn't manage to do it. Yet another reason people claim that you can only get a real po' boy in NOLA.
9. It's so beloved here, it throws off international stats
Every year, Hotels.com creates an "International Sandwich Index", hoping to gauge the relative price of a staple international commodity, and create a barometer of prices for tourists. Everywhere, from New York to New Delhi, they use the club sandwich. Everywhere, except New Orleans, that is. The po' boy eclipses the popularity of the club here so much, that they have to go by it instead, unique from any other city on Earth.
10. Kermit Ruffins drove a bread truck for the Gendusa Bakery...
... before becoming a world-famous jazz trumpeter (and barbecue aficionado).
11. So long as it's on real French bread, you can fill a po' boy with pretty much anything your heart desires
Local restaurants and caterers have offered everything from schnitzel po' boys to fried chicken livers with Creole slaw, sashimi po' boys, Cajun sausage with kimchi, slow-roasted duck, fried green tomato with shrimp remoulade, turducken sausage, oysters Rockefeller, and even a bacon-fried hot dog po' boy. Johnny's Po-Boys in the French Quarter has 50 on its menu alone.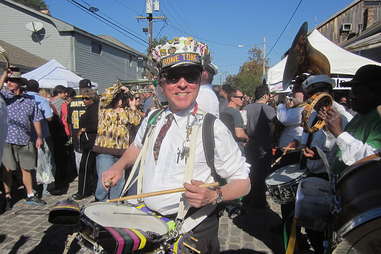 12. The Oak Street Po-Boy Festival started in 2007 as a way to revitalize commerce on the Oak St business corridor in Uptown New Orleans
10,000 people came that year. Last year, an estimated 50,000 hungry po' boy fans descended on Oak St. It is now one of the most popular food festivals in New Orleans.
13. The longest oyster po' boy ever made was created at the 2014 Louisiana Oyster Jubilee
It required over 30 chefs to assemble, used more than 5,000 fried oysters, and took up an impressive 340ft of Bourbon St. It was given away for free to the hungry public, who of course devoured the entire thing in mere minutes.
14. The "Famous Ferdi Special" po' boy at Mother's Restaurant came into existence when Mr. Ferdi, a local merchant and a regular at Mother's, had the genius notion to add ham to his roast beef po' boy
It wasn't long before other people noticed his pro-move and made the sandwich a classic. If you want cheese on your Ferdi, it becomes a "Ralph", named after Ferdi's lactose-loving nephew.
15. New Orleanians refer to the banh mi sandwich as a "Vietnamese po' boy"...
... due to the large Vietnamese population and dining culture in the Big Easy.
Sign up here for our daily New Orleans email and be the first to get all the food/drink/fun in the Big Easy.